You only need 10 minutes to build mental strength with these two guided meditations for beginners
Try these 10-minute guided meditations for beginners to help perfect your practice and boost your wellbeing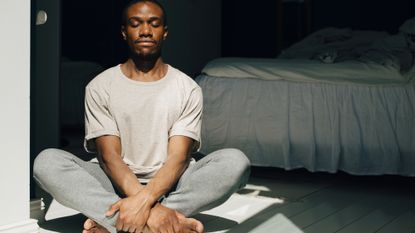 (Image credit: Getty Images)
Guided meditations for beginners are a great way to get familiar with the practice without taking too much time. Whether new to mindfulness or struggling to concentrate, these two short sessions can help and take less than 10 minutes.
As the name suggests, guided meditations are led by an expert through audio or video. Anyone can use guided meditations, but they are particularly beneficial to those learning how to meditate, as they can help you keep your focus, clear your mind and restore some inner peace.
"For beginners and those who get distracted easily, guided meditations offer a structured pathway to these desired outcomes," Derek Aidoo, meditation coach at audio-guided workout app, WithU, tells us. "With guided meditation, one can relax and rest assured they will journey towards calm and peace," Aidoo adds.
We spoke to meditation coaches to help unpack the practice and explain the benefits guided meditation for beginners can bring. We've also included some guided meditations you can try out for yourself.
Derek Aidoo has been coaching in meditation for over 10 years after he formed a passion for helping others develop a foundation of positive thought to tackle stress and understand themselves more deeply. He is committed to assisting people in developing the tools that are needed to deal with life's ever-present challenges.
What are guided meditations?
Guided meditations are meditations led by a meditation coach or teacher. This can be in person or through video and audio recordings.
"Depending on the technique, the instructor may offer various prompts to support the listener in cultivating awareness and compassion," Dora Kamau, a meditation and mindfulness teacher at Headspace, explains.
"In a guided meditation, a teacher may share what the meditation is about and how to approach it with the mind," Kamau continues. "They will also share and explain the technique being used and offer guidance on integrating the meditation into their everyday life."
Dora Kamau's meditation and mindfulness journey began in 2010. After experiencing a series of unfortunate events, she started exploring holistic approaches to heal her mind, body, and spirit. By 2016, Dora was fully committed to a daily practice. In 2019, she completed a formal 200-hr meditation teacher training with the Lab of Meditation.
Some people try meditation and find they can't hone their focus, stop their mind racing, or be present. But try not to worry—that's a common challenge, especially if you're just starting. However, guided practice is a great meditation tip for beginners to try.
Instead of trying to do too many things at once, all you have to do is sit back, relax, and allow your teacher to transport you on your journey to a calmer state of mind.
Guided meditations for beginners
So that you don't have to go hunting for some expert-led meditations for beginners, we've rounded up three guided sessions to get you started. All you need is 10 minutes and a quiet place to sit. A set of workout earbuds can help drown out some background noise if required.
Try Aysha Bell's 10-minute visualization guided meditation
This 10-minute practice from meditation coach Aysha Bell (recorded exclusively for Fit&Well) uses a technique known as visualization meditation. To get started, sit tall in a cross-legged position with your spine long and straight.
Have your hands facing down (to help ground you) or up (which is said to encourage receptivity). Find a quiet space, notice the rhythm of your breath, and start to visualize Bell's instructions.
Aysha Bell is a meditation coach specializing in transformational healing and trauma release. Bell does so through sound, yoga, Tantric breathwork, manifestation, journaling, and meditation.
Try Dora Kamau's three-minute calming guided meditation
Need help keeping your mind from racing? In this short three-minute guided meditation, Dora Kamau, Headspace's meditation instructor, narrates a grounding visualization meditation practice to help you guide your mind back to the present moment.
All you need to do is find a quiet space, adopt a comfy and relaxed position, and start practicing Dora's breathing techniques to gently clear the clutter from your mind and increase your mental strength.
Are guided meditations good for beginners?
Guided meditations are an excellent place for beginners to start. "Guided meditations can take the mental pressure off the listener by allowing them to gently follow the spoken cues leading them to a state of peace," Aidoo says.
"Just a few minutes a day can improve your confidence and truly provide you with the mental break needed to manage your mental health and contribute to your everyday self-care."
And, when it comes to self-care ideas, meditation is a valuable skill to have in your wellbeing toolbox. Not only because it's free and can take just minutes, but research tells us that meditation comes with a wealth of psychological and physiological benefits.
In one study published in The Journal of Positive Psychology, researchers said just 15 minutes of meditation could boost your wellbeing and lower stress levels — and likened it to the benefits taking a day's vacation can bring.
While research published in the Frontiers in Human Neuroscience highlighted that slow breathing (a common meditation technique) helps to reduce anxiety, anger, and depression.
Learning a new skill can feel daunting, so guided sessions are the perfect option for beginners. You're led through the practice by an expert and taught the tools you need to develop mindfulness throughout the day.
"A guided meditation is similar to having an experienced driver sitting next to you when you're learning to drive," Kamau tells us. "They not only give you instructions but can provide encouragement and support."
"As we become more experienced with driving or meditation, we may reduce how much guidance we need, or we may still want company with us to enjoy the ride."
Are there guided meditation apps?
There are plenty of guided meditation apps and websites you can use for quick sessions and longer practices. Some of the best-known are Headspace and Calm, which are premium services but offer free trials if you want to try them out before committing.
Surprisingly, many of the best workout apps also include meditation sessions. Over the past few years, there's been a lot more focus on holistic approaches to mindfulness, fitness, and wellbeing.
That's why even Chris Hemsworth's workout app Centr has guided meditations for beginners, like this 10-minute breathing session led by Hemsworth himself.
Meditation helps you develop mindfulness—an awareness of the present moment. But it's not the only way to add mindful moments into your day. And our sister site, Coach, has a guide to the best mindfulness apps to meditate and improve your wellbeing.
Get the Fit&Well Newsletter
Start your week with achievable workout ideas, health tips and wellbeing advice in your inbox.
Becks is a freelance journalist and writer with more than 7 years of experience in the field. She writes health and lifestyle content for a range of titles including Live Science, Top Ten Reviews, Tom's Guide, Stylist, The Independent, and more. She also ghostwrites for a number of Physiotherapists and Osteopaths.
Health has been a big part of Becks' lifestyle since time began. When she's not writing about the topic of health, she's in the gym learning new compound exercises. And when she's not in the gym, she's most probably reading.