Gymera all-in-one home gym: tough, smart and fun
Finally a workable one box home fitness solution, with extra fun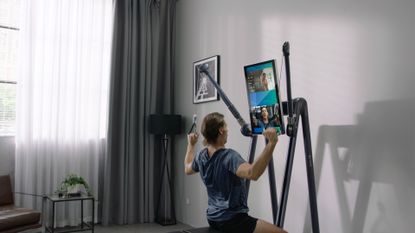 (Image credit: Gymera)
Recreating genuine gym workouts at home is a dream for most, with proper equipment taking more spare space than many people have, and all-in-one units always failing on one or more fronts.
Available now on Kickstarter (opens in new tab), Gymera's (opens in new tab) hi-tech home gym bucks the trend by packing everything you need for a full workout into a small footprint. It's easy to set up, can take anything you throw at it, and will integrate seamlessly into your home. The whole freestanding unit folds away to a discrete depth, looking just like a screen on top of a full-length mirror.
But make no mistake, this beauty is a real beast.
The difference is the technology. Instead of rods, weights, or elasticised bands, resistance is provided by a pair of finely-tuned motors. These deliver up to 110 lbs of power on either side, all precisely calibrated to create, customize and track a perfectly personalized routine.
A six-foot-tall frame sits on a solid base, with two fully-adjustable rotating arms delivering that digital resistance to a range of accessories. A rotating 27in HD touchscreen sits at the top, packed with smart tech including a 5MP camera with motion tracking, as well as gesture and voice control.
Whatever you need, whenever you want it
Whether you're looking to follow a full free-weight routine, focus on flexibility or concentrate on cardio, the Gymera can satisfy those demands and more.
You can keep an eye on your form using the screen and camera, or have the AI step in, monitoring and correcting motion and posture in real time like an ever-present personal trainer.
There are thousands of guided workouts on board, with professional trainers guiding you through every exercise, step by step. You even have a unique 'Two Coach' option, where one demonstrates the exercise and another explains it.
If you have a Gymera app subscription, there are also plenty of live training sessions to tune into.
The on-screen expertise is matched by the quality of the motors under the hood. These can be set to constant, which holds steady at the selected weight; chains, for constantly increasing resistance; eccentric, where resistance is targeted to the negative portion of your movement; and recovery mode for cool downs.
Everything from heart rate, to range of motion, to total weight lifted is all comprehensively tracked by the integrated tech and recorded in the Gymera app. You can even use the camera to snap a selfie whenever you strike a particularly shareable pose.
Gymera brings the fun
Of course, all this technique and tech won't help if you're not motivated to get up off the couch and turn it on. Thanks to the onboard VR graphics, Gymera has plenty to engage your mind as well as your body, with console-grade gamification to enliven your regular routine.
You can play tug of war over FaceTime with your friends, turn your regular rowing session into a wild kayak ride or steer a digital racing car with biceps curls.
There are plenty more plans in the pipeline, and with Gymera's suite of smart tech combined with the digitized resistance motors, there's no limit to the possibilities on offer or the places you can go.
Up to 45% off
Premiering on December 8 at 10 am ET, the Gymera will be available to early Kickstarter (opens in new tab) supporters for up to 45% off the retail price.
If you're quick, you can order the Gymera (opens in new tab) Luxury model, with high-end chipset, display and accessories, for just $2,599. Whether flexing or stretching, working out has never been this appealing.