Jade Yoga Travel Mat review: a lightweight and foldable mat for on the go
The Jade Yoga Travel Mat is ideal if you prefer a thinner mat that can be packed away, rather than rolled up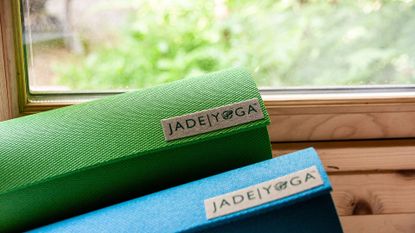 (Image credit: Jade Yoga)
Reasons to buy
+

Superb grip

+

Sustainable

+

Foldable

+

Lightweight
Reasons to avoid
-

Thin

-

Slippery when wet

-

Beginners might prefer a thicker mat
Are you wondering if the Jade Yoga Travel Mat is worth the money? The best yoga mats can turn a good stretch into the perfect flow and you deserve to enjoy your favorite workout even when you're away on vacation. That's where a travel mat comes in.
Yoga is well-known for being good for the mind, body, and soul. Benefits include increased flexibility and better muscle tone and strength, as well as improved respiratory and cardiovascular (heart) health, according to the American Osteopathic Association.
The Jade Yoga Travel Mat is lightweight at 1.3kg, you can roll or fold it, and it's thin enough to carry under your arm when walking to the studio or park.
What we love most about the Jade Yoga Travel Mat is that it's made from sustainable resources and the natural rubber gives it an awesome grip. Because it's so thin, you won't get much cushioning, so beginners might prefer a thicker mat. It can also be a bit slippy when it gets wet, but nothing having a towel on standby can't solve.
Jade Yoga Travel Mat review: price & features
The Jade Yoga Travel Mat is available now from $58/ £62.72.
It's a lightweight (weighing 2.9 lbs) and compact mat, but the fact it's thin also means it's lacking in any substantial padding or cushioning. If you're looking for something with added grip, head to our Sweaty Betty Super Grip Yoga Mat review.
The Jade Yoga Travel Mat is made from eco-friendly natural rubber (not suitable for anyone with latex allergies) so has a strong rubbery odor on opening, but this doesn't last more than a few days.
The mat unrolls really well and generally stays flat. It also folds up neatly into a rectangle roughly the size of a yoga block, making it the ideal travel companion as you can fit it into your suitcase or even your hand luggage. The Jade Yoga Travel Mat offers a good level of grip and support for all types of yoga practice. The sticky surface means it's easier to get into poses without slipping, although once you get sweaty palms you may find things move around a bit more! We recommend having a towel on hand for more complex yoga flows or HIIT workouts.
The Jade Yoga Travel Mat comes in two lengths, 68-inches and 74-inches – great for taller people. You can choose from four colors: black, midnight blue, purple, and olive green. The Jade Yoga Travel Mat tends to attract dirt and dust because of its rubbery surface, so we advise a quick wipe down post-session. It's made from biodegradable material so don't use harsh soaps and definitely don't leave it to dry in the sun, as this will cause the rubber to deteriorate.
The Jade Yoga Travel Mat works well for daily use, and is light enough to transport easily without needing a separate carry bag.
Jade Yoga Travel Yoga Mat review: look and feel
The Jade Yoga Travel Mat is available in four colors (black, midnight blue, purple and olive green) and is made from sustainably sourced natural rubber.
It has a simple design and is portable either in a handbag or suitcase thanks to its foldability. You can also roll it up like a standard mat and easily carry it to the studio or park for a class.
The Jade Yoga Travel Mat doesn't contain any PVC, EVA, or other synthetic rubber and is made ethically in compliance with all US environmental, labor, and consumer protection laws. This brand really cares about its carbon footprint - for every mat sold, Jade Yoga plants a tree (so far, two million trees have been planted!). Another great eco-friendly mat that we've reviewed is the Yogamatters Eco Rise Yoga Mat.
Jade Yoga Travel Yoga Mat review: performance
Unroll the Jade Yoga Travel Mat and it will stay in place well, with the odd corner sticking up after a while. For a 3mm mat, it's supportive enough and provides good grip, even when doing fast and furious HIIT moves like burpees or mountain climbers.
It has great traction when moving in between yoga poses too but because of the lack of padding, this mat isn't ideal for extended back work or headstands. Anyone with knee or joint issues might prefer to look for a thicker mat like the Lululemon The Reversible 5mm Mat.
The Jade Yoga Travel Mat has an open cell construction, meaning it will absorb water and sweat more easily. That also makes it really grippy, so you can use it every day, but it's not so effective when it gets wet. Counter this by having a towel on standby for more vigorous moves.
Jade Yoga Travel Yoga Mat review: care
Made from natural rubber, the Jade Yoga Travel Mat has a strong odor when unpacked, but that doesn't last for more than a few days. We recommend airing it out in a spare room, but don't be tempted to sun-dry it – rubber is biodegradable, so this will ruin it.
Rubber is also known for being durable, which is why it's a great material for a yoga mat. The stickiness of the top layer makes getting into tricky positions easier, but it also makes the mat a bit more high maintenance.
The mat's open cell construction and porous nature mean that dirt and sweat can easily get inside and breed bacteria – not something anyone wants, especially in the COVID era. However, a regular clean with warm water and gentle soap as well as a monthly deep clean will help to make your mat last longer. For more on that, you can read our article about cleaning your workout gear at home.
Jade Yoga Travel Yoga Mat review: user reviews
The Jade Yoga Travel Mat scores 4.6 out of 5 stars on Amazon, with 76% of reviewers giving it a full five stars. Reviewers praise the grip and how easy the mat is to roll up and pack into a suitcase. They also loved its eco-friendly features.
However, one Amazon reviewer said it was a high maintenance mat that required a lot of cleaning: "Basically, ANY exposure to the sun will damage the natural rubber (drying it out, discoloring it, and leading to faster breakdown of the rubber), which includes practicing outside, leaving it in the backseat of your car, or even near a window in your house."
Jade Yoga Travel Yoga Mat review: Also consider
The YOGO Ultralight Travel Yoga Mat ($68 / £49) is super light (2.1 lbs) and thin (1.5mm), so it's very compact and portable. The downside is it's not very padded so not ideal for people who need cushioning, but it has enough grip to enjoy yoga practice on vacation.
A bestseller for good reason, the Manduka eKO Lite Travel Mat ($54 / £40) is similar to the Jade Yoga Travel Mat in that it's sustainable and has good cushioning (3mm) for daily practice. It's quite heavy for a travel mat (4 lbs), but it's durable and from a much-loved brand. It also comes in a ton of bright colors.
1.5mm thin and lightweight, the Jade Yoga Voyager ($54 / £40) folds up to the size of a yoga block, making it a good choice for traveling yogis or those with limited space. While it is eco-friendly (like all other products by Jade Yoga), the brand says this mat isn't resilient enough for daily practice, so reserve it for weekend breaks and vacations.
Get the Fit&Well Newsletter
Start your week with achievable workout ideas, health tips and wellbeing advice in your inbox.
Maddy Biddulph is a freelance journalist specializing in fitness, health and wellbeing content. With 25 years in consumer media, she has worked as a writer and editor for some of the bestselling newspapers, magazines and websites in the US and UK.
She is also a qualified L3 personal trainer and weight loss advisor, and helps women over 40 navigate menopause by improving their physical and mental strength. At Maddy Biddulph Personal Training, she runs one-to-one and small group training for menopausal women who want to get fit to ease symptoms and feel like themselves again.