6 healthy carbs that'll help you lose weight and feel fuller
Can't stand the thought of a low-carb diet? Check out this list of healthy carbs...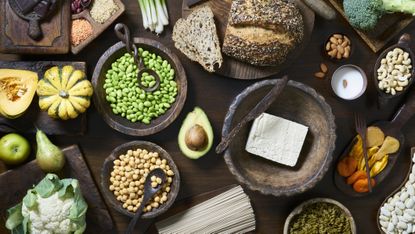 (Image credit: Getty Images)
Good news for carb lovers! A whole bunch of grains are back in vogue, which can help weight loss while delivering health benefits.
According to nutritional therapist Sophie Higgins, carbs are a key part of a balanced diet and essential to any healthy eating approach.
'They are your body and brain's preferred source of energy,' she says. 'Without glucose, you can experience dips in energy, mood and cognitive function.'
But choosing the right carbs is key. 'Avoid refined, processed types like white pasta, bread and rice, and sugar-rich foods,' warns Sophie. 'These trigger sugar spikes that can increase appetite and the release of metabolism-lowering cortisol, while your body stores unused sugar as fat.'
So which ones can you eat guilt-free? The list of healthy carbs includes:
Amaranth
Buckwheat
Spelt
Kamut
Teff
Farro
'These ancient grains aren't processed, so are easier to digest,' explains Sophie. 'Many are also low or gluten-free and contain essential minerals, vitamins and phytonutrients, plus protein. They're also high in fibre, so you feel fuller longer.'
What's more, new research suggests that low-carb diets may not be as effective as we thought. In a recent study led by the National Institutes of Health, results showed a low-carb diet doesn't necessarily shift the pounds, and that cutting dietary fat was actually more impactful.
A group of overweight patients were confined to hospital for a month, where they were first kept on their regular carb-rich diets, then after a month moved on to a low-carb diet (while still eating the same amount of protein and calories). Although insulin levels dropped on the second diet, the patients surprisingly lost weight far more quickly on the first.
Other studies have shown that low-carb diets can outperform standard diets over the long term, but the difference is marginal – just 2lbs/1kg over a year. So cutting out carbs may not be the quick-fix route to weight loss.
But still, not all carbs are created equally. Read more about the list of healthy carbs below - including how to eat more of them…
Healthy carb #1: Amaranth
Made from the buds of the amaranth plant, amaranth contains omega-3 and high levels of calcium, manganese, iron and protein. Great for adding heartiness to stews or soups, and a good option instead of tabbouleh.
Cals per 3.5oz / 100g (cooked): 155
Healthy carb #2: Buckwheat
Gluten-free and high in manganese, magnesium and copper, this fruit seed can boost immunity, heart health and lower blood pressure. Use buckwheat in place of flour when making muffins, pancakes or veggie burgers.
Cals per 3.5oz / 100g (cooked): 140
Healthy carb #3: Spelt
High in vitamin B2, manganese, niacin, thiamin, copper and magnesium, spelt can help boost bone, joint and heart health. It's great for making porridge, or use the flour for baking bread.
Cals per 3.5oz / 100g (cooked): 174
Healthy carb #4: Kamut
Rich in manganese, magnesium and niacin, kamut is protein rich and aids in heart and bone health. It makes a good rice substitute, plus try switching kamut flour and pasta for white varieties.
Cals per 3.5oz / 100g (raw): 343
Healthy carb #5: Teff
High in calcium, protein and iron, teff contains antioxidants and vitamin C, and can help boost digestive health and weight loss. It works well with vegetables in a stew, in meatballs and fritters, or as a porridge substitute.
Cals per 3.5oz / 100g (raw): 367
Healthy carb #6: Farro
Rich in B vitamins, zinc and iron, farro is great for cardiovascular health and reducing inflammation. This nutty- tasting grain is great in a salad with roasted veg, or as a rice alternative in risotto.
Cals per 3.5oz / 100g (cooked): 160
A final word on healthy carbs
There's no one-size-fits-all approach to carb intake. 'There are a lot of factors to consider – from body type to metabolism, as well as how much exercise you do,' says Sophie. 'Try to work with a trainer and nutritionist who can tailor this ratio and track changes in your body.
There's also an element of trial and error. 'Keep a food diary or use a tracking app such as MyFitnessPal so you can notice patterns and work out the right approach for you,' Sophie advises.
Liked this?
Get the Fit&Well Newsletter
Start your week with achievable workout ideas, health tips and wellbeing advice in your inbox.
Launched in 2020, Fit&Well.com is all about helping you meet your health and fitness goals in ways that are fun and achievable. With news and features on fitness, weight loss, running, nutrition, yoga, wellness and more, we're committed to helping you wherever you are on your fitness journey. We break down the best fitness tech, with reviews, buying guides and the latest deals on fitness and wellness kit, from dumbbells to diffusers.
We cater for all difficulty levels here. It doesn't matter if you're a beginner in the world of fitness or you're gearing up for your tenth marathon: we're all moving towards the same goal – creating a healthier, happier you. From guides on getting started doing walks around the block, to creating the perfect work-from-home space, to eating to fuel your first triathlon. It's all here.