How non-contact boxing can improve your mental health
Non-contact boxing helps you stay fit, develop strength, and protect your wellbeing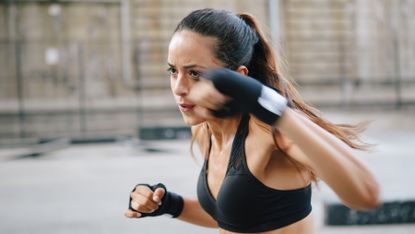 (Image credit: Getty)
Get the Fit&Well Newsletter
Start your week with achievable workout ideas, health tips and wellbeing advice in your inbox.
Thank you for signing up to Fit And Well. You will receive a verification email shortly.
There was a problem. Please refresh the page and try again.
Boxing workouts are increasing in popularity as people recognize the massive full body fitness gains they offer. But as well as having physical benefits, boxing has advantages for your mental health too.
According to a recent study published in the American Journal of Lifestyle Medicine, non-contact boxing exercises — particularly in a group setting — can help reduce anxiety, depression, and symptoms of Post Traumatic Stress Disorder (PTSD).
The study concluded that boxing is unique amongst other High-Intensity Interval Training (HITT) exercises because it focuses on technique, uses force to strike kit (including punch bags, slam balls, and even bats), and develops a connection between your mind and body.
This should come as no surprise to the thousands of people who take part in boxing activities every week. Here's how to get one of the best arm workouts and boost your wellbeing with non-contact boxing.
How does non-contact boxing help mental health?
Taking part in non-contact boxing releases endorphins. "These are chemicals that interact with the receptors in our brain and reduce the perception of pain whilst triggering positive feelings in the body similar to that of morphine," says clinical Psychologist and kickboxer, Dr Patapia Tzotzoli.
This combines with the feeling of exhilaration, fun, empowerment and, relief that's felt when you hit something hard in a safe, community environment. It also helps to combat stress and anxiety while providing a form of meditation for those who don't want to lie on the floor and meditate, says Kat Hamilton, founder of 12 Rounds Boxing gym in London.
Dr Patapia Tzotzoli is the Director of My Psychology Clinic, where she specialises in adult mental health. She is a devoted swimmer, does her best with yoga and loves basketball and kickboxing.
Dr Tzotzoli agrees. "It makes me feel strong and healthy and gives me an energy that fuels everything I have to do in my day without fail," she says. "But the most important thing I believe I get every time, is the ability to re-center and recalibrate."
For those passionate about boxing, such as Emma Starrs who trains in a boxing gym in the north of England, it's a type of therapy requiring full focus. She says it allows people to concentrate on one thing and shut themselves away from the outside world. "It has a rhythmic quality to it too, helping to lose yourself in the moment," she adds.
How does non-contact boxing help physical health?
In an hour long session your whole body is given a solid workout. What's more, most boxing classes are part of HITT or circuit sessions involving aerobic and anaerobic training. Indeed, Starrs says she developed strength and lost more than 15 pounds in six months.
Like other high-intensity workouts, non-contact boxing works your whole body, engages your core, and raises your heart rate. One study published by the American College of Sports Science even found that a 60-minute non-contact boxing session burnt as much energy as running 9km on a treadmill.
Kat Hamilton also finds non-contact boxing is addictive. "I've rarely found anyone that doesn't like it," she says. "You honestly start feeling the benefits straight away — even just from feeling proud of getting through the door!
"There's something about training together in a supportive group environment at your own fitness level that keeps people coming back. Consistency is key to all fitness goals and obviously the more often you make the time to train, the quicker you'll improve and get fitter."
Kat Hamilton is the founder of 12 Rounds Boxing gym and has loved boxing for nearly 20 years. She is passionate about making boxing an accessible discipline and believes the practice makes you physically and mentally stronger.
How hard is non-contact boxing?
How hard you'll find non-contact boxing will depend on your current fitness and lifestyle. That said, even experienced athletes will find the first few sessions physically difficult and likely to result in Delayed Onset Muscle Soreness (DOMS).
By working with a professional trainer at a boxing gym, however, you can be sure you're working to a level that is right for you and that the movement patterns are correct, reducing the risk of injury and improving the efficiency of your workout.
Keeping active on the days that you're not training and learning how to eat healthily will also reduce any muscular discomfort. "At 12 Rounds Boxing I would say the majority of our team want to keep fit rather than learn to fight in a ring," says Hamilton.
"Of course, there is the opportunity to take the skills that we teach in classes with pads and bags, through to competitions. but that isn't the end goal for many. One of our core values is that you don't have to be a certain age, size or fitness — you just need a give-it-a-go attitude.''
If you can turn it into a habit, even just two weeks of boxing can strengthen your arms. But you don't have to immediately become a regular boxer to see the benefits, either. This 30-minute dumbbell boxing workout is a good way to test the waters and build muscle without leaving the house.
Get the Fit&Well Newsletter
Start your week with achievable workout ideas, health tips and wellbeing advice in your inbox.
Anna Gardiner is a freelance health and fitness writer, and a clinical sports massage therapist based in the south west of England. She has bylines at several publications, including Runner's World, Cycling Plus, and Women's Health. Anna leads a plant-based lifestyle and is a regular runner, and keen participant in CrossFit, climbing, and triathlons. Her greatest sporting achievement is completing The London Classics — an iconic challenge featuring the London Marathon, RideLondon 100, and Swim Serpentine. She is currently training for her biggest challenge; cycling L'Etape du Tour de France, Stage 14 of the Tour de France.