How to eat healthily on a budget: Make cheap, healthy meals for less right now
Here's five simple steps to eat healthily on a budget without sacrificing nutrition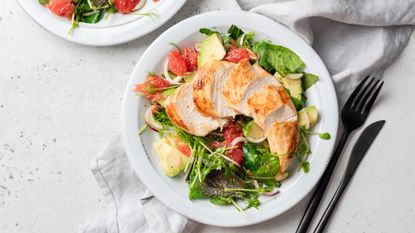 (Image credit: Getty Images)
Eating healthily on a budget can seem like a bit of a minefield, especially when there are so many other things to consider. With pre-packaged health foods in pastel-green boxes pricing themselves out of our food baskets, it's tempting to turn to old staples like low-cost ready meals loaded with salt, sugar, and grease.
However, contrary to what you may think, a balanced diet doesn't always have to be expensive. Grocery store aisles are packed with expensive health food alternatives, but the building blocks of a healthy diet are actually pretty cheap. Taking inspiration from some of our best vegan cookbooks, fresh fruit and vegetables, grains, pulses, and legumes are all important links in the backbone of a good diet, and they're often inexpensive and readily available.
Meat is pricier, but you can take advantage of its high-protein benefits if you choose to do so – you just have to be smart about the cuts you buy. And you can save on energy costs while enjoying a nutritious meal cooked in one of the best healthy air fryers.
Aside from what you eat, the other important factor when coming up with cheap healthy recipes is you – if you want to know how to eat healthily on a budget, you have to be willing to invest your own time. Devote some energy into planning and cooking cheap healthy meals, and you might be surprised what you can achieve, for your health and your bank balance.
How to eat healthily on a budget tip #1: Plan ahead
We can't stress this enough – plan your meals in advance! A week is a good time period to aim for, it's short enough to be manageable but long enough to give you some flexibility from day to day. When we shop without a plan, we tend to lean into things that are easy and not necessarily healthy for us or our wallets. Plan a set of cheap healthy meals for the week, make a shopping list, and stick to it.

Jenny Tschiesche, family-focused nutritionist, says: "A little meal planning goes a long way. When creating a meal plan, firstly check out what you've already got in your freezer, fridge, and kitchen cupboards.
"You probably have foods that need using up before they expire and simply buying a few additional fresh vegetables or some accompaniments will really help keep costs down."
Known online as the Lunchbox Doctor, Jenny Tschiesche is a nutritionist specializing in corporate wellbeing, sports nutrition and, crucially, family nutrition. She has written four cookbooks, including The Air Fryer Cookbook – essential reading if you've got one of our best air fryers.
Eat healthily on a budget tip #2: Buy in advance (if you can afford it)
Having a well-stocked cupboard or pantry is vital for your meal planning. There are fresh items you'll want to buy every week – vegetables, fruits, meat, fish, eggs, you know the drill – but if you spot a discount on tinned or dried goods you know you'll need in the future, such as chopped tomatoes, soups, or pasta, snap up more than you need if you can and you'll save money later. Buying in bulk is also almost universally cheaper than getting small quantities.
Having a cupboard full of cheap tins and dried goods gives you versatility when you're planning your meals. If you have rice, pasta, tinned tomatoes, beans, chickpeas and the like in the house at all times, you're always just thirty minutes away from a tasty meal. Even kilner jars full of oats will keep for months, and oatmeal can provide a quick, cheap and nutritious breakfast.
Got a freezer? Tschiesche says frozen produce is usually just as nutritious and often cheaper than buying fresh, and it's usually sold in large bags. Use frozen spinach in curries, berries to create smoothies or throw on top of your breakfast. If you see good cuts of meat being sold cheaply at the end of the day, it's a good idea to buy and freeze them to prolong their shelf life. Just be conscious to mark up the foods which you freeze so you can keep an eye on how long they've been in the freezer.
Eat healthily on a budget tip #3: Pay attention to protein
Meat is expensive, which you'll know if you eat a lot of meat, but Tschiesche says you can still make cheap healthy meals with it. Chicken breast (especially on one of the best health grills) is considered a healthy staple, but try other, dark meat cuts like thighs, which are higher in fat but usually half the price. Again, it's cheaper to buy in bulk, cooking several meals' worth at once.
"When selecting meat and poultry, buy the cheaper cuts such as brisket, skirt, shin, or even a whole chicken," said Tschiesche. "These cheaper cuts lend themselves for use in casseroles, stews, soups but also burritos, chilis, and curries, whilst offal can be used in pate, pies, and salads."
Elsewhere, Tschiesche says eggs and tinned fish are cost-effective protein sources that can really be stretched to feed multiple mouths as part of cheap healthy recipes. Vegan or vegetarian? Tofu is expensive, but non-animal protein sources such as pulses, nuts, and seeds can be used to create inexpensive, nutritious dishes such as dahls, hummus, stir-fries, and plant-based stews. Pulses are especially balanced and nutritious, containing protein, fiber, fatty acids, and minerals.
If you want to take it one step further, buy dried beans and chickpeas and soak them yourself – you can use a soaked batch of beans in loads of different meals throughout the week and freeze what you don't need for later. Two tins of beans, some peppers, dried chili flakes, and one tin of chopped tomatoes leave you most of the way towards a decent vegetarian chili.
Eat healthily on a budget tip #4: Eat with the seasons
If you're a veteran of the grocery store, you're used to seeing the same selection of fruit and vegetable week in and week out. In reality, everything comes in and out of season over the course of the year, and that affects both the price and the quality.
If you're trying to buy strawberries in December, not only will they not taste as good (a result of the time spent in transit from overseas) they'll also likely be more expensive.
Tschiesche says: "Local produce that's in season is generally cheaper than out of season. There are many online subscriptions and supermarkets now also giving away boxes of seasonal produce at vastly reduced prices." Try to eat what's in season throughout the year and not only will it help to vary your diet – it'll also be more affordable.
Eat healthily on a budget tip #5: Save your scraps
It pays in the long run to have a chef's mentality to ingredients – many of us throw things away that we could easily eat as part of a cheap, healthy meal. How many times have you binned a pile of potato peelings? Or thrown away a chunk of broccoli stalk?
Most vegetables will make do with a rinse and a scrub before you cook them and as for any other scraps, you can collect them and use them to make vegetable stock, which you can use again in other dishes. This goes for meat as well – offcuts and bones will make a delicious stock that can easily generate or contribute to another meal or two.
You might be surprised how many things you can keep in the freezer. Most of us keep nuts in our cupboards, but generally speaking the high-fat content means that nuts will go rancid after a month or so. Freeze them instead and they'll stay good for a year! You can keep herbs this way too, as well as pre-cooked grains, pulses, legumes, fruit, vegetables and so many more healthy foods. That way, you can choose what foods help you lose weight right from the freezer.
Get the Fit&Well Newsletter
Start your week with achievable workout ideas, health tips and wellbeing advice in your inbox.
Pete is a journalist, recipe developer and chef, specializing in food, health, fitness and technology. He has written for the likes of T3, TechRadar, Great British Chefs and the BBC about a plethora of topics, from healthy eating on a budget to fitness tech for every sports and fitness activity. He continues to drive forward the message that healthy eating can be delicious, affordable and easy via quick, simple recipes on his blog. In his spare time he's a keen rock climber and boulderer, and spends lots of time running - either on trails, roads or out on the hockey pitch!