How to eat healthily on a budget
8 simple steps to getting healthy without breaking the bank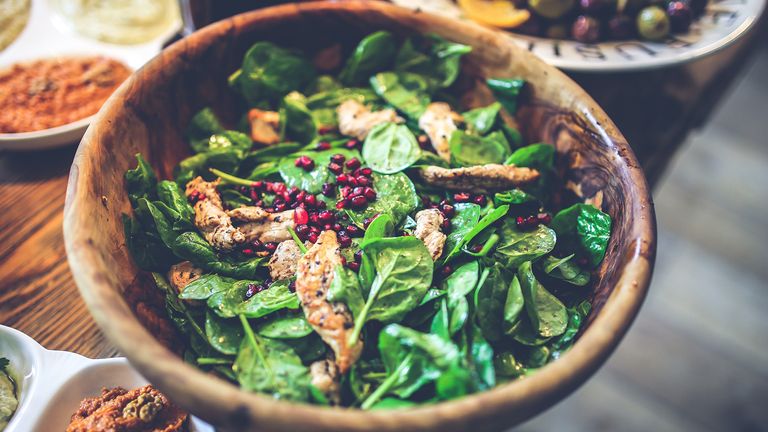 (Image credit: Kaboompics .com from Pexels)
By Pete Dreyer
Healthy eating can seem like a bit of a minefield, but contrary to what you may think, a balanced diet doesn't have to be expensive. Supermarket aisles are packed with expensive health food alternatives, but the building blocks of a healthy diet are actually pretty cheap. Fruit and vegetables, grains, pulses and legumes are all important links in the backbone of a good diet, and they're all inexpensive and readily available.
Aside from what you eat, the other important factor in a good diet is you – if you want to eat healthily on a budget, you have to be willing to invest your own time. Devote some energy into planning and cooking your own meals and you might be surprised what you can achieve, for your health and your bank balance.
So, if you're looking for some tips on how to eat healthily on the budget, you've come to the right place! Read on for some easy steps that'll transform the way you think about food.
1. Plan ahead
We can't stress this enough – plan your meals in advance! A week is a good time period to aim for, it's short enough to be manageable but long enough to give you some flexibility from day to day. When we shop without a plan, we tend to lean into things that are easy and not necessarily healthy for us or our wallets. Plan a set of healthy meals for the week, make a shopping list and stick to it.
2. Keep your pantry well-stocked
Having a well-stocked pantry is vital for your meal planning. There are fresh items you'll want to be buying every week – vegetables, fruits, meat, fish, eggs, you know the drill – but having a cupboard full of tins and dried goods gives you versatility when you're planning your meals. If you have rice, pasta, tinned tomatoes, beans, chickpeas and the like in the house at all times, you're always just thirty minutes away from a tasty meal.
3. Swap your proteins
If you eat a lot of meat, you'll inevitably notice that it constitutes a large part of your weekly shopping bill. An easy way to start saving is to eat less meat, but how do you go about replacing that protein in your diet? Delve into alternative sources – eggs, tinned fish, tofu, quinoa, lentils, beans and chickpeas are all great options. Pulses are especially balanced and nutritious, containing protein, fibre, fatty acids and minerals. If you want to take it one step further, buy dried beans and chickpeas and soak them yourself – you can use a soaked batch of beans in loads of different meals through the week and freeze what you don't need for later.
4. Cook in bulk
Even the most enthusiastic chefs among us don't find time to cook every day of every week – you need healthy food to fall back on when you just can't bring yourself to pick up a pan. If you're making a tomato sauce, don't just make enough for one meal, make a huge batch – it takes the same time and effort and you can freeze the rest in portions for later meals. Then next time you get home hungry, you delve into the freezer, grab some pasta from your well-stocked pantry and you have a cheap, healthy meal on your hands.
5. Make the most of your freezer
You might be surprised how many things you can keep in the freezer. Most of us keep nuts in our cupboards, but generally speaking the high fat content means that nuts will go rancid after a month or so. Freeze them instead and they'll stay good for a year! You can keep herbs this way too, as well as pre-cooked pasta, grains, pulses, legumes, fruit, vegetables and so much more. Treat your freezer like a second pantry and it'll add to your meal choices whilst reducing your waste. Also, don't be afraid of buying frozen fruit and vegetables – not everything you use needs to be fresh! Frozen fruit is great in smoothies, pies and crumbles, and frozen vegetables are ideal for stews and braises.
6. Eat with the seasons
If you're a veteran of the supermarket shop, you're used to seeing the same selection of fruit and vegetables week in and week out. In reality, everything comes in and out of season over the course of the year, and that affects both the price and the quality. If you're trying to buy strawberries in December, not only will they not taste as good (a result of the time spent in transit from overseas) they'll also likely be more expensive. Try to eat what's in season throughout the year and not only will it help to vary your diet, it'll also be more affordable.
7. Save your scraps
It pays in the long run to have a chef's mentality to ingredients – many of us throw things away that we could easily eat, without thinking why we do it. How many times have you binned a pile of potato peelings? Or thrown away a chunk of broccoli stalk? Most vegetables will make do with a rinse and a scrub before you cook them and as for any other scraps, you can collect them in the freezer and use them to make vegetable stock. This goes for meat as well – offcuts and bones will make a delicious stock that can easily generate another meal or two.
8. Grow your own
If you're lucky enough to have a bit of garden space you can easily start growing some of your own vegetables. Salad leaves are a great starting point – they're easy to grow, much tastier than the pre-packaged alternative, and a packet of seeds costs less than a pound! Courgettes, radishes, potatoes, beans and spring onions are also fairly fuss-free if you're not very green-fingered. If all you have is a balcony or a windowsill, you can still grow your own herbs.
Pete is a journalist, recipe developer and chef, specializing in food, health, fitness and technology. He has written for the likes of T3, TechRadar, Great British Chefs and the BBC about a plethora of topics, from healthy eating on a budget to fitness tech for every sports and fitness activity. He continues to drive forward the message that healthy eating can be delicious, affordable and easy via quick, simple recipes on his blog. In his spare time he's a keen rock climber and boulderer, and spends lots of time running - either on trails, roads or out on the hockey pitch!