I tried a three-move stretching routine and it loosened my hip flexors and soothed my back muscles
You don't need any equipment to try this mobility routine, which left me feeling more flexible and less sore after just five minutes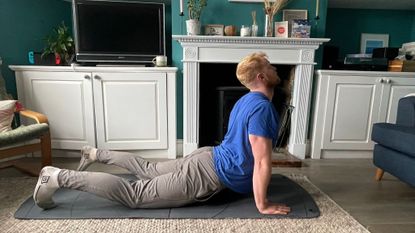 (Image credit: Future / Harry Bullmore)
How often do you hear people complain about an aching back and stiff hips? It's no wonder; splitting our time between office chairs and couches sees us sitting for hours each day, which can lead the muscles around these areas to weaken, tighten and cause discomfort.
In many cases, the remedy to this is more movement, strengthening the body and stretching the muscles to keep your joints happy and healthy.
I'm good at the first part, making my way to the gym for some functional strength training most days. But after I felt my hip twinge during a recent leg workout, I realized I'd been neglecting the second element: stretching.
That's why I sought out certified mobility coach Anthony Green's five-minute routine. With just three moves, he says the session can remedy lower back stiffness and leave your hip flexors feeling smooth.
This sounds like a pretty sweet deal for five-minutes of my time, so I unrolled my yoga mat and set to stretching.
How to do Anthony Green's five-minute mobility routine
Green demonstrates the three moves that make up this mobility routine in the video below. The second and third moves are done on one side of the body at a time. For a five-minute routine, do the first move for one minute, then the second and third moves for one minute on each side of the body.
My thoughts on the routine
The main reason for my semi-neglectful attitude towards stretching is the time commitment. After I've factored in a workout, work day, meals, socializing and housework, there never seem to be enough minutes in the day for mobility training. That's why I really liked this five-minute option, which slipped into my lunch break.
I actively enjoyed doing this routine. I could feel the first move (which was similar to the cobra yoga pose) soothing my aching mid and lower back. The second exercise (a kick-through variation) also offered an enjoyable twisting of my spine, along with a deep stretch in and around my hips. And the third (a lying side bend) felt like it was elongating muscles along the side of my body like the obliques as well as my neck.
It targeted the parts of my body that tend to be most sore after long periods at my laptop, leaving them feeling looser and more comfortable.
I'm under no illusion that one five-minute stretching session is going to cure every ache and pain I have—I need to consistently stick with a stretching routine if I want to see a significant improvement in my flexibility. However, I did notice an immediate difference after doing the moves.
I felt looser and more limber and my training-induced aches and pains had subsided somewhat. When I tried a few unweighted squats in my living room following the stretching routine, my hip joint felt both more mobile and twinge-free.
So, if you have a spare five minutes, I'd definitely give this quick stretching session a go.
Need help deciding which yoga mat to buy? Our guide to the best yoga mats can help
Get the Fit&Well Newsletter
Start your week with achievable workout ideas, health tips and wellbeing advice in your inbox.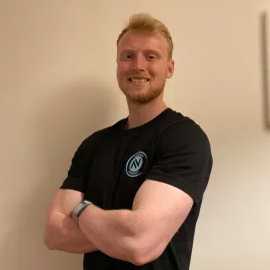 Harry Bullmore is a Fitness Writer for Fit&Well and its sister site Coach, covering accessible home workouts, strength training session, and yoga routines. He joined the team from Hearst, where he reviewed products for Men's Health, Women's Health, and Runner's World. He is passionate about the physical and mental benefits of exercise, and splits his time between weightlifting, CrossFit, and gymnastics, which he does to build strength, boost his wellbeing, and have fun.
Harry is a NCTJ-qualified journalist, and has written for Vice, Learning Disability Today, and The Argus, where he was a crime, politics, and sports reporter for several UK regional and national newspapers.