I tried incline walking for a month, and I was surprised by the results
Walking is a great way to exercise for free, but incline walking helps strengthen your legs and makes uphill walks easier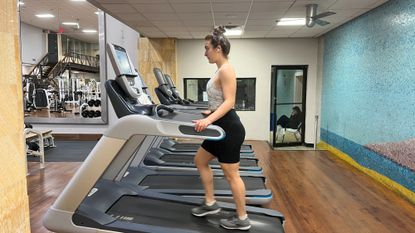 (Image credit: Madeline Muzzi)
Get the Fit&Well Newsletter
Start your week with achievable workout ideas, health tips and wellbeing advice in your inbox.
Thank you for signing up to Fit And Well. You will receive a verification email shortly.
There was a problem. Please refresh the page and try again.
It's probably not a surprise that walking is a great way to move your body. The past few years have seen a big increase in walking for pleasure and exercise, and now there's a growing interest in adding an incline into the mix.
The promise is that this workout is a low-impact way to burn energy and maintain muscle. Incline walking is particularly popular with people who usually work out with weights. The weightlifting community has a skeptical relationship with cardio, with many lifters believing that running will slow down muscle growth.
Pure cardio exercises, like running, can build muscle in your lower-body, but a study published in the Journal of Physical Therapy Science also suggests that intensive distance running can cause muscle breakdown. Plus, it's important to focus on all areas of your body to develop functional strength.
I first encountered incline walking on social media. Suddenly, it felt like my feed was full of fitness models who swore that switching from running to walking was the key to reaching fitness goals. After some compelling before-and-after photos, I felt determined to put this workout to the test.
How I designed the 30-day incline walking challenge
I wanted to make this study as scientific as possible, so I decided to keep the other elements of my life consistent. By adding incline walking on a treadmill to my existing routine, rather than replacing workouts with walking, I'd be able to spot its benefits.
As nutrition plays a crucial role in any body changes, I kept my diet consistent. I eat healthily most of the time, but I don't monitor my diet as part of my approach to fitness. Some days I'll eat a smoothie, roasted sweet potatoes, and a grain bowl, but on other days I'll have a family-size bag of corn chips and a roasted chicken.
I'd consider both of these days normal for me. I didn't want to skew the results (and, frankly, I didn't want to restrict my diet), so I continued to follow my largely intuitive approach to eating during this challenge.
In theory, adding additional workouts to my rest days should increase my calorie burn and lead to fat loss without breaking down any of my hard-won muscle mass. After some research, I settled on the 12-3-30 workout approach to walking.
This simple routine involves setting the treadmill to a 12% incline and walking at a speed of 3 miles an hour for 30 minutes. I made a plan to add these walks to my routine every other day.
Although I had never incline walked before, I have experience with long-distance running. I've always preferred to be outside but wasn't nervous about trying out a few treadmill sessions.
The treadmill took some getting used to
For my first workout I played around with the treadmill before getting started. I had no idea what a 12% incline would look like, and half expected I would be scaling a wall for 30 minutes.
I set the speed to 3 miles an hour on a flat treadmill. This is considered an average walking speed—it's what Google Maps uses to estimate the time for pedestrian routes, and it turned out to be faster than my standard sidewalk pace.
After warming up for a few minutes the pace felt comfortable and I increased the gradient to 5% to get a feel for the incline. As soon as the treadmill tilted, I felt the effort shifting in my lower body.
Walking on a flat treadmill seemed to draw more from my hips and generate more shock in my knees and lower back. Even the slight increase in incline transferred the weight to my calves and glutes. After a few more minutes I increased to 12%. At this point, I was naturally bending my knees slightly and leaning forward.
My legs got stronger
I've always found treadmills to be quite boring (even with a set of workout earbuds on listening to music). Plus, running on a treadmill tends to make me knees sore. Thankfully, during the challenge, neither was an issue.

Slowing down the pace and increasing the incline seemed help—my muscles were absorbing most of the impact, and even after the full 30 minutes, my joints felt fine. As for the first problem, the best medicine is a good podcast.
I'd categorize my first walk as moderate intensity. I wasn't gasping for breath but, by the end of the session, I could feel the burn in my calves and glutes. I was sure I felt more muscle engagement than I would in a standard flat three-mile 10-min/mile run.
These suspicions were confirmed the next day. After just 30 minutes of walking, my calves were sore, thanks to the effects of delayed-onset muscle soreness (DOMS). Due to the incline, this workout hit muscles that my current routine was missing.
As the month continued, I woke with sore calves several more times. It was satisfying to know that a workout that felt moderate and accessible was doing serious work on my lower body.
By the end of the challenge, walking felt like second nature. With the right soundtrack, 30 minutes can go by quickly—if you're not listening to the Normal Gossip podcast yet, I definitely recommend it. Incline walking began to feel like an easy way to get movement in on busy or particularly lazy days.
Would I stick with incline walking?
Although weight isn't a great measure of success, it was easy to track, so I checked in at the end of the challenge. I was about 0.5lb lighter, which is well within a normal daily fluctuation range for most people.
That said, scale numbers aren't necessarily the goal here. I wanted to lose fat and maintain muscle. With just one month of incline walking, I didn't expect to see a huge shift in scale numbers.
Even though one month isn't enough to see huge results on the scale, I felt more confident about my level of cardio fitness and noticed improved definition in my legs. With this challenge behind me, I can confidently say I'll walk again.
I may prefer a jog outside when the weather is nice, but that's not always the case. When heat or snow moves activities indoors, I'll continue to choose incline walking over treadmill running for a low-impact workout.
If you're tight on time or don't enjoy treadmill workouts (I didn't either!), you don't have to do 30 minutes of walking to develop lower-body muscle in a similar way. Calf raises, where raise your heel to stand on your toes, can make a big difference.
Doing calf raises every day can make walking easier, especially uphill, and develops muscle to support your upper-body and improve your posture. That way, you can lace up a pair of walking shoes and walk uphill without a treadmill in sight.
Get the Fit&Well Newsletter
Start your week with achievable workout ideas, health tips and wellbeing advice in your inbox.
Madeline Muzzi is a lifestyle writer based in Brooklyn, New York. Her bylines include The Cut, Grub Street, and Eater. Madeline is a marathon runner, weightlifter, and amateur yogi who loves almost every type of physical activity but secretly despises a day hike.