Is CrossFit bad for you?
It's one of the world's most popular ways to train, but is CrossFit bad for you?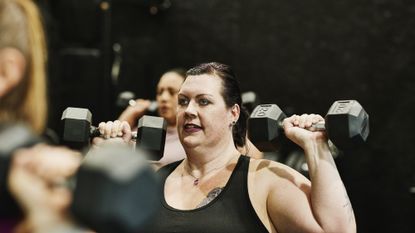 (Image credit: Getty Images)
Get the Fit&Well Newsletter
Start your week with achievable workout ideas, health tips and wellbeing advice in your inbox.
Thank you for signing up to Fit And Well. You will receive a verification email shortly.
There was a problem. Please refresh the page and try again.
Each day, hundreds of thousands of CrossFit fans lace up a pair of the best cross training shoes and hit a Workout of The Day (or WOD, as those in the know call it)—but is CrossFit bad for you?
The training methodology is synonymous with forging some of the fittest individuals on earth through hardcore workouts. However, this reputation has seen some people link even CrossFit for beginners with negative effects such as high injury rates.
Fortunately, this isn't necessarily the case, as we found when we spoke with Jess Rosart, gym manager and coach at Wit Fitness, about the training method. And Cody Mooney, a two times CrossFit Games athlete and Director of Performance at Pliability, explained how proper preparation and coaching could negate these unwanted impacts, leaving you free to enjoy a fun and functional workout.
So, is CrossFit bad for you? While all sports, from table tennis to football, carry some risk, the short answer is no, not if you go about it the right way. Find out how to do just that below.
Cody has been a coach since he was 16 years old and is passionate about transforming people's lives through the power of movement. He is also the Director of Performance at movement improvement app Pliability, which helps athletes improve their mobility and recovery through short, guided videos.
Cody has first-hand experience with this popular training method as a two-time CrossFit Games athlete. This is why he is well-equipped to show how and why people who use this training method need to care for their bodies through mobility and stretching.
What is CrossFit?
CrossFit concisely describes its workouts on its company website as "constantly varied functional movements performed at high intensity." This may sound similar to high-intensity interval training (HIIT), and the two training methods do share some similarities. However, the "varied" element really sets CrossFit apart.
"Fitness equals work capacity across broad time and modal domains," Mooney explains. This means that CrossFit workouts could be anything from a couple of minutes to over an hour long and involve any activity—be that rope climbs, kettlebell swings, or swimming.
If you're looking for a plan to get you started, these workouts from the CrossFit Games 2020 are a good place to begin. There are five challenges to make your way through to get a sense of how CrossFit workouts are structured.
"Essentially, CrossFitters want to maximize their physical capabilities across all aspects of fitness (cardiovascular endurance, stamina, strength, flexibility, power, coordination, agility, balance, and accuracy).
As such, you can expect a CrossFit training session to complete any combination of these aspects expressed through functional movements."
"This is why people stay with it for so many years," Rosart adds. "You are always learning something new and constantly challenging yourself."
Indeed, from its humble beginnings in 2000, the practice has now become so popular that there are now more than 12,500 gyms (or boxes, as they are known in the CrossFit community) operating around the world.
What are the risks of CrossFit?
Not long after its conception, CrossFit became the subject of debates surrounding elevated injury rates and medical conditions suffered as a result of the intense nature of the training. Mooney points to one particular New York Times piece from 2005, with the headline "Getting Fit, Even if it Kills You, which "painted the sport with a brush that was hard to remove"
However, a 2018 meta-analysis (a review of published studies) reported in the Journal of Sport Rehabilitation found that "current evidence suggests that the injury risk from CrossFit training is comparable to Olympic weightlifting, distance running, track and field, rugby, football, ice hockey, soccer, or gymnastics."
However, the researchers note that "injuries to the shoulder(s) appear to be somewhat common with CrossFit." An independent study published in the Orthopaedic Journal of Sports Medicine, which tracked CrossFitters for four years, found that injuries were most common among beginners in their first year of training.
"CrossFit involves skills and movement patterns that other sports typically don't have (e.g., kipping movements and overhead positions with weights)," says Rosart. "When you have someone who has been out of fitness for years, lacks mobility, and starts these kinds of movements too quickly with weights and reps that are not appropriate for them, injuries can happen."
This highlights the importance of starting slowly and finding a good coach when you begin CrossFit, Mooney says. "Athletes should always take part in an 'on ramp' in which they learn the movements and terminology of our training while slowly developing experience with the training format. This enables an athlete to build tolerance as they gradually increase intensity."
"A good coach will emphasize CrossFit's focus on quality movement rather than weight lifted or reps achieved. Every movement in CrossFit is quantified with movement standards which, when followed, ensure maximum biomechanical efficiency and effectiveness.
"A coach should never push you to lift heavier weights or attempt movements you aren't confident in and aren't able to meet the movement standards; when this occurs, injuries are a real risk."
Mooney also warns against overtraining, which can increase the risk of injury. Instead, he advises following a maximum of three days on, with one day off, to give your body adequate time to rest and recover.
Jess is the gym manager and coach at London CrossFit gym WIT Fitness and has over 14 years of experience in the coaching scene, including artistic gymnastics and CrossFit. She first tried CrossFit in 2011 and was immediately hooked, knowing this training was the right fit for her.
As well as coaching classes and taking 1:1 personal training sessions, Jess leads nutrition challenges and runs women's only training sessions as she loves seeing others achieve something they never thought possible and reach their full potential via her coaching.
What are the benefits of CrossFit?
Done correctly, CrossFit can be the key to unlocking a plethora of health benefits. A 2019 systematic review published in Sport Sciences for Health concluded that this training method improves cardiovascular endurance, stamina, strength, flexibility, power, and balance.
"Increased energy, mobility, fitness levels, and strength are just a few that you will notice in your first couple of months," Rosart says, adding that many people also enjoy the social and community aspect of the class workouts.
Mooney says CrossFit training, twinned with a nutritious and balanced diet, will likely lead to "a drop in body fat, increase in strength, power, and endurance as well as learning a variety of new skills."
"Every CrossFit gym has an example of someone who has lost hundreds of pounds and rediscovered their fitness… While the performance benefits of CrossFit are many and well-publicized, the greatest benefit of all of them is they [improve your] protection against chronic diseases like type 2 diabetes, cancers, high blood pressure, obesity, and heart disease."
How to get started with CrossFit
When it comes to getting started with CrossFit, Mooney and Rosart are united in their top piece of advice; join a box.
Take a look online for a local CrossFit gym and give it a try, says Rosart. "Get booked in for a free trial class and embrace the journey. It is important to note every single CrossFit gym is different; the owners and coaches dictate the programming & feel of the space. So try a few before making your decision to see what fits you best."
Mooney also recommends finding a box with knowledgeable coaches that can help you learn to move well and perform each movement with the correct form, lowering the risk of injury. "When you pick a CrossFit gym, the most important thing to look for is the coaches," he says.
"You should ask about the qualification levels of the trainers—they should, at a minimum, have their Level 1 CrossFit training certification, but ideally, you want to see Level 2; anyone with their L3 or L4 has put in some serious time to their professional development."
"When you talk to the coach, they should also spend plenty of time understanding your training history, guiding you through a specific 'on ramp' and giving you constant feedback in the session." Just be sure that you're confident with the differences between cross training vs CrossFit so that you know what to expect.
Get the Fit&Well Newsletter
Start your week with achievable workout ideas, health tips and wellbeing advice in your inbox.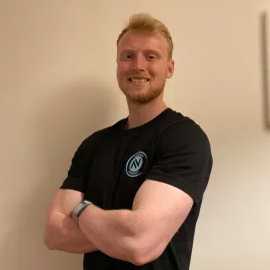 Harry Bullmore is a Fitness Writer for Fit&Well and its sister site Coach, covering accessible home workouts, strength training session, and yoga routines. He joined the team from Hearst, where he reviewed products for Men's Health, Women's Health, and Runner's World. He is passionate about the physical and mental benefits of exercise, and splits his time between weightlifting, CrossFit, and gymnastics, which he does to build strength, boost his wellbeing, and have fun.
Harry is a NCTJ-qualified journalist, and has written for Vice, Learning Disability Today, and The Argus, where he was a crime, politics, and sports reporter for several UK regional and national newspapers.