Crossfit for beginners: How to get started, what you'll need and more
Can you do CrossFit for beginners? All fitness fanatics start somewhere. Here's how you can join them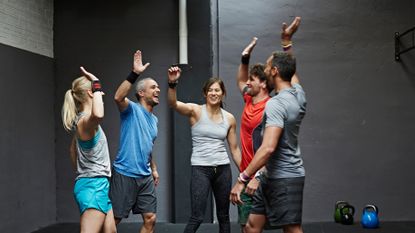 (Image credit: Getty Images)
Get the Fit&Well Newsletter
Start your week with achievable workout ideas, health tips and wellbeing advice in your inbox.
Thank you for signing up to Fit And Well. You will receive a verification email shortly.
There was a problem. Please refresh the page and try again.
CrossFit for beginners sounds a tad oxymoronic, given how it's often seen as a very intense workout. A branded training philosophy, CrossFit has taken the world by storm and encouraged many people to get fitter and stronger.
Concepts with such a cult following can be intimidating for gym newbies, but if this is your first time lacing up a pair of the best cross training shoes, you should know the training philosophy is available for everyone to take part in. What does this type of exercise actually entail, and is there's such a thing as CrossFit for beginners?
CrossFit for beginners: What is CrossFit?
CrossFit is a type of high-intensity interval training that focuses on functional movement. It's made up of daily workouts (called WODs) that aim to build your strength and fitness in different ways. These workouts can be made up of aerobic exercises, like using a rowing machine, calisthenics (bodyweight exercises like squats), and key weightlifting techniques.
This combination "has changed the fitness industry," explains Brian Sharp, co-owner of Crossfit Central London. According to Sharp, Crossfit has "put barbells in the hands of more people than anything else in history. It has saved the sport of Olympic Weightlifting, sparked a calisthenics movement, changed the lives of millions of people and helped thousands become gym owners."
Brian says CrossFit has made strength and fitness more accessible. "Back in 2006, I remember asking a member of gym staff to teach me how to clean and getting a completely blank stare. And the rack of kettlebells at the gym could only be used with the supervision of a personal trainer!"
"Now if you go to a high street gym you'll see people doing functional movements quite well. And there are loads of bars, weights, pull-up rigs, sandbags, and sleds for everyone to use."
CrossFit for beginners: What do you need to try CrossFit?
If you want to try CrossFit, a class is your best bet. A CrossFit coach will be able to teach you to carry out all the necessary movements and exercises properly. Don't worry about being a beginner, Sharp says.
"A common misunderstanding is to look at a CrossFit class and presume you need to be fit to start. Wind the clock back six months or a year and the confident, fit people you're looking at was scared, out of shape, and slightly overwhelmed."
"We have an 87-year-old woman training with us currently. If she can do it, so can you."
The great thing about CrossFit is that each section of the WOD can be tailored to your overall ability. If you're supposed to be squatting with a barbell, for instance, and can't manage to put any weight on that bar, that's absolutely fine. You'll get stronger over time. Complete beginners could even do bodyweight squats, making sure their technique is perfect before moving on.
For the majority of CrossFit workouts, you'll need some free weights like dumbbells or kettlebells, a pull-up bar, and an Olympic Weightlifting bar. If you're in the gym, you'll also be able to take advantage of aerobic machines like the best rowing machines and exercise bikes.
CrossFit for beginners: Can you do CrossFit at home?
Absolutely, Sharp says. "Back in the day, this was where most of us started. I bought a bar, a pair of squat stands, a couple of kettlebells, and a skipping rope, and did pull-ups on the garage roof beams."
But CrossFit has had such an impact because of the sense of community built in each and every one of its gyms.
"I got fitter in the first few months of opening a CrossFit gym than I did in two years of training at home," Sharp says. "That's because you work harder when you are surrounded by other people. You use peer pressure in a good way.
"This stops you from avoiding the things you know you should work on but don't want to. Getting coached speeds your training journey up too, which is why even successful athletes have a coach."
CrossFit for beginners: Your first WOD
Ready to see if CrossFit is for you? Here's an example of a CrossFit workout of the day, or WOD.
First off, do not skip your warm-up! This will stop unnecessary injuries and make sure you can carry out the rest of the exercises to your full capacity. Sharp recommends two to four minutes of easy jogging, rowing or biking to start.
Then two rounds of the following:
7-10 shoulder pass throughs (watch the video below for instructions)
30 jumping jacks
10 sit-ups
"Annie" is a staple workout at Crossfit gyms. You'll need a jump rope and a mat, such as one of our best yoga mats, to carry out the below for time:
50 "double-unders", spinning the rope twice between jumps. Next set, do 40, then 30, 20 and finally 10. If you can't do double-unders, just do "single unders", using the jump rope as normal.
50 sit-ups, then 40, 30, 20 and finally 10.
Finally, do four sets of the below, with no timer set:
50-meter farmer's walk. Using a pair of dumbbells, walk slowly from one end of the gym to the other, staying upright and looking straight ahead.
10-15 dumbbell deadlifts.
30 second side plank
And there we have it! Your first Crossfit workout. If this one doesn't inspire you, there are many more advanced workouts to choose from like "Murph", "Michael" and "Cindy". If you're struggling with the last section of this workout, you can check out our how to deadlift with dumbbells guide.
Get the Fit&Well Newsletter
Start your week with achievable workout ideas, health tips and wellbeing advice in your inbox.
Lucy is a freelance writer with a background in marketing and journalism. Over lockdown, she kept fit by climbing lots of Welsh mountains and finding the coldest lakes for wild swimming. Now she's trying to get back into martial arts and always needs to do more yoga.