5 fat-torching workouts from the CrossFit Games 2020 to try at home
Emulate the unbelievable challenges contestants faced at the CrossFit Games 2020 with five of the most blistering workouts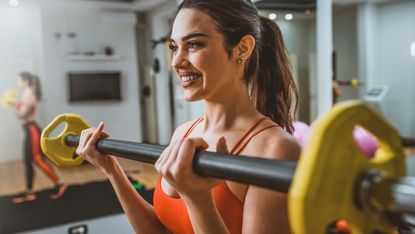 (Image credit: Getty Images)
CrossFit has been around for 20 years now, but the platform for improving your health and fitness shows no sign of mellowing. Indeed, the direct by-product of this fab fitness philosophy is the annual CrossFit Games, which has gained a reputation for being one of the most punishing endurance contests out there since its inaugural event was held in 2007.
The 2020 CrossFit Games, held over five days during September and October were won by Mat Fraser and Tia-Clair Toomey, with each gaining themselves the ultimate accolade of Fittest on Earth. This year the series of events took place in two stages, with the first one being online and held in competitor gyms around the world. The resulting top five men and top five women subsequently moved on to an in-person final stage in Northern California.
"The goal we set for ourselves this year was to create the toughest test in the history of the Games, and I really feel like we succeeded," said Dave Castro, CrossFit Director of Sport.
He's not wrong. CrossFit Games piles on a ton of physical and psychological challenges. This year, the final weekend even had some unwanted surprises added into the punishing mix of activities. For example, Ranch Loop, the last event of day one had the athletes doing a brutal three-mile trail run only to be told at the end to turn back around and do it all again, in reverse. Ouch.
Meanwhile, day three in Atlanta culminated in an event that involved a one mile run, 100 handstand push-ups, 200 single-leg squats, 300 pull-ups and rounded out with another one mile run. Adding to the pain, female contestants had to wear a 14 pound weight vest and male contestants a 20 pound weight vest while they completed the series of unrelenting challenges.
If you're looking for a workout that you'll definitely feel the day after (and then some), check out our list below of five CrossFit Games 2020 events to try at home - although you may need to modify them somewhat. Just bear in mind that some of these can be pretty demanding on your body so, as with all exercise, make sure you are confident with the moves before attempting them. Don't be afraid to work up to both the movement and the weights involved, starting without any load if needed.
1. Friendly Fran
You might not think this workout is quite so friendly once you start it! The Friendly Fran event comprised three rounds of 21 thrusters (a combination of a front squat and an overhead press using a barbell) and 21 chest-to-bar pull-ups. Women worked with 85lb weights, whilst men took on 115lb. If you don't have a pull-up bar at home, you could swap these out for push ups.
2. Nasty Nancy
Contestants had to complete a 500-metre run, followed by 15 overhead squats (squats performed whilst holding a barbell overhead) and 15 bar-facing burpees (where you lower your chest and thighs to the floor, then jump over a barbell as you complete the burpee movement). Oh, and then they had to repeat it all over again - five times.
For the overhead squats, women worked with 125lb and men 185lb, however you could perform these with just the bar whilst you perfect your form. If you don't own a barbell, use a pair of the best adjustable dumbbells or even a rolled up towel instead. And for the burpees, simply add a jump to the end of regular burpees (check out our how to do burpees form guide if needed).
3. Awful Annie
A punishing round of beat-the-clock craziness. For Awful Annie, competitors had to complete round of 50, 40, 30, 20 and 10 of the following exercises:
Double-unders: Skipping where you spin the wrists fast so the rope passes under your feet twice on each jump.
GHD sit-ups: An extreme sit-up that involves sitting on a bench and extending backwards, so your back arches and hands move towards the floor before sitting up.
The Clean: Lifting a load - typically a barbell - from the floor to the shoulders in one dynamic move.
Double-unders can take weeks - and sometimes months - to perfect, so if you've yet to master them then try regular skipping. GHD sit-ups rely can easily cause injury if not performed correctly, so instead swap them out for regular crunches - although it's still important to master the move. Read our handy guide on how to do a crunch, which includes tips on variations and form.
4. Ranch Loop
This event involved running a three-mile course through varying terrain. Don't fancy heading out into the cold, dark night? We suggest you invest in the best treadmill you can buy and run! And if you're feeling particularly energetic, you can add on the additional three miles that the competitors were surprised with at the supposed finish line.
5. Happy Star
Contestants faced four rounds of a 200 to 300-meter hill run, followed by 5, 7, 9 and - in the final round - 11 reps of burpees and thrusters. To do Happy Star at home or in the gym, hit the treadmill and crank up the incline as high as it will go for the hill run, and then burpee and thruster your way to exhaustion.

Get the Fit&Well Newsletter
Start your week with achievable workout ideas, health tips and wellbeing advice in your inbox.
Tech expert Rob Clymo covers multiple bases when it comes to both reviewing and staying in shape, tackling everything from cars and bikes to coffee machines, as well as the latest fitness kit. Keen cyclist Rob can often be found working out, usually by manhandling very large kitchen appliances in and out of the house for testing purposes – one notorious incident saw his plasterwork damaged by LG's weighty and steam-powered 'smart wardrobe', the Styler.