Pilates for back pain: four moves to undo sitting at a desk
Here's how you can use Pilates for back pain according to leading Pilates expert Korin Nolan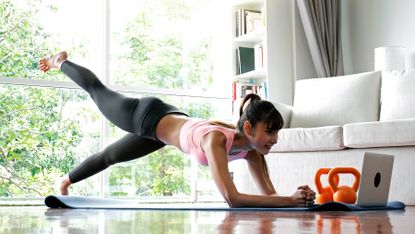 (Image credit: Getty)
Practicing Pilates for back pain relief can be a nice and easy home remedy for relieving backache caused by sitting at your desk all day. Fit&Well spoke to Pilates expert, Korin Nolan, who has shared four quick, low-impact Pilates exercises for you to try at home.
The thought of hitting some weights or completing a fast-paced HIIT workout after work is probably the last thing on your mind if you're suffering from an achy back. On the contrary, rolling out a best yoga mat and completing some low-impact Pilates exercise to help improve mobility in your back hopefully sounds more enticing.
Leading Pilates expert and founder of Dynamic Pilates TV, Korin Nolan, told Fit&Well that Pilates is renowned for helping to relieve back pain as it assists in strengthening the core and promotes good spinal mobility.
She explained, "So in other words, we need to encourage the spine to be flexible in all its planes of movement; flexion (curling forwards) extension (opening the chest) rotation (twisting) and lateral rotation (side bending)."
This 2016 study found that Pilates improved pain relief among patients with chronic low back pain. However, before taking up any new physical activity while suffering from back pain it's recommended you get your back evaluated by a professional as Nolan puts it, "Some exercises can aggravate it more."
If you're confident that Pilates is a suitable exercise for you to perform, then try out these four moves provided by Nolan below. Photo demonstrations are included to help you master the correct form for each.
Curl-up
This will help to strengthen your core (which in turn will help your back) and also create some length in the upper back and neck.
Lay on your back with your feet either flat down, knees bent, or you can lift your knees in tabletop position for more of a challenge like in the image. Interlock your hands behind the back of your head and lift your elbows a little. Inhale to prepare, engage your core, exhale and curl your head off the mat nodding your chin towards your chest. Focus on letting the head be heavy in your hands so you feel some length in the back of your neck and sliding the ribs towards the hips. Keep your tummy pulling in throughout. Inhale as you lower the head back down. Move nice and slowly with control.
Aim to do around 10-20 reps as you build in strength.
Extension
Lay on your front with your legs apart and your hands under your forehead. Inhale as you engage your core and push your pubic bone towards the mat. Exhale as you lift your head and your hands (keeping them connected to the forehead) up off the mat. You do not have to lift very high (this depends on the flexibility in your spine) work on sliding your shoulders down your back and keeping the abs engaged. Inhale as you slowly lower back down to the mat.
Work on 10-15 reps. Move slowly with control and you can increase the range or movement as you get stronger.
Rotation
Lay on your side bending your knees, stacking the hips one on top of the other and reaching your arms out in front of you one stacked on top of the other (you may need a small cushion under your head). Inhale to prepare, as you exhale engage the core and lift the top arm, reaching it back behind you as far as it will go. As you do this make sure you keep the hips stacked so they do not travel back with you and let the head follow the top hand, so it rolls backwards across the mat. Take a big inhale there breathing into the stretch and then on the exhale close back to the start point.
Repeat 5-10 times.
Lateral Flexion
Sit with your knees to one side (one knee forwards and one knee back like the image) and place one hand down to the opposite side your feet are, take an inhale, and then as you exhale lift the hips and reach the free hand over the head into a side bend. Inhale there and then exhale to return.
Repeat 5-10 times each side.
If you fancy using another low-impact activity, to help you overcome the negative effects of sitting at a desk all day, you should consider walking more often. Buying a pair of best shoes for walking can be a good motive to take regular breaks from your screen.
Get the Fit&Well Newsletter
Start your week with achievable workout ideas, health tips and wellbeing advice in your inbox.
Jessica is an experienced fitness writer with a passion for running. Her career in journalism began in local news and she holds a Masters in journalism. Jessica has previously written for Runners World, penning news and features on fitness, sportswear and nutrition.
When she isn't writing up news and features for Fit&Well covering topics ranging from muscle building, to yoga, to female health and so on, she will be outdoors somewhere, testing out the latest fitness equipment and accessories to help others find top products for their own fitness journeys. Her testing pairs up nicely with her love for running. She recently branched out to running 10Ks and is trying to improve her time before moving on to larger races. Jessica also enjoys building on her strength in the gym and is a believer in health and wellness beginning in the kitchen. She shares all of this on her running Instagram account @jessrunshere which she uses for accountability and for connecting with like-minded fitness lovers.