Running after injury: how to return to fitness
Don't rush back into training after an injury has set you back. Treat the area with caution or you could make it worse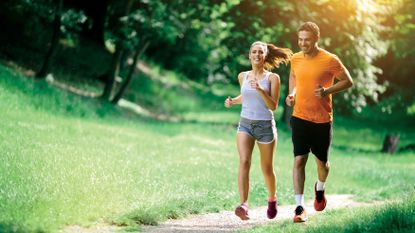 (Image credit: Thinkstock)
Returning to running after an injury is a slow and steady process. Jumping straight back into your training programme will most likely result in the problem reoccurring, or even getting worse, sidelining you for longer.
When injured, you can continue with other low-impact forms of exercise, such as swimming, cycling, rowing or cross-training, as long as it doesn't hurt the area in question. Ideally, you should leave the area for at least a week and always wait for the swelling to subside before recommencing a training programme. It is vital to use your common sense and listen to your body.
Once the pain begins to ease off and you feel almost back to normal, keep cross-training for an extra week to ensure that everything is healed. It can be hard to take it easy – we've all been there – but going back to running too soon will end up with you being in more pain and having to rest for longer. Continually training on an injury could transform a small problem into a massive injury, such as a stress fracture or torn ligament, resulting in you needing to take months off.
Never return to running until you can walk completely pain-free for 30 minutes. If there is even the smallest amount of pain then you should stop and return to a lower-impact exercise. Once you can walk pain-free, start to incorporate a few short, easy runs on softer ground into your week. If possible run on sand, grass or tracks, but only if the problem isn't in the ankle or calf regions, as these surfaces can worsen the problem.
If the pain is in your feet or legs, then check that the trainers you're currently wearing are not too old (they should be replaced every 300 miles or so), and that they are suited to your feet and running style.
We can't stress enough how returning to exercise after an injury needs to be a gradual process. A few weeks of taking it easy doesn't seem so bad when you consider how serious a repeat injury could get if incurred, ignored and left untreated.
When not to run
These warning signs are your body's way of telling you to ease up:
1. Neck down
If you're feeling unwell in any way other than a runny nose, then skip the run. Overexertion will only drain you of the last bits of energy your body has, which could be better used getting you well. Start running again only when you feel completely better.
2. Sharp pain
If pain hits you hard and fast when running, stop immediately to rest it or it could turn into a more serious injury. Get home slowly and then RICE – rest, ice, compress and elevate – the injured area. Resume running only when you can walk and gently jog with no pain at all.
3. Excessive aches
Running can ease off heavy aching muscles making you feel as good as new, however, if the aching doesn't fade after your warm-up, then call it quits. Restart when you're feeling recovered and happy to continue; pushing yourself will lead to more injury.
4. Continuous pain
If a specific area has been causing you pain for a while and not getting any better or worse, then stop and apply the RICE treatment every 20 minutes over the course of an evening. If symptoms persist and swelling remains, then visit your doctor to get checked over.
5. Injured area
After an injury has occurred, only return to running if you can walk pain-free for 30 minutes or more. Never return to running until completely healed, as overtraining on an injured area will only make it worse.
Cold and flu: should I run?
Pushing yourself too much will only leave you feeling worse and could make your illness last longer. However, if you have a slight sniffle or feel a little tired, then exercise can actually give the much- needed boost that your body needs. Flushing your body with endorphins will lift your mood and restore your appetite, repairing your body quicker.
The general rule is that if you're feeling ill from the neck down, such as in the chest, then avoid running until you feel completely well. Headaches, runny noses and a tickly throat won't get any worse from running, but take it easy. Anything more serious requires rest and never run with a high fever.
Launched in 2020, Fit&Well.com is all about helping you meet your health and fitness goals in ways that are fun and achievable. With news and features on fitness, weight loss, running, nutrition, yoga, wellness and more, we're committed to helping you wherever you are on your fitness journey. We break down the best fitness tech, with reviews, buying guides and the latest deals on fitness and wellness kit, from dumbbells to diffusers.
We cater for all difficulty levels here. It doesn't matter if you're a beginner in the world of fitness or you're gearing up for your tenth marathon: we're all moving towards the same goal – creating a healthier, happier you. From guides on getting started doing walks around the block, to creating the perfect work-from-home space, to eating to fuel your first triathlon. It's all here.