Skin protection tips: mitigate damage caused by frequent hand washing
Top skin protection tips for keeping skin soft and nourished, even with frequent hand washing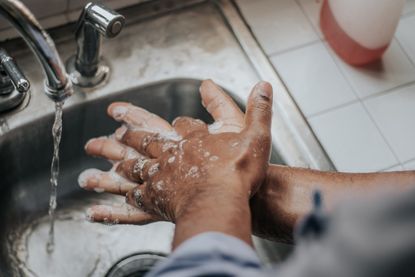 (Image credit: Mélissa Jeanty | Unsplash)
Frequent hand washing can leave your hands dry, cracked and sore. We spoke to Charlotte Vohtz, founder of Green People and organic beauty expert, for her top tips for keeping skin protected.
"Frequently washing your hands with an antibacterial hand wash is thought to be the best way to keep yourself and others safe from harmful bacteria, but it can leave you with dry, cracked skin or eczema," says Green People founder Charlotte.
"The best hygiene practice is to wash your hands with soap for at least 20 seconds frequently throughout the day or to use an antibacterial hand sanitiser if you don't have access to soap and water.
"This will expose your skin to a variety of antibacterial actives, which can help to stop infections entering the skin. Ethanol (ethyl alcohol) is one such active but as well as killing bacteria, it also strips away skin's natural moisture.
"If your hand sanitiser contains a high volume of this skin-drying ingredient, it's normal to notice that your hands feel dry after frequent use.
"It's also not just alcohol-rubs which can leave your skin feeling dry; hands have few sebaceous glands so frequently washing them with skin-drying soaps that contain sodium lauryl sulphate will draw moisture out of the skin and may leave the hands feeling sore and irritated."
How can you protect dry hands from frequent washing
1. Apply hand cream in between hand washes
Not only is having dry skin on your hands uncomfortable, it can mean that your skin barrier has been compromised.
A strong, healthy skin barrier plays an important role in keeping bad bacteria away from the body so, if frequent hand washing leaves you with dry skin, make sure you replenish the skin with a hand cream made with actives known to support the skin barrier.
Perilla Seed oil is an ideal natural ingredient for supporting the skin barrier on the hands. Easily absorbed by the skin and rich in flavones and antioxidants, Perilla oil contains a natural precursor for ceramides (lipids or fats found naturally in high concentrations in the uppermost layers of skin. They make up over 50% of skin's composition).
This plays a role in maintaining the skin barrier and protects against water loss. Another benefit of this omega-rich oil is that it contains polyphenols and triterpenoids. These natural molecules provide anti-inflammatory, anti-bacterial, antioxidant and anti-allergic benefits to the skin.
If you have eczema or your hands are frequently irritated by hand care products, support your skin barrier with Squalane hand care. A natural emollient, Squalane increases moisture levels in the skin, locking in long-lasting hydration. This anti-inflammatory ingredient will also reduce redness and calm irritation.
2. Use SLS-free soap
An easy way to avoid dry skin when washing your hands frequently is to use an SLS-free hand wash. Sodium lauryl sulphate (SLS) is commonly added to soaps and hand washes to make them foam but, like ethanol alcohol, it can dry the skin. Try Green People's Manuka & Lemon Tea Tree Antibacterial Hand Wash (£13, 300ml).
The highly concentrated formula is free from SLS, triclosan and irritating soap and instead combines organic lemon tea tree, sweet orange and Manuka. This hand wash harnesses the power of naturally antimicrobial Australian Tea Tree and extracts from the New Zealand Manuka Bush; bacteria is banished in record time. pH-balanced and gentle, it contains 80% certified organic ingredients and won't irritate your hands.
3. Dry your hands
Drying your hands thoroughly is as important as washing them regularly. Not only will excess soap cling to the skin, putting it at risk of irritation and dryness, but damp, wet hands will attract more germs than dry, clean ones. Pay particular attention to drying in between your fingers.
4. Wear glove when cleaning & washing up
Detergents and washing-up liquids can contain harsh chemicals, artificial fragrances and SLS. These ingredients can aggravate already sensitised skin and are best avoided when you are suffering with dry skin or eczema on your hands.
If you're doing the cleaning or washing up, always pop on a pair of protective, waterproof gloves to protect your hands.
Liked this?
Get the Fit&Well Newsletter
Start your week with achievable workout ideas, health tips and wellbeing advice in your inbox.
Launched in 2020, Fit&Well.com is all about helping you meet your health and fitness goals in ways that are fun and achievable. With news and features on fitness, weight loss, running, nutrition, yoga, wellness and more, we're committed to helping you wherever you are on your fitness journey. We break down the best fitness tech, with reviews, buying guides and the latest deals on fitness and wellness kit, from dumbbells to diffusers.
We cater for all difficulty levels here. It doesn't matter if you're a beginner in the world of fitness or you're gearing up for your tenth marathon: we're all moving towards the same goal – creating a healthier, happier you. From guides on getting started doing walks around the block, to creating the perfect work-from-home space, to eating to fuel your first triathlon. It's all here.