This gentle walking exercise routine could lead to a healthier, happier life
A walking exercise routine has huge benefits, not only physically but mentally too.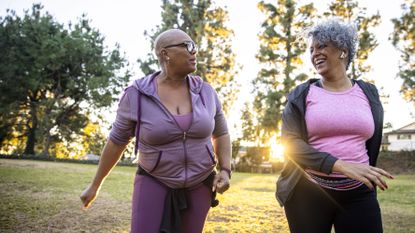 (Image credit: Getty)
The best thing about starting a walking exercise routine is that you already know how to do it. Even if you don't walk for 'fitness', most of us walk daily – even if just around the home. You don't need to teach yourself.
If you want to walk to improve your health and fitness, however, then you need to get into the habit of walking briskly a minimum of 30 minutes a day.
"All you need is a touch of motivation and your shoes – although not just any," explains personal trainer Emma Jay Moorcroft, founder of EJ Coaching. "The best shoes for walking are trainers or walking boots that are comfy and supportive with some traction on the bottom to help with your grip.
"It's also helpful to go half-size up from your regular shoes since our feet tend to swell when you exercise."
Walking exercise routine for beginners
If you're new to walking, don't think you need to go all-out and get those 30 minutes in at once. "It's always a good idea to build up," explains Moorcroft.
"I would suggest starting with 10 minutes and building it up over the month. For example, start with brisk walks of 10 minutes three times a week, then as your fitness levels increase, increase the number of brisk walks per week to five to six" she says.
"Once you've done this for a few weeks and your fitness levels start to improve, add five minutes to every walk, where eventually you'll be able to complete a brisk walk for 30 minutes, six-days-a-week. It won't take long for your stamina and endurance levels to improve, and most importantly for you to form a new habit."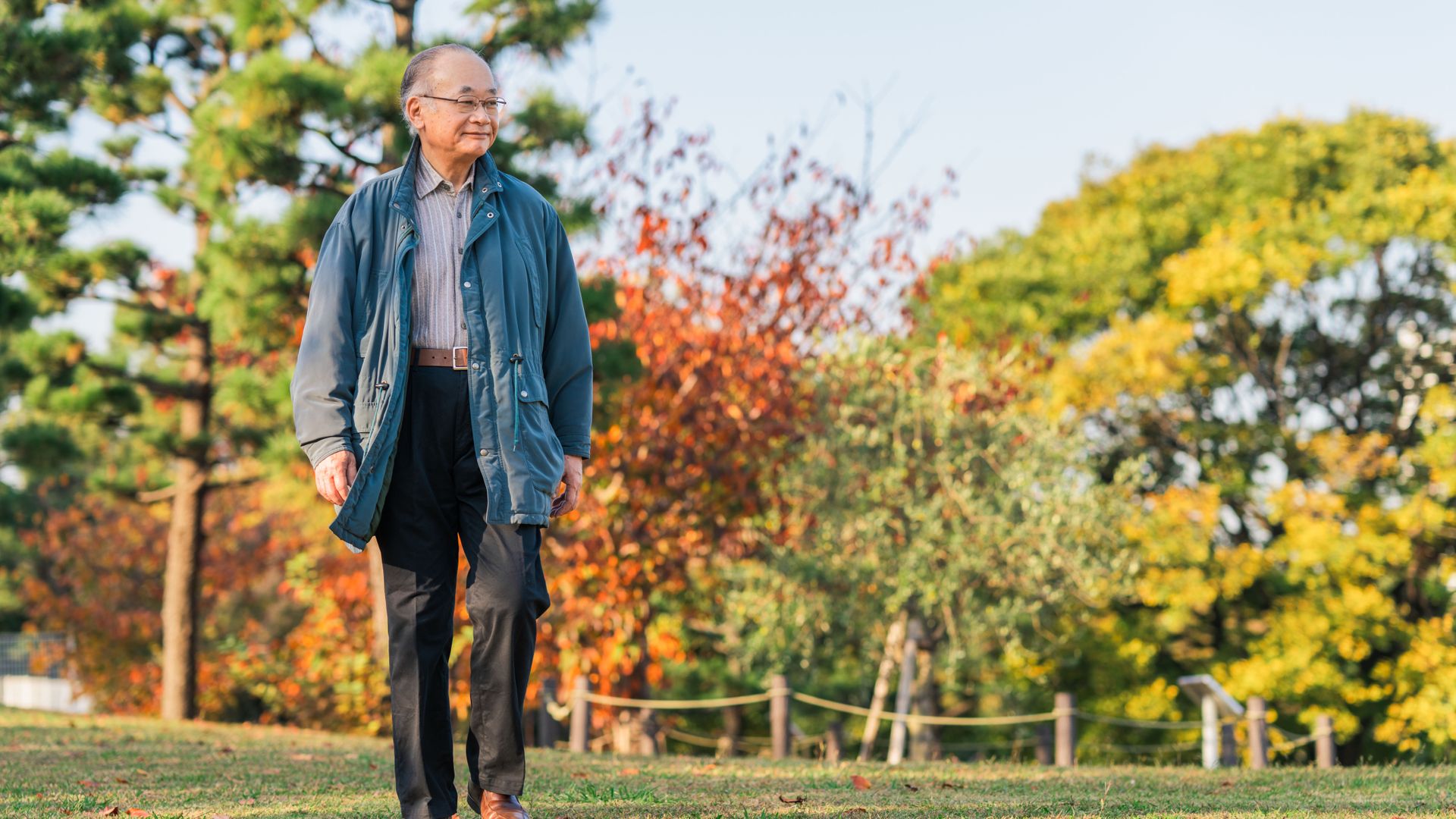 So, to recap, Moorcroft recommends doing something like the following routine – although you can adjust this for your own comfort and fitness levels:
Week one: 3 x 10 minute brisk walks
Week two: 5 x 10 minute brisk walks
Week three: 2 x 15 minute brisk walks, 3 x 20 minute brisk walks
Week four: 2 x 25 minute brisk walks, 3 x 30 minute brisk walks
Week five: 5 x 30 minute brisk walks
Week six: 6 x 30 minute brisk walks
At a brisk walk, you should still be able to comfortably hold a conversation – but you shouldn't be able to sing. That's how you know you're putting in the right amount of effort.
Making the routine more challenging
Once you're hitting the recommended 150 minutes of brisk walking weekly, it's a great idea to mix things up. "Your body should be ready to take on a new challenge after six weeks following a new walking plan," explains Moorcroft, "so why not think about taking a hillier route to aid your progression, or continue by adding another five minutes each week until you can reach the hour mark?"
Another easy way to increase the intensity of your walking is to walk faster. "Choose a pace where it's tough for you to speak full sentences without sounding a bit out of breath and why not get those arms pumping too? This will help you to engage your core muscles and the muscles in your upper back," says Moorcroft. "Using your arms will also help to propel you forwards so you automatically walk faster."
You could even add in some light weights, if you want to challenge your arm muscles.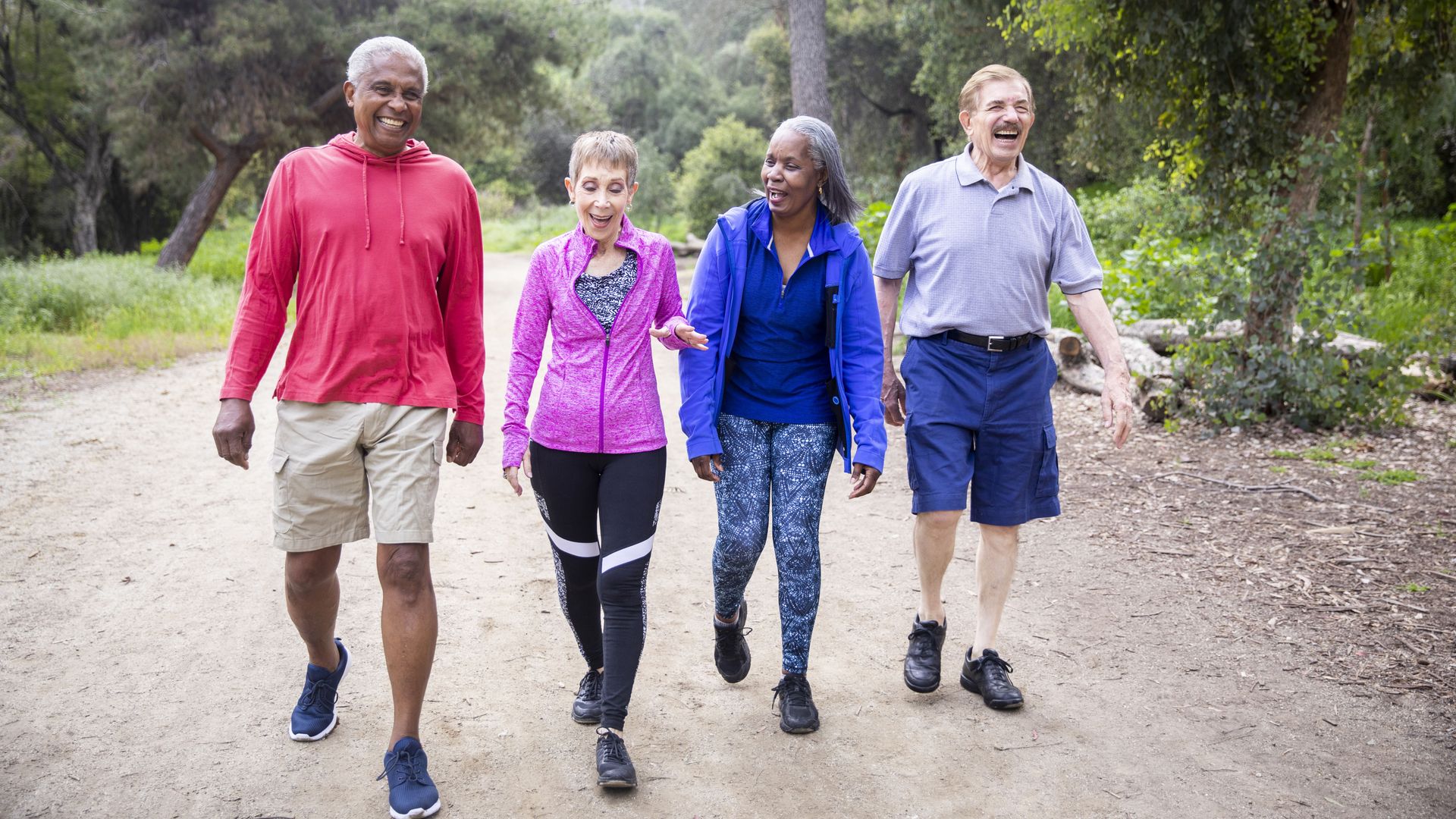 Health benefits of a walking exercise routine
Once you get going with your daily walk, the health benefits may come as a surprise. Research by the Center for Balanced Living in Ohio suggests walking can improve your mood and creativity. A study from The American College of Cardiology also found that systolic blood pressure was 0.45 points lower for every 1,000 daily steps taken (that's the higher number and the force at which your heart pumps blood around your body).
That means if you clock 10,000 daily steps, your systolic blood pressure would be 2.25 points lower than someone else who walks only 5,000 daily steps on average. Clocking up the miles can also help you live longer, improve your sleep and improve your range of motion and mobility because walking increases blood flow to tense areas and helps strengthen the muscles surrounding your joints, according to data from Osteoarthritis Initiative Cohort.
"Getting outside for 30 minutes a day is also a great way to increase your vitamin D levels which helps to energize us and boost immunity," explains Moorcroft. "Walking is very sociable too. Just imagine walking and talking with some friends or your partner. Being around others will always have a positive effect on our mood!"
Get the Fit&Well Newsletter
Start your week with achievable workout ideas, health tips and wellbeing advice in your inbox.
Lucy Miller is a Journalist, Level 3 Personal Trainer, Nutritional Advisor and Children's Fitness Specialist. She holds fitness qualifications from NASM Training and Premier Training International and has been a fitness journalist and model for over 20 years.
Since going freelance in 2014, Lucy left Men's Fitness Magazine to write for an abundance of top consumer titles such as Women's Health, Women's Fitness, Glamour, Top Sante, The Guardian and Runners World. She's also extremely passionate when it comes to educating others about health and physical activity and loves inspiring and working with children and adults to help make fitness fun, sustainable and accessible.
In her spare time, Lucy is ever the sportswoman. Once a national gymnast, having won three national titles, she has also run a handful of marathons around the world and loves to test her physical and metal side with regular running and gym sessions, not to mention ballet, bootcamp, boxing and TRX.