Three 20-minute exercise bike workouts to challenge every fitness level
Forget pedalling away endlessly, make the most of that exercise bike with our fast, effective workout...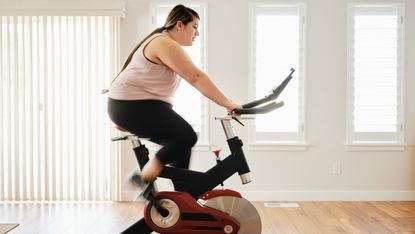 (Image credit: Getty Images)
Get the Fit&Well Newsletter
Start your week with achievable workout ideas, health tips and wellbeing advice in your inbox.
Thank you for signing up to Fit And Well. You will receive a verification email shortly.
There was a problem. Please refresh the page and try again.
Many of us have the traditional exercise bike tucked away in the spare room gathering dust. And in the gym, it's seen as the easy option – just hop on and flick through your favourite mag while you pedal.
But if you use it right, you can have a great short, sharp workout. Especially if you invest in one of the best exercise bikes, which usually come with spaces for easy access to your smartphone and water bottle, and many even have dedicated workout apps for you to join a group session from your home.
Dan Little, Head of Fitness for Digme and an indoor cycling specialist, explains that the bike isn't just a terrific way to start your fitness journey – it's also great to maintain or improve your cardiovascular fitness. 'It's a low-impact piece of kit – ideal if you have any niggling injuries or need something easier on the body.'
Ready for a more effective ride? Take a moment to educate yourself about indoor bikes, then take on our workouts for every level...
Exercise bike lingo explained
Cadence: The rate at which a cyclist pedals – the number of pedal revolutions per minute (RPM).
RPE: Not specifically for biking, this is the Rate of Perceived Exertion. Only you can be the judge of this. An RPE of 10 means you are going FLAT. OUT.
Types of exercise bike
Assault bike
Biking gets brutal. Often used in CrossFit studios across the world, you have to coordinate both your upper body and lower body simultaneously on the assault as the fan at the front of the bike provides the resistance.
Spin bike
Modern versions are often equipped with effective gearing systems, power meters and monitors. But they do run on a fixed pedal system where you can't freewheel and need to continually control the cadence. Dan says, 'Personally this is my top pick – it's as close to true cycling as anything else.'
Recumbent bike
Perfect for a warm-up. If you can't ride an upright bike, this is a nice replacement. 'There is a slight stigma around this bike, that if you have lower-back problems, this is the one to use. That's wrong. If you have a back issue, your initial set-up is wrong. Speak to your trainer,' advises Dan
Ready to work? Let's do this!
Exercise bike workout for beginners
Maintain a cadence between 80-85rpm for seven minutes, to warm up and slowly increase body temperature.
For the next four sections, keep a steady cadence between 85-95rpm. Select gears/level based on your own RPE and complete the following…
6 minutes: RPE 6-8
30 seconds: RPE 3-4
6 minutes: RPE 6-8
30 seconds: RPE 3-4
Intermediate exercise bike workout
Complete a six-minute warm-up, maintaining a cadence between 80-85rpm. Go up a gear/level every 2 minutes.
The next section is a pyramid set, based on RPE and cadence. Be honest with yourself...
2 minutes: 100rpm/RPE 7
3 minutes: 90rpm/RPE 8
4 minutes: 80rpm/RPE 9
3 minutes: 90rpm/RPE 8
2 minutes: 100rpm/RPE 7
Advanced exercise bike workout
Complete a five-minute warm-up. Starting with a cadence of 80rpm, every minute, increase your RPM by 5. Ouch!
Next up are three blocks of varying intensity. For the 'on' segments, choose a gear that equates to an RPE of 8-10 and a cadence of 95-110rpm. We never said this was going to be easy...
Block 1
4 minutes: 8 x 20 seconds ON/ 10 seconds OFF
1 minute: Recovery
Block 2
4 minutes: 4 x 45 seconds ON/ 15 seconds OFF
1 minute: Recovery
Block 3
4 minutes: 3 x 60 seconds ON/ 20 seconds OFF
1 minute: Recovery
Get the Fit&Well Newsletter
Start your week with achievable workout ideas, health tips and wellbeing advice in your inbox.
Lucy is a freelance journalist specializing in health, fitness and lifestyle. She was previously the Health and Fitness Editor across various women's magazines, including Woman&Home, Woman and Woman's Own as well as Editor of Feel Good You. She has also previously written for titles including Now, Look, Cosmopolitan, GQ, Red and The Sun.
She lives and breathes all things fitness; working out every morning with a mix of running, weights, boxing and long walks. Lucy is a Level 3 personal trainer and teaches classes at various London studios. Plus, she's pre- and post-natal trained and helps new mums get back into fitness after the birth of their baby. Lucy claims that good sleep, plenty of food and a healthy gut (seriously, it's an obsession) are the key to maintaining energy and exercising efficiently. Saying this, she's partial to many classes of champagne and tequila on the rocks whilst out with her friends.