Best exercise bikes 2022 for home workouts
These are the best exercise bikes to make exercising at home easier than ever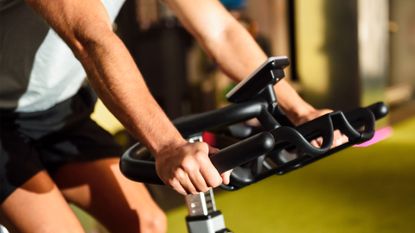 (Image credit: Getty)
We tested the best exercise bikes to find the one that can change your exercise routine at home for good. Perfect for allowing you to squeeze your daily workout in without a commute or once you've finished working from home, these bikes have an array of features that can make your ride more engaging and enjoyable.
In order to recommend the best exercise bikes to you, we've reviewed these bikes ourselves, so that we can get to grips with all of their settings and standout features. We've included all of the key specifications you'll need to know before you install one in your home and the type of resistance each bike uses too. There are two main types to choose from (friction and magnetic resistance), with the latter likely to be favorable for beginners, with less to get to grips with as you start out.
Of course, a bike is a great way to hit your fitness goals at home, with the versatility to be used for HIIT workouts or long-distance cycles. Many of the bikes below have interactive features to keep you feeling motivated throughout, like the Peloton Bike+, as well as touchscreens that can transport you to cycling tracks far away for a change of scenery. Seeing as you're going to be using your new bike a lot, comfort is also essential, alongside build quality, so that you're not stuck with a broken bike after a few weeks.
As with the best treadmills and the best rowing machines, an exercise bike can be a great investment if you're looking to lose weight or improve your general fitness within the convenience of your own home gym. Keep reading to find the bikes that we think are top-rated, and good enough for a spot in your space.
The best exercise bike you can buy right now
The best exercise bike right now
Specifications
Dimensions: 58.6" x 22.8" x 58.6" / 4.8 x 1.9 x 4.8 ft / 1.6 x 06 x 1.6 yd
Resistance: Magnetic
Max user weight: 300 lbs / 136kg
Reasons to buy
+
Fantastic build quality
+
Great selection of classes
+
Can be used for off-bike workouts too
Reasons to avoid
-
Too complex if you want to simply ride
-
Expensive
-
Needs additional membership to access classes
The Peloton Bike+ is the latest release from the brand's bike collection, and it's a real beauty. This exercise bike scored five stars in our tests and provided a smooth and comfortable ride – but it's expensive. For what you pay, you'll benefit from a large, 24-inch display screen (bigger than its predecessor, the Peloton original bike). This screen can be swiveled around so that you can do workouts off the bike with a range of instructors - something we appreciated for mixing up our workouts.
Made with carbon steel, the Peloton Bike+ is luxurious and a heavy flywheel makes riding the bike extremely smooth. Even when you've worked up a sweat, the handlebars remain easy to grip, and the resistance is automatically adjusted when you're doing a workout class.
During our tests, we found the sound quality from the Bike+'s screen was great and plenty loud enough, but there is the option to plug in headphones if you prefer. To access a huge range of classes and live workouts, however, you will need to factor in an additional app membership which costs around $17/£12.99.
If you're serious about bagging the best exercise bike around, the Peloton Bike+ really delivers. Its only real downsides are the initial and ongoing costs.
What the users say
On the brand's website, the Peloton Bike+ scores a respectable 4.3 stars out of 5. One happy customer awarded the Bike+ five stars and said it lived up to the hype. While another user praised the bike for being versatile – especially when it comes to the smooth set-up process. Another user applauded the wide range of classes you have available. The only negative points we could find about the Bike+ were mentioning the bike's hefty price tag.
---
Best exercise bike for a realistic feel
Specifications
Dimensions: 39.3" x 19.6" x 59" / 3.2 x 1.6 x 4.9 ft / 1 x 0.5 x 1.6 yd
Resistance: Magnetic
Max user weight: 297.6lbs / 135kg
Reasons to buy
+
Similar to what pro cyclists use
+
Seamlessly links with virtual apps
Reasons to avoid
-
Almost feels to advanced for beginners
If you're looking for an exercise bike that is less like a spin class and more like riding a real bike up a Tour de France mountain course, the best option, dollar for dollar, is the Wattbike Atom. There's a reason why this brand is trusted by gyms and super-keen cyclists around the world.
The Wattbike boasts exceptional build quality and an array of smart features, all of which we took advantage of during testing.
Chief amongst these is seamless connectivity to virtual training apps like Zwift and TrainerRoad, which automatically control the resistance as you race through real life cycling trials. Another clever tool is the Pedal Effectiveness Score, which tells you how well your pedaling is balanced between your left and right legs.
Obviously, for many people, this is way over the top, but those looking to really push themselves to the limits will love the Wattbike Atom. It's a very serious bit of kit.
What the users say
Looking on Trustpilot, Wattbike Atom has scored a total of 4.3 stars out of 5. All in all, 68% of reviews were excellent, 12% were great while only 4% of reviewers rated the bike as poor. One reviewer praised the ordering process for being 'incredibly simple' and said the set-up is super easy. While another happy customer claimed it took no more than 20 minutes from unpacking to riding. However, the Wattbike Atom lost some stars for the brand's customer service.
---
The best exercise bike for a Peloton experience at a more accessible price
Specifications
Dimensions: 0.3" x 23.6" x 53" / 4 x 1.9 x 4.4 ft / 1.3 x 0.6 x 1.4 yd
Resistance: Magnetic
Max user weight: 308 lbs / 140kg
Reasons to buy
+
Spin studio experience in the home
+
Modern and stylish design
+
Straightforward set up
+
On-demand connectivity with pre-recorded and live classes
Reasons to avoid
-
Weights come at an additional cost
-
No built-in screen
If you're looking for an exercise bike that's going to bring spin studio-style classes to your home, but don't want to blow a couple of grand on a Peloton for the privilege, then the Apex Bike is a great alternative.
Brought to market by one of London's best boutique studios, Boom Cycle, the Apex Bike boasts a compact, stylish design, a solid construction, and some excellent virtual classes with top-notch instructors that keep you engaged and motivated.
Unlike Pelton, there's no built-in screen so you'll need a tablet or smartphone to cast to before getting involved in the classes. It's also currently available in the UK. But all-in-all, it's a brilliant bit of kit for the price.
What the users say
On John Lewis, the Apex bike has received a respectable 4 out of 5 stars from 18 reviews. One user said they were 'very impressed' with the bike, particularly with the classes and trainers and another reviewer concurred. They also praised the bike for being 'great looking'. When it came to the negatives, one user said the bike itself was 'not great', as it would shake when doing climbs.
---
4.Yosuda L-007A
Best exercise bike for affordability
Specifications
Dimensions: 44.5" x 21.7" x 45.3" / 3.7 x 1.8 x 3.7ft / 1.2 x 0.6 x 1.2yd
Resistance: Friction
Max user weight: 330lbs / 149kg
Reasons to buy
+
Affordable
+
Solid and stable bike
+
Very quiet
+
Small
The Yosuda L-007A proves that you don't have to pay a fortune to enjoy a cycle from the comfort of your own home. Come rain or shine, you can hop on a quick cycle and get your endorphins pumping. Coming with a 40lbs flywheel and a silent belt, no matter the time of day, you don't have to worry about loud noise levels coming from your bike.
The small, sturdy and solid design is fitted with an adjustable resistance system which can be increased or decreased at the turn of a knob. While it's cage-style non-slip pedals make this bike a safe and comfortable ride without the worry of your feet flying off.
But perhaps the best thing about the Yosuda L-007A? We'd have to say it's its affordable price point. And while you won't find a built-in screen with this exercise bike, what it lacks in entertainment it does make up for with its LCD monitor which flags your time, speed, and revolutions per minute (RPM). It will also track your distance and log the number of calories you have burned. Plus, it comes with a screen stand if you do prefer to pedal while enjoying a slice of entertainment.
What the users say
The reviews speak for themselves when it comes to the Yosuda L-007A. Scoring a brilliant 4.5 stars from 2,396 ratings on Amazon, this at-home exercise bike is worth its weight in gold. One user rated the bike for its solid nature, claiming you'll get no movement from this bike as you pedal your way through a workout. And another happy customer said they were 'super impressed' with how quick it took to set up – taking just 25 minutes in total. Looking at the negative reviews, one purchaser claimed the pedal crank snapped off. While another said the bike turned up with missing parts. However, this seemed like it was a one-off.
---
5. NordicTrack s15i Studio Bike
The best exercise bike for full-body sculpting options
Specifications
Dimensions: 61" x 21.6" x 53.1" / 5.1 x 1.8 x 4.4ft / 1.7 x 0.6 x 1.4yd
Resistance : Magnetic
Max user weight: 330lbs / 150kg
Reasons to buy
+
14 inch HD touchscreen
+
On-demand workouts
+
360-degree screen rotation
+
Pair of dumbbells included
The training options are endless when it comes to cycles on the NordicTrack s15i Studio Bike. From global workouts to cross-training options and all-over body sculpting workouts. The NordicTrack s15i Studio Bike is a brilliant piece of kit for cyclists who want more from their ride.
You can enjoy interactive training sessions as well as pre-recorded options for those who love to bike on their own terms. Plus, you can pedal just about anywhere in the world while watching your reasonable and rotatable 14-inch HD touchscreen thanks to the Google Maps workout technology the bike is loaded with.
Not every static at-home workout bike comes with live incline controls or a pair of 3lb dumbbells. But the NordicTrack s15i Studio Bike isn't just any piece of workout kit. You can push your cycles to new heights with a 20% live incline control as well as easing off with a 10% live decline control. While the dumbbells mean you can tone your arms and shoulders while working on your legs. This really is cycling with a difference.
What the users say
Scoring an impressive 4.8 stars out of 5 from more than 7,000 customers – the NordicTrack s15i Studio Bike has received rave reviews on its website. Many happy customers commented on the impressive views which can be seen as your power through your cycle. While others claimed the training was 'awesome' and many said the content was motivational. However, this was one point that divided opinions. One user said they turned the sound off because there was too much 'motivational content'.
---
Best premium exercise bike – great for spin class fanatics
Specifications
Dimensions: 59" x 19.6" x 52.7" / 4.9 x 1.9 x 4.3ft / 1.6 x 0.6 x 1.4yd
Resistance : Magnetic
Max user weight: 297lbs / 135kg
Reasons to buy
+
Huge 22in HD touchscreen
+
Massive library of spinning classes
Reasons to avoid
-
Pricey monthly class subscription
There's a bit of a lifestyle cult feel to Peloton, what with all the merch and the way they market themselves as a kind of club. Don't be put off too much, however: the bike is really good. It's responsive, well built, and can put up some truly fearsome resistance when you want to really test yourself.
Although you can use it as a standard exercise bike, the point of Peloton is to recreate spin classes in your home. So there are 14 spinning classes streamed live every day, plus an extensive library of ones you can revisit.
You view the in-class action via a huge 22-inch HD touchscreen mounted above the handlebars. Competitive types will also enjoy the real-time leaderboard comparing your effort to other riders across the world.
Yes, the bike is expensive and then you have to pay for the classes on top of that ($39/£39 a month). However, given the very high-end nature of the spin classes Peloton brings to your home, it is probably less per month than attending in person, as well as being considerably more convenient and hygienic.
The monthly All-Access fee also gives you access to a range of additional classes on the timetable via the Peloton App, including HIIT cardio, strength sessions, yoga and meditation.
What the users say
The original Peleton Bike scores an impressive 4.8 stars out of five from more than 15,000 reviews on its site. One person claimed every cycle is a 'great experience' and the Peleton community is 'awesome'. While another said buying a Peleton was the 'best decision' they made, stating they haven't met an instructor they don't like. According to the reviews, one person marked down the Peleton because of the 'insecure' handlebar. While another user said there was a strange 'rattling sound' in the front wheel 13 months after purchasing it.
---
How to choose the best exercise bike for you
Before you race out to buy an exercise bike, there are a few things worth considering. Everyone's needs are different, and so the best exercise bike for you will depend on a multitude of things.
Resistance level
Perhaps the most important factor is the degree of resistance the bike is offers. This will determine how well matched the bike is to your level of fitness, as well as your health goals. Basically the higher the resistance, the harder the workout will be, so a bike with limited resistance might not quite cut the mustard if you really want to go for it.
Resistance type
Also look out for the type of resistance on offer; there are two. Friction-based machines usually feature a flywheel driven by a pair of pedals that together deliver friction in the form of a direct contact brake, adjusted via a resistance knob. Then, there's the magnetic kind, which - unsurprisingly - slow the flywheel through magnetism. The latter are usually much quieter but at the same time, offer a lower maximum resistance so wouldn't be best suited to those who like to push themselves.
Price
When it comes to pricing, you can expect to pay anything between $250 - $2,500/$200 - £2,000 depending on the feature set. There are plenty on offer for less, but I wouldn't advise entertaining the prospect of buying such a cheap bike as you're likely to be disappointed. Anything around the $650/£500 mark should get you a little closer to a gym-quality machine and if you've got the budget for something around $1,200/£1,000 then you're bound to be impressed with not only a premium quality but lots of techy features.
Exercise bike benefits
Along with giving you an endorphin hit from the comfort of your own home, the best exercise bikes come with a whole host of health and fitness benefits.
According to data from Harvard University, 30 minutes of pedalling on a stationary exercise bike can burn between 315 and 441 calories per 30 minutes. Therefore, it's fair to say exercise bikes are brilliant for burning calories – and lots of them fast!
Plus, this low-impact form of cardio exercise is great for your cardiovascular health. Regular cardiovascular exercise is crucial in minimizing the risk of heart disease. That's because it can lower cholesterol and blood pressure. A 2018 study, published in the American Heart Association's journal, circulation, found that committing to a heart-healthy exercise routine in late middle age can negate the negative efforts of a sedentary lifestyle.
And there's more. As seen with some of the examples above, some of the best exercise bikes come with interactive fitness classes that can help to provide lone riders with a sense of community. According to a 2017 study, group exercise can not only improve your quality of life, but can reduce stress far more than individual workouts.
Lee Bell is a London-based journalist, copywriter, specializing in all things tech and lifestyle. He is also a qualified personal trainer. He started his journalism career a decade ago as a reporter covering the latest gadgets and innovations at tech tabloid The Inquirer. Lee went freelance in 2016 to broaden his expertise, moving into news, reviews and feature writing for a host of national print and online lifestyle titles such as GQ, Forbes, Esquire, Men's Health, Wired, The Metro, and The Mirror. He has an insatiable appetite for travel, Dharma yoga, and the odd outdoor challenge.