Three easy ways to stick to a healthy meal plan and lose weight
On a meal plan to lose weight? Here's three handy tips to sitck to a healthy eating plan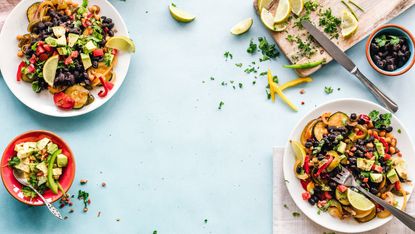 (Image credit: Ella Olsson | Unsplash)
Get the Fit&Well Newsletter
Start your week with achievable workout ideas, health tips and wellbeing advice in your inbox.
Thank you for signing up to Fit And Well. You will receive a verification email shortly.
There was a problem. Please refresh the page and try again.
On a meal plan to lose weight? Do you struggle with comfort eating or have one bad day and then abandon the healthy lifestyle altogether? We spoke to Dr Dawn Harper to get her three tips for sticking to a health eating plan.
Healthy eating plan tips: make changes gradually
"Don't go cold turkey when you're changing your diet or lifestyle," says Dr Dawn, who is also a Simplyhealth ambassador. "Like some medications, or giving up smoking, drinking or caffeine, you're likely to get withdrawal symptoms, which can leave you feeling run down and out of energy."
"This is because if you're used to getting a fix of sugar or caffeine, for instance, you can feel their energising effects quickly. If you suddenly stop this quick energy fix, your blood sugar drops and you 'crash'."
"The good news is: a healthier diet gradually gives you longer bouts of energy instead of these dramatic highs and lows. Eating your five-a-day will help you to balance your diet and your energy levels throughout the day. So, try increasing your intake of fruit and veg slowly if you're finding five portions difficult."
Healthy eating plan tips: try distraction and mindful eating
"Whether you're at work, at home or on the go, it can be all too easy to snack when you're not even hungry," admits Dawn. "To take your mind of comfort eating like this, try instead to focus on a task like exercising, reading a book, or doing odd jobs around the house, and make sure food isn't in your line of view. If you can see it, you'll be more tempted by it!"
"However, if you need a pick me up between meals, be sure to fill your cupboards with a range of healthy snack options such as nuts and fresh fruit. Beware of so-called healthy alternatives, such as dried fruit or sweetened yogurts, as these can be just as packed with sugar and calories as typical 'junk' food."
Healthy eating plan tips: stay hydrated
Dawn says: "Drinking plenty of water can not only help to stave off hunger pangs – it will also keep you well hydrated in addition to flushing toxins out of your system! Aim for four large glasses of water a day. A water bottle with hourly intervals printed on it, can help you pace how much water to drink."
"If you're not a fan of plain water, low calorie and water-rich snacks like cucumber, carrots, celery, watermelon, grapefruit or peaches can also help fill the gap between breakfast and lunch."
"As with any change in eating habits, make sure you're getting all the essential vitamins and nutrients your body needs. A balance of fruit, vegetables, starchy carbs, dairy, and protein can ensure this."
Healthy eating plan tips: master the art of motivation
"When it comes to keeping healthy, willpower is one of the hardest things to master!" says Dawn. "Setting yourself small, manageable goals is a great way to ease into a healthier eating regime, while keeping a record of what you eat and drink can be a handy way seeing how much and how often you're consuming. There are some useful fitness apps, such as My Fitness Pal, which can help you with this."
Get the Fit&Well Newsletter
Start your week with achievable workout ideas, health tips and wellbeing advice in your inbox.
Launched in 2020, Fit&Well.com is all about helping you meet your health and fitness goals in ways that are fun and achievable. With news and features on fitness, weight loss, running, nutrition, yoga, wellness and more, we're committed to helping you wherever you are on your fitness journey. We break down the best fitness tech, with reviews, buying guides and the latest deals on fitness and wellness kit, from dumbbells to diffusers.
We cater for all difficulty levels here. It doesn't matter if you're a beginner in the world of fitness or you're gearing up for your tenth marathon: we're all moving towards the same goal – creating a healthier, happier you. From guides on getting started doing walks around the block, to creating the perfect work-from-home space, to eating to fuel your first triathlon. It's all here.