What are the benefits of swimming?
We asked the experts; what are the benefits of swimming and what does it do to your body? Here's what they said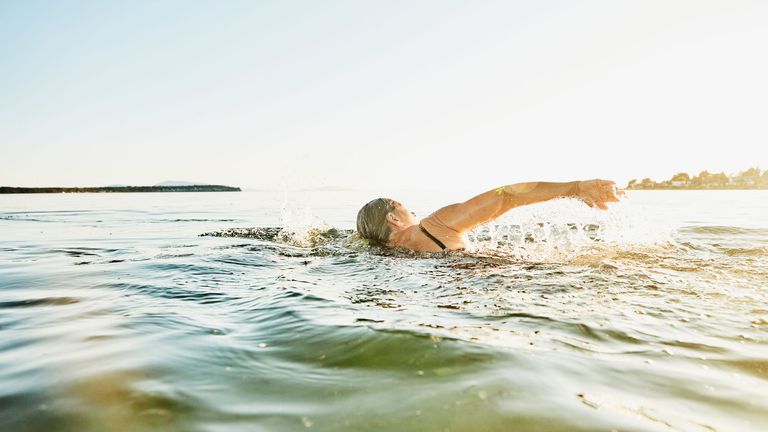 (Image credit: Getty)
Swimming has been around since prehistoric times, but what are the benefits of swimming? The good news is that swimming can of course be done inside in a swimming pool, but there are also lots of options for wild, river, and sea swimming that combine being outside with a great way to exercise.
The benefits of swimming are widely known. Some of the key benefits of swimming include building endurance, muscle strength, and cardiovascular fitness. Similar to the best exercise machines to lose weight, swimming is an effective full-body workout.
The five benefits of swimming
4. Improves your mood: Swimming is a mood booster. According to a 2014 clinical trial (opens in new tab), researchers found that regular aquatic exercise boosted the mood of their sample group of participants.
5. Improves sleep: There has been much research conducted that reveals swimming can positively impact your quality of sleep. In a 2010 study (opens in new tab), a group of PhD researchers found that their participants, who were previously experiencing insomnia, reported a boost in sleep and general quality of life after engaging in regular aerobic exercise such as swimming.
Who is swimming suitable for?
Swimming is suitable for many people - from pregnant women to people suffering from physical injuries, asthma, and MS.
What are the downsides to swimming?
Swimming is a generally safe exercise. However, as with all forms of exercise, there are some risks to be aware of.
If you have particular medical conditions, a doctor should be consulted before starting a new workout. This is important for people with heart conditions or skin ailments such as psoriasis. Psoriasis can be aggravated by the chlorine in swimming pools.
Tips for safe swimming
Consider taking swimming lessons if you are new to the exercise. This will mitigate drowning or other water-related injuries.

Swim in areas like indoor swimming pools and roped-off bodies of water that are designated for swimming. This can help reduce the risk of drowning as these areas are normally supervised by a lifeguard.

Remember to stay hydrated following a session of swimming. All exercises can lead to potential dehydration.

Always supervise children who are swimming, to avoid the risk of drowning.
Looking for other ways to get active? Check out the benefits of squats.
Rachel Ayeh-Datey is a freelance writer and senior researcher in the advertising industry who is based in London in the United Kingdom. She covers a variety of subjects including music, LGBTQ+ issues and Black British history. Rachel is a fitness enthusiast with a passion for strength training and boxing and she's covered topics such as yoga for Fit&Well's sister site, Live Science. Rachel received a bachelor's degree in History from the University of Southampton in 2016.