Best exercise machines to lose weight and boost your metabolism
Use the best exercise machines to lose weight, burn fat, and safely drop pounds at home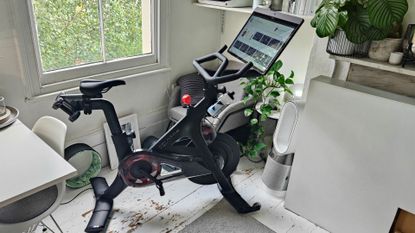 (Image credit: Lee Bell)
The best exercise machines to lose weight can help you drop pounds sustainably. No matter the time or day, the best home exercise equipment for weight loss allows you to work out from the comfort of your own home and at your convenience.
There are plenty of great cardio machines on the market right now. And although having options is always great, it can make it hard to decipher what option best suits your physical requirements and the available space.
This is why we've tried and tested several great exercise machines to lose weight to help you find the best fit. If you love running and its heart-elevating potential but prefer to clock up your mileage indoors, you might invest in one of the best treadmills (opens in new tab).
Alternatively, if you're looking for a lower-impact sport that still tests your cardiovascular system, why not consider one of the best exercise bikes (opens in new tab)? It's important to choose a machine you'll enjoy using to help make it part of your regular workout routine.
To help, we've tested several products, from the popular Peloton Bike+ to the Echelon Smart Rower and the Proform Pro 9000 Treadmill. We've also rated these options based on features, ease of use, storage options, and price.
Plus, we've included a strength training option with the portable and lightweight TRX Home2, which will save on storage space but still get your heart pumping and is one of the best exercise machines to lose weight and build muscle.
The best exercise machines to lose weight
Connected rowing machine with virtual workouts and magnetic resistance
Specifications
Display: No
Dimensions: 84 x 45 x 21 inches
Storage options: Yes, foldable
Virtual workouts: Yes, Echelon app (requires a subscription)
Reasons to buy
+
Quiet workouts
+
32 levels of magnetic resistance
+
Echelon app for virtual workouts
+
Foldable
Reasons to avoid
-
App requires monthly subscription
-
No integrated display
-
Feature-limited without app
When we tested the Echelon Smart Rower, we found that the high-quality rower is one of the top weight loss machines, as it comes with virtual classes to keep you motivated, raise your heart rate, and work your whole body. Plus, we liked that the foldable design makes it easy to store away.
It's really two products; an impressive, almost noiseless rowing machine and a subscription-based app that offers hundreds of on-demand and live workouts. The machine doesn't have a display, so you need a phone or tablet to view metrics like speed and distance traveled.
There are 32 levels of magnetic resistance (making your exercise super quiet) that were quick to adjust using the handlebar controller. The app could use a bit of work as it wasn't as polished as expected for such a premium monthly cost. But, if you're after a comprehensive workout that'll burn fat and build muscle, then the Echelon Smart Rower is an excellent choice.
What the users say
The Echelon Smart Rower has an average rating of 4.5 out of five on Amazon, with most rowers complimenting the machine's premium, foldable design and user-friendly assembly. One reviewer summed it up by saying, "Easy to assemble. Very quiet. Works great." However, the lack of display was a sore point for many users, as was the fact that you need the app to view workout metrics.
---
Premium exercise bike with high-intensity virtual classes
Specifications
Display: Yes, 23.8-inch
Dimensions: 59 x 59 x 22 inches
Storage options: No
Virtual workouts: Yes, Peloton app (requires a subscription)
Reasons to buy
+
High-quality design
+
Brilliant live classes
+
Accessible for all levels
Reasons to avoid
-
Peloton subscription required
-
Expensive machine
-
Handlebars can shake loose over time
The Peloton Bike+ is the premium edition of the exercise bike that made the company famous, and during our tests, we felt that it deserved a place as one of the best exercise machines to lose weight. Our favorite part of this upgraded exercise bike is the large display, which gives you access to Peloton's instructor-led heart-pumping workouts.
This helps recreate the spin class experience, as you're connected with other riders worldwide, and you can see your performance on the app's leader board. Notably, the display on the Bike+ can also rotate, which means you can spin the screen around and take part in a virtual strength training session or yoga class too.
The bike comes with an electronic resistance controller, so the bike will automatically control the resistance for you during an on-demand class after you tap the 'Auto-Follow' option. So, if you want to hop on the bike and pace through an intense workout without getting distracted, we found that the Peloton Bike+ is a great all-around option.
What the users say
On the Peloton website, the bike has 4.8 stars out of five, with one happy customer saying that buying the Bike+ has been a 'game-changer' for them. Others note how motivating the instructors and music is, while some love how the screen on the Bike+ moves around so they can use it for other classes such as yoga or strength. Negative reviews focus on Peloton's poor customer service, while some say that the price of the Pelton Bike+ is too expensive.
---
Portable strength training equipment to build muscle and burn fat
Specifications
Display: No
Dimensions: n/a
Storage options: Yes, carry bag
Virtual workouts: Yes, TRX app (12 months free with purchase)
Reasons to buy
+
Durable design
+
Affordable
+
One-year access to TRX workout app
+
Easy to set up
Reasons to avoid
-
Not aimed at beginners
-
Requires a suitable anchor point
-
App requires subscription after a year
The TRX Home2 suspension trainer helps you use your bodyweight to build muscle and burn fat. Although cardio exercise is the most popular way to lose weight, adding resistance training to your exercise routine with this portable, lightweight setup is an excellent way to work out at home or on the go. It's also more budget-friendly than the other styles of weight loss machine.
That doesn't mean it's less effective, though. During our testing, we found that the high-quality straps and handles—which were easy to attach to a door, tree, or another anchor—gave us enough support to take on a range of bodyweight exercises, including variations on push-ups, lunges, and squats.
When you invest in the set, you also get a year of complimentary access to the TRX app, which has a collection of strength training workouts that you can use designed with your suspension trainer in mind. The sessions were too fast-paced for newcomers, but we found that the pause button helped slow down the routines so that we could focus on our form.
What the users say
The TRX Home2 suspension trainer is a popular option for at-home workouts, achieving an average rating of 4.8 out of five on the TRX store. Almost universally, users appreciate the quick, easy set up and that it comes with additional handles and door anchors. Convenience is also key, with reviewers noting that their Home2 stays hanging so they can fit some moves into a few spare minutes However, newcomers found that the instructions weren't clear for beginners.
---
Foldable treadmill for at-home cardio workouts
Specifications
Display: Yes, 7-inch
Dimensions: 73.5 x 64 x 35 inches
Storage options: Yes, foldable
Virtual workouts: Yes, iFit (requires a subscription)
Reasons to buy
+
Foldable design
+
Powerful motor
+
30 preset workouts
Reasons to avoid
-
iFit workouts require subscription
-
Belt not ideal for tall people
-
Small display
The ProForm Pro 9000 treadmill is a great way to get into running without leaving the house. It comes with a range of workouts designed to challenge you and reaches a top speed of 12mph. When we tested the weight loss machine, we found that it was one of the easiest treadmills to assemble, comes with a foldable design, and has plenty of features to help you reach your goals.
For one, the built-in display integrates with the iFit virtual workout platform for on-demand training, and our motivation never dipped thanks to the knowledgeable, high-energy instructors. And even when running flat out on a steep incline, the integrated multi-speed fan helped us stay cool.
While it's an excellent space-saving option, this compact design does have some limitations. For instance, if you're over six-foot-tall, the 55-inch running belt might be a little short for your natural stride. However, whether you enjoy a gentle stroll, an intense sprint, or an extended run, the ProForm Pro 9000 is one of the best home exercise machines to lose weight.
What the users say
The ProForm Pro 9000 is a relatively new model, so there aren't many user reviews available yet, but we'll include them as they come in. From our testing, we liked that the compact, well-designed machine has a smooth, cushioned running experience. Meanwhile, the integration with iFit's virtual workouts kept us motivated. The seven-inch screen is a little on the small side, and the running belt is going to be short for anyone over six-foot tall.
---
5. Sole E95
Budget-friendly elliptical machine for full-body training
Specifications
Display: Yes, 10-inch
Dimensions: 82 x 71 x 31 inches
Storage options: No
Virtual workouts: Yes, Sole Studio app (requires a subscription)
Reasons to buy
+
Smooth, quiet flywheel
+
10-inch display for workout metrics
+
Bluetooth speakers
Reasons to avoid
-
Some parts break easily
-
Requires some maintenance
The Sole E95 elliptical machine combines cardio exercise with upper-body resistance training to earn its place as one of the best exercise machines to lose weight. The heavy, 17kg flywheel sounds like a negative thing, but it actually isn't. This part of the elliptical is responsible for the smoothness of your workout, and a heavier flywheel means a smoother, quieter machine.
You'll need a dedicated workout space for this machine as it doesn't fold away, but the feature-packed unit is still worth the investment. It comes with 20 levels of resistance, allowing you to increase the intensity for heart-pumping workouts or keep a steady pace for longer sessions. Plus, the foot pedals are slightly sloped to reduce the pressure on your knees and ankles.
There's also a 10-inch display for keeping track of your workout stats, built-in Bluetooth speakers to stream your favorite music, audiobooks, or podcasts, and an integrated fan to keep you cool while exercising. If you take out a subscription to the Sole Studio app, you can also use the integrated tablet holder to stream virtual at-home workouts.
What the users say
The Sole E95 averaged 4.1 out of five stars on Amazon, with 70% giving it a full five stars. Positive reviews said the machine was gym quality, smooth and quiet, and praised it for being a 'cost-friendly price'. One six-foot tall reviewer said it was great for stride length. Negative reviews cited issues with the foot paddles coming loose, cracking, or breaking within a few months of purchase.
---
How to choose the best exercise machines to lose weight
If you're after a home weight loss machine that'll help you get results, there are a few things you need to consider. Firstly, what type of exercise do you enjoy the most? If you aren't into running but invest in a treadmill, it'll be hard to find the motivation to train.
Helpfully, there are many varied options for you to choose from, including cardio-focused treadmills through to muscle-building suspension kits. If you're worried about joint pain, low-impact elliptical or rowing workouts might be best.
But while many rowing machines come with a foldable design, elliptical machines and exercise bikes typically don't, so you'll need space to store your weight loss machine.
If you're tight on space at home, you can still hit your weight loss goals by using a suspension trainer to build muscle. Cardio vs weights is an age-old debate, but building muscle also increases your metabolism, helping you burn energy throughout the day.
It's also worth thinking about whether you enjoy training independently or prefer a class environment for motivation. Many of the best home exercise machines to lose weight come with virtual workout apps, so you can join a community without leaving the house.
How we tested the best exercise machines to lose weight
Using an exercise machine for at-home training is a great way to stay active, but some are better for weight loss than others. To help you find the right one for your home, we've tested these machines and found the top choices for at-home weight loss workouts.
Design and storage
Probably the most crucial aspect is the physical size and design of the machine. So, we assess the quality of the materials, how durable the design is, and whether it comes with convenience features like a water bottle or tablet holder.
Importantly, we also look at how easy the machine is to store. Some come with foldable designs, so we test the folding mechanism to see if it's convenient and safe and report on how much space it helps create.
If you can't fold it, we consider if it has wheels or an accessible transport system to move it out of the way when you're done exercising. We also look at the assembly and day-to-day setup during testing to check whether it's easy to get started.
Exercise performance
We chose a varied selection of equipment for the guide, covering machines known for their fat-burning potential. But each model has a unique approach to exercise, so we do several workouts to check if it offers an effective way to train.
The placement of handles, controls, and fans can make a big difference in whether you'll enjoy a hassle-free session on the machine. So, we assess if these options are within reach and detail any quirks in the mechanisms.
You also want your training to feel smooth, so we test the running belt on treadmills, the resistance mechanism and handlebar on a rowing machine, and the feet plate and handles on an elliptical machine.
Virtual workouts
With many manufacturers now offering optional app-based workouts, we explore these on-demand and live classes to see if there's variety in the offering and that they are suitable for beginners and advanced exercisers.
We look at whether they're good value for money, critical to the machine, and whether you can stream the classes directly to the equipment or if you need to provide your own screen, like a phone or tablet.
Whether you want to join these classes to get inspiration from the instructor or like to be part of a community, we also consider whether the session is actually enjoyable and if it delivers an effective weight loss workout.
FAQs
What is the best home exercise equipment to lose weight?
If you want to burn fat and drop pounds without leaving the house, there are plenty of options, ranging from treadmills for cardio workouts to strength training kits to build muscle for long-lasting results. We've included a range of equipment in our guide, so let's look at why these units make ideal at-home weight loss machines.
Elliptical machines
The best elliptical machines are a great all-rounder if you want to get fit, lose weight, and get stronger all at once. The use of handles and different resistance settings allows you to incorporate your upper body and core into the workout, providing a full-body session.
According to a study published in the journal Gait Posture (opens in new tab), these machines also activate more leg muscles than treadmills but still offer a low-impact way to strengthen your body for high-intensity exercise.
Rowing machines
Rowing machines, whether water, fan, or magnetic, are also fantastic for toning your upper body in addition to getting a cardio workout. As a result, a quick rowing workout builds muscle but also raises your metabolism for fat-burning results.
Rowing benefits handgrip strength, a great metric for health (preventing falls), and protects your heart with a good cardio workout. And the increased muscle tone also fights age-related atrophy, making it an ideal choice for older adults.
Treadmills
Running is a popular cardio-focused way to stay active, raise your heart rate, and burn fat. But treadmill sessions aren't just about hitting the top speed for a high-intensity workout.
If you're not into running, you can opt for a gentler pace, as walking to lose weight is a sustainable way to drop pounds. And, whether you're short on time or have mobility troubles, you can get a quick stroll in without leaving the house.
You can even adjust your training environment by controlling the speed and gradient, which you can't do while running outdoors. The soft treads are also kinder on your joints than concrete roads.
Exercise bikes
You need a helmet, lights, and bike lock if you want to go for a cycle outdoors. Plus, not everyone feels comfortable cycling along high traffic roads and breathing the pollution caused by vehicles.
Exercise bikes make a great at-home alternative, offering effective low-impact cardiovascular workouts. These stationary bikes have had a resurgence over the past few years thanks to the popularity of the Peloton Bike and spin classes more generally.
Intense spin classes have been scientifically proven (opens in new tab) to up your metabolic rate for up to 14 hours after the class is finished, which is why exercise bikes are ideal for at-home, fat-burning workouts.
Suspension trainers
Most exercise machines are large (even those with a foldable design) and can be an expensive investment, so they're not the best option for everyone. Helpfully, lower-cost equipment like suspension trainers can help.
You attach one end of the trainer to a door, tree, or another surface, clip a handle onto the other end, and then you can use the suspension trainer to support your body weight and build muscle.
Although cardio exercise is the most well-known way to lose weight, gaining muscle is also an effective way to increase your metabolism and burn more energy during the day, which helps burn fat to hit your weight loss goals.
What is the best exercise machine to lose belly fat?
When it comes to weight loss, losing weight in certain places will be different for different people.
Omar Mansour, coach for audio-led fitness app WithU (opens in new tab), explains: "Firstly, there is no best exercise for losing fat. You also can't pinpoint fat loss to a certain area. The body will take off fat where it decides. All you can do is create the stimulus and make sure you're in a calorie deficit.
"In terms of burning calories, the treadmill can be a great place to start. Not only by running but also by incline walks. Longer efforts of aerobic exercises where your heart rate is low to moderate have been proven to be effective for fat loss.
"Along with strength training and interval training. I'd suggest building up fitness and incorporating all three styles of training for your body to respond to while monitoring your calorie intake."
James is a London-based journalist and Staff Writer at Fit&Well. He has over five years experience in fitness tech, including time spent as the Buyer's Guide Editor and Staff Writer at technology publication MakeUseOf. In 2014 he was diagnosed with a chronic health condition, which spurred his interest in health, fitness, and lifestyle management.
In the years since, he has become a devoted meditator, experimented with workout styles and exercises, and used various gadgets to monitor his health. In recent times, James has been absorbed by the intersection between mental health, fitness, sustainability, and environmentalism. When not concerning himself with health and technology, James can be found excitedly checking out each week's New Music Friday releases.