Best exercise machines to lose weight 2023
Want to know the best exercise machine to lose weight? We spoke to a sports dietetics specialist and a personal trainer to find out which, if any, is the best calorie burner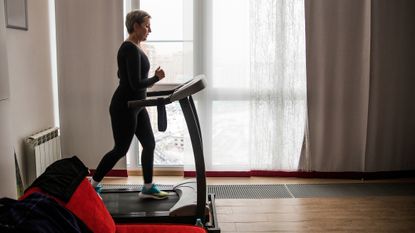 (Image credit: Getty)
We'll be honest: the best exercise machine to lose weight is the one you most enjoy using. Cardio equipment like treadmills, elliptical trainers, rowers and the best exercise bikes all provide a great aerobic workout, which can help you burn calories and lose weight.
"The best exercise machine for weight loss is the one that you enjoy using," Roxana Ehsani, sports dietetics specialist, told Fit&Well. "If you don't enjoy sitting on a stationary bike and exercising that way, you likely won't see any weight loss as you won't stay on the bike for very long."
NASM qualified personal trainer Anthony Maritato told Fit&Well: "In my 20 years of experience, the one thing I have seen consistently as a physical therapist and PT, is that focusing on personal happiness and satisfaction will almost always result in fat loss, whereas focusing on fat loss will often result in frustration and failure."
Ultimately for safe and sustainable weight loss, you need to be in a calorie deficit, either by eating less calories than you burn or burning more than you need. So what's the best exercise machine to lose weight? If you are trying to drop pounds, our team has tested out some of the best cardio equipment available, looking at different budgets, features and designs.
Expert input from
Expert input from
Roxana Ehsani
Roxana Ehsani, MS, RD, CSSD, LDN is a board-certified specialist in sports dietetics and a National Media Spokesperson. She holds a Bachelor of Science in Human Nutrition, Foods and Exercise from Virginia Tech and a Master of Science in Clinical Nutrition and Dietetics from the University of Pittsburgh and completed her dietetic internship at the University of Pittsburgh Medical Center.
Expert input from
Expert input from
Anthony Maritato
Anthony Maritato is a licensed physical therapist and personal trainer. Anthony completed his bachelor's degree in Kinesiology at Pennsylvania State University with a special emphasis on biomechanics. He obtained his Master's degree of Physical Therapy from Florida International University and has been a physical therapy private practice owner since 2001.
The best exercise machines to lose weight
Best exercise machine to lose weight overall
Specifications
Dimensions: 54.3in x 19.9in / 138cm x 51cm
Resistance: Magnetic
Max user weight: 300lb / 136kg
Reasons to buy
+
Great range of classes
+
Easy to set up and adjust
+
Quiet and slimline
Reasons to avoid
-
No in-built screen
-
Weight of bike makes it difficult to lose
-
Functionality is limited without the Echelon app
The Echelon EX3 Smart Connect is an impressive spin bike that has a huge library of engaging live and on-demand classes to keep you on track. It's a decent price considering the wealth of features it has, plus it's sturdy and well designed.
Like Peloton, you need a subscription to the Echelon app to get the most out of the bike, but once you're set up it's really easy to use and also has a ton of off-bike workouts to try from Tabata, weights and yoga.
It's lacking a screen, so you need a tablet to watch the virtual classes, but at almost half the price of a Peloton with a lot of the same features, you're getting a real steal.
What the users say
There aren't many reviews of the Echelon EX3 smart connect available, but the feedback that we found on Amazon is largely positive. The bike has netted 4.6 out of five stars, and happy customers praise the smooth performance and easy assembly.
---
The best budget treadmill
Specifications
Dimensions: 55.2 x 38.2 x 27.8 inches
Incline range: n/a
Top speed: 8.7mph (14kph)
Display: Yes, LCD monitor
Reasons to buy
+
Foldable design
+
Compact when in use
+
Good value for money
Reasons to avoid
-
No incline/decline
-
Short running belt
-
Basic LCD workout monitor
This brilliant value running machine is a budget-friendly option for upping daily energy expenditure without breaking the bank. It's small and compact, so doesn't take up too much space like standard treadmills, and has a meaty but quiet 2.5 horsepower motor with speeds up to 7.5mph.
It only takes five minutes to set up, and is really easy to use - it's actually quite refreshing to not have a ton of features to get used to and you can just hit Start to get going.
It's great for walking and running, although bear in mind if you're tall you might need a longer belt to avoid slipping off the back. It's lacking an incline but you can still get a decent workout on this folding treadmill.
What the users say
With 4.3 out of five stars on Amazon, this product is clearly pretty popular among consumers. People praise its compact size and easy assembly. Plenty of users specifically praise it for being handy in colder months, when they want to walk (and run) indoors.
---
Best machine for durability
Specifications
Resistance: Air
Digital display: Yes
Foldable: Yes
Heart rate monitor support: Yes
Reasons to buy
+
No subscription required
+
Industry-standard rowing metrics
+
Supports heart rate monitors
Reasons to avoid
-
Air-based resistance system can be noisy
-
No virtual workout classes
Built to last a lifetime, the Concept 2 RowErg deserves its rep as the rower's favorite machine with its accurate performance metrics and smooth rowing motion.
Made by rowers for rowers, it has Bluetooth and wireless ANT+ connectivity and a quiet air resistance flywheel with 10 resistance settings. Comfortable, reliable and intuitive to use, the only thing it's missing is fancy graphics or preset workouts.
But if you don't mind accessing your workouts from your phone or tablet there are plenty of good apps with rowing programs (asensei and EXR are two of our favorites) and it's really easy to replace parts with a very responsive customer service.
What the users say
The Concept2 Row Erg has netted an extremely impressive 4.9 out of five stars on Amazon. It's a clear fan favorite, although some people gripe about the slightly harder seat.
---
Best premium option
Specifications
Dimensions: 76 x 40.6 x 34.3 inches
Incline range: -6% to 40%
Top speed: 13.6mph (22kph)
Display: Yes, 22-inch
Reasons to buy
+
Impressive incline/decline range
+
Easy to use touchscreen display
+
Over 16,000 virtual iFit workouts
Reasons to avoid
-
Not foldable
-
Virtual workouts require monthly subscription
-
Expensive
We're big fans of NordicTrack equipment and the X22i treadmill is no exception, in fact we'd go as far to say it's one of the best running machines available.
Packed with features, from its impressive incline and decline range, to a huge range of live and on-demand workouts plus one-touch controls, it's like bringing the gym to your home.
The iFit app (subscription needed) has an extensive library of virtual content to keep you motivated, including off-treadmill workouts. The huge 22" HD touchscreen makes tracking core metrics and watching classes a breeze, while the 4.0 CHP motor effortlessly powers the 40% incline and -5% decline - worth the price tag alone.
What the users say
We can't find any reliable customer reviews of this machine online. However, other review sites have awarded this machine five stars regularly, so it's popular with people who know their treadmills.
---
Best rower for engaging classes
Specifications
Resistance: Magnetic
Foldable: No
Digital display: Yes
Heart rate monitor support: Yes
Reasons to buy
+
Engaging and immersive follow-along workouts
+
Accessible with great video tutorials to teach you technique
+
Low impact and comfortable to use
Reasons to avoid
-
Monthly subscription required
-
Not foldable
Dare we say it, the Hydrow Wave offers the same excellent features of its predecessor the Hydrow Rower, but it's $1000 cheaper. This updated model is compact and affordable, with a great range of full body workouts to keep you on track with your fitness goals.
As with many gym machines, you need a monthly subscription to access the best content, but it's worth it to fully enjoy the 4000+ classes on the 16" HD touchscreen, with expert coaches including Olympic rower Aquil Abdullah and former US national triathlon team member Nick Karwoski.
You can also mix up your training by doing some classes on the mat, from yoga, Pilates, strength and core work, some of which are led by two-time Olympian bobsledder Peter Donohue.
What the users say
Despite being a newish machine, the Hydrow Wave has garnered 4.7 out of five stars over on Trustpilot. People like the high-quality finish on the machine and the durable design – but there are also some grumbles about the cost of the monthly subscription to the app.
---
Best budget exercise bike
Specifications
Dimensions : 40" x 22" x 45" / 3.3ft x 1.8ft x 3.75ft / 1.1yd x 0.6yd / 1.25yd
Resistance: Brake pad frictio
Max user weight: 270lb / 122kg
Reasons to buy
+
Sturdy design
+
Comfortable seat
+
Budget price
Reasons to avoid
-
Very basic metric tracking
-
No preset programs or workout content
The Yosuda is a very basic but solid performer at a budget friendly price. If you're new to stationary bikes, then this is an entry level option and what it lacks in high tech features and advanced metrics, it makes up for in neat design and solid construction. Note, it did take the best part of an hour to assemble but once you're up and running it's easy to use.
While it doesn't have a screen or any preset workouts, you can access free online classes so you don't need to spend a fortune on monthly subscriptions for virtual content. The belt driven resistance is whisper quiet and it provides a smooth ride, refreshingly surprising given the low price.
If you're happy freestyling in the saddle or following classes via your phone or tablet, the Yosuda indoor bike is a cost-effective option for people new to home gym equipment.
What the users say
There are over 20,000 reviews of this bike on Amazon, and most of them are fairly positive. It's currently rated as 4.4 out of five stars on the site, with a lot of people commenting on how durable and sturdy it feels. There are, however, a handful of complaints about the dated LCD monitor on the bike.
---
7. Sole E95
Best elliptical machine
Specifications
Display: Yes, 10-inch
Dimensions: 82 x 71 x 31 inches
Virtual workouts: Yes, Sole Studio app
Reasons to buy
+
Smooth, quiet flywheel
+
10-inch display for workout metrics
+
Bluetooth speakers
Reasons to avoid
-
Some parts break easily
-
Requires some maintenance
The Sole E95 elliptical machine combines cardio exercise with upper-body resistance training to earn its place as one of the best exercise machines to lose weight. The heavy, 17kg flywheel sounds like a negative thing, but it actually isn't. This part of the elliptical is responsible for the smoothness of your workout, and a heavier flywheel means a smoother, quieter machine.
You'll need a dedicated workout space for this machine as it doesn't fold away, but the feature-packed unit is still worth the investment. It comes with 20 levels of resistance, allowing you to increase the intensity for heart-pumping workouts or keep a steady pace for longer sessions. Plus, the foot pedals are slightly sloped to reduce the pressure on your knees and ankles.
There's also a 10-inch display for keeping track of your workout stats, built-in Bluetooth speakers to stream your favorite music, audiobooks, or podcasts, and an integrated fan to keep you cool while exercising. If you take out a subscription to the Sole Studio app, you can also use the integrated tablet holder to stream virtual at-home workouts.
What the users say
The Sole E95 averaged 4.1 out of five stars on Amazon, with 70% giving it a full five stars. Positive reviews said the machine was gym quality, smooth and quiet, and praised it for being a 'cost-friendly price'. One six-foot tall reviewer said it was great for stride length. Negative reviews cited issues with the foot paddles coming loose, cracking, or breaking within a few months of purchase.
What's the best machine for burning calories
What's the best machine for burning calories? Running on a treadmill has been shown to be very effective with a 30 minute workout (10m pace) torching on average 372 kcals for the average 155 lb person, according to a study published by Harvard Health.
By comparison, the same size individual could burn 335 kcals after 30 minutes on an elliptical machine, so a similar result. If you up the duration, intensity or add resistance or an incline, you can burn even more calories.
Ehsani says: "I would say there isn't just one machine that will burn the most calories, but it's important to mix up the machines you are using. Don't just always only use the treadmill to walk or run – try using a mix of all of them.
"If your muscles are constantly challenged in new ways you will see more results. It's almost like doing a HIIT workout for fat loss – high intensity interval training – where you jump from doing one exercise to a new one, at a high intensity, which can also lead to high calorie burn.
"How many calories you burn will also depend greatly on the intensity in which you are using the machine, and the duration in which you are putting in effort. One person may be on the bike at a very difficult resistance, high intensity, and for a long duration is going to burn more than a person on the bike at a light seating for a short duration."
Maritato says: "My personal choice for the best exercise machine to burn calories is an elliptical cross-trainer that includes upper body exercise movements. Fat loss has been studied for decades. It appears to be a moving target that is different for everyone. What works for one person might not work for another.
"The true secret to sustainable weight loss is long term lifestyle modification. Focus on eating better, sleeping better, managing stress, and moving more. If weight loss happens as a side effect of getting healthier then today is your lucky day."
How we tested
Using an exercise machine for at-home training is a great way to stay active, but some are better for weight loss than others. To help you find the right one for your home, we've tested these machines and found the top choices for at-home weight loss workouts.
Design and storage
Probably the most crucial aspect is the physical size and design of the machine. So, we assess the quality of the materials, how durable the design is, and whether it comes with convenience features like a water bottle or tablet holder.
Importantly, we also look at how easy the machine is to store. Some come with foldable designs, so we test the folding mechanism to see if it's convenient and safe and report on how much space it helps create.
If you can't fold it, we consider if it has wheels or an accessible transport system to move it out of the way when you're done exercising. We also look at the assembly and day-to-day setup during testing to check whether it's easy to get started.
Exercise performance
We chose and tested a varied selection of equipment for the guide, covering machines known for their fat-burning potential. But each model has a unique approach to exercise, so we do several workouts to check if it offers an effective way to train.
The placement of handles, controls, and fans can make a big difference in whether you'll enjoy a hassle-free session on the machine. So, we assess if these options are within reach and detail any quirks in the mechanisms.
You also want your training to feel smooth, so we test the running belt on treadmills, the resistance mechanism and handlebar on a rowing machine, and the feet plate and handles on an elliptical machine.
Virtual workouts
With many manufacturers now offering optional app-based workouts, we explore these on-demand and live classes to see if there's variety in the offering and that they are suitable for beginners and advanced exercisers.
We look at whether they're good value for money, critical to the machine, and whether you can stream the classes directly to the equipment or if you need to provide your own screen, like a phone or tablet.
Whether you want to join these classes to get inspiration from the instructor or like to be part of a community, we also consider whether the session is actually enjoyable and if it delivers an effective weight loss workout.
Maddy is a freelance journalist and Level 3 personal trainer specializing in fitness, health and wellbeing content. She has been a writer and editor for 22 years, and has worked for some of the UK's bestselling newspapers and women's magazines, including Marie Claire, The Sunday Times and Closer. She also manages Fit&Well's Instagram account.
Maddy loves HIIT training and can often be found running on her treadmill or working out while her two young daughters do matching burpees or star jumps. As a massive foodie, she loves cooking and trying out new healthy recipes (especially ones with hidden vegetables so the kids eat them). She makes a mean margarita and has twice won awards in previous staff jobs as the "office feeder".