What is Nordic Walking?
Fitness fans have been raving about this versatile walking sport – but what is Nordic Walking?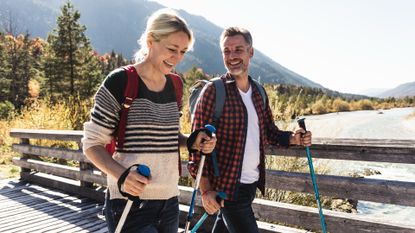 (Image credit: Getty Images)
You may have come across the term, but what is Nordic walking? The fitness activity isn't exactly new as it's thought to date back to Finland in the 1930s when European skiers wanted to continue training during the summer months. They developed Nordic Walking, which involves walking on mostly flat terrain at a fairly athletic pace, using walking poles similar to those used in cross-country skiing to propel themselves forward.
The activity has increased in popularity over the past few years, making it a popular option for those looking to improve their fitness. As a low-impact walking technique that uses poles to work your upper body and legs, it allows you to get a full-body workout without necessarily feeling like you're doing one. Plus, it's relatively easy to get started, with the only thing needed being your best shoes for walking and a pair of specialist Nordic walking poles, which start at reasonable prices.
What are the benefits of Nordic Walking?
Nordic walking uses specially designed poles – not to be confused with trekking poles – designed to enhance your natural walking experience. Participants hold a pole in each hand and use them as they walk, generally placing each pole on the floor as they walk, while stepping forward on the opposite leg, in a move similar to the upper body action of classic cross-country skiing.
Simon Robinson is a Nordic walking expert and says that the benefits of the activity are numerous. It's said to burn up to 20% more calories than regular walking, he says, and the addition of the poles allows you to release tension in your neck and shoulders as well as improve your posture, gait and cardiovascular performance.
"Nordic walking employs [almost all] the muscles of the upper body," he says. "The arms, shoulders, back and core are all fully engaged – as well as those of the lower body."
Simon Robinson is an account manager at Ardblair Sports Importers, a company he joined 15 years ago so he could combine his passion for hillwalking with his day-to-day job. He started using LEKI trekking poles in the mid-1990s and firmly believes that it's possible to do Nordic Walking anywhere, anytime as a means of keeping fit.
It's also versatile, with people of all ages and fitness levels able to adapt the sport to their personal training level.
"At one extreme, athletes might use Nordic walking as part of their overall fitness training, or while recovering from foot or leg injury, while at the opposite end of the scale, the elderly can safely Nordic walk to improve their mobility – it really is an exercise for all," he says.
It can also be a social activity, with the explosion of Nordic walking in recent years leading to many people starting their own local groups, where you can meet others interested in the activity. Robinson advises that newbies to Nordic walking might be best to seek out a social group in the first instance, where they can be taught the proper walking technique by an instructor or fellow walkers.
What equipment do you need for Nordic walking?
Nordic walking doesn't require too much equipment to get started, as many of us already have the key item required – a good pair of walking shoes. Robinson recommends a good pair of trainers suitable for walking, rather than a pair of boots.
After that, all you need are a pair of Nordic walking poles – but be sure to get poles intended for Nordic walking specifically rather than poles meant for general trekking. This is because Nordic walking poles are mainly used for propulsion rather than grip, which is the case for most trekking poles.
"The difference between Nordic walking poles and trekking poles is in the grip and strap," explains Robinson. "Trekking poles have an ergonomic grip with a basic loop strap, whereas the grip on Nordic walking poles is far narrower in profile, with a detachable and more supportive strap that is worn on the hand, rather like a glove."
As for how often you have to do Nordic walking in order to gain the benefits, it's really down to the individual.
As Robinson explains: "If pressed for time, a 30-minute intensive blast with your poles will give you a great workout – on the other hand, you may enjoy a longer, more relaxed outing with friends. However long, or at whatever intensity level you go Nordic walking, you will feel better for having done so."
Rachel is a freelance writer and editor, based in the UK, specializing in entertainment and lifestyle content. When not writing, she enjoys yoga, travel and obsessing over tiny dogs. She writes reviews, articles and round-ups for several Future Plc sites, including Fit&Well and Top Ten Reviews.