What is the pegan diet, and is it safe?
If you've been wondering; what is the pegan diet? Here's everything you need to know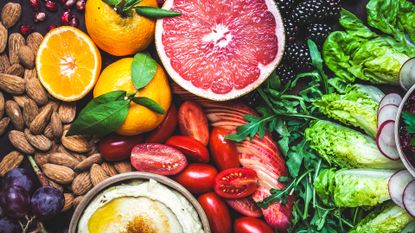 (Image credit: Getty)
You may have heard the term "pegan" and wondered; what is the pegan diet? Well, this fairly new way of eating was created by functional medicine doctor Mark Hyman, MD, in 2014 and combined principles of the paleo diet and veganism.
While the Paleo diet and veganism may seem like opposites, with one based on the principles of our hunter-gatherer ancestors and one gaining focused on plant-based meals, Hyman suggests they can coexist as a single eating pattern. The pegan diet (a combination of paleo and vegan) combines the unprocessed diet of our ancestors with plant-based eating.
If you're considering a new diet because you want to lose weight, you'll need to be in a calorie deficit (consuming fewer calories than you exert), and using one of the best exercise machines to lose weight can help with that. However, we'd always recommend consulting your doctor or a nutritionist before making any substantial changes to your diet.
What is the pegan diet? Everything you need to know
The pegan diet combines fundamental principles from paleo and vegan diets based on the notion that nutrient-dense, whole foods can reduce inflammation, balance blood sugar, and support optimal health. Dr. Hyman says to follow a pegan diet, 75% of your plate should be filled with plant-based foods and the other 25% with lean, sustainably raised meats.
Proponents of the diet claim the pegan diet is less restrictive than either a paleo or vegan diet by itself. While the major emphasis is placed on vegetables and fruit, an intake of small to moderate amounts of meat, certain fish, nuts, seeds, and some legumes is also allowed. In addition, heavily processed sugars, oils, and grains are discouraged. Dr. Hyman says the pegan diet is not designed as a quick fix or short-term diet but instead aims to be more sustainable so that you can follow it indefinitely.
Dr. Hyman says the pegan diet:
Lowers blood sugar and inflammation in the body, which could reduce your risk of certain chronic conditions like Type 2 diabetes and heart disease.
Is environmentally friendly because it focuses on plant-based and sustainable foods.
Focuses on nutrient-rich foods and minimizes or avoids overly processed food choices.
What can you eat on the pegan diet?
The pegan diet doesn't tell you how much you can eat or when but it includes the following foods:
All fruits, with an emphasis on low-glycemic fruits like cherries, strawberries, pears, and apples
All vegetables
Dairy alternatives without added sugar like unsweetened nut milk or coconut yogurt
Eggs
Nuts and seeds (except peanuts, which are legumes)
Oils rich in healthy fats like avocado or olive oil
Meats and poultry (preferably organic, grass-fed, sustainably raised meats)
Sustainably caught fish, especially low-mercury options like anchovies, salmon, and sardines
You can also eat minimal amounts of black rice, legumes (up to one cup a day of beans or lentils), and quinoa
But a pegan diet severely limits or skips certain foods, including:
Bread and most grains like barley, oats, and wheat (except black rice or quinoa)
Dairy products including milk, cheese, ice cream, or yogurt
Foods with added sugar or a high glycemic index
Processed foods like packaged crackers, snacks, and baked goods
What are the benefits of the pegan diet?
Thyroid health nutritional therapist Alice Godfrey says the pegan diet has many benefits, "The focus is on plant foods which means high levels of nutrients that are beneficial in reducing the risk of chronic disease. Plant foods are high in antioxidants which fight free radicals in the body, and they are high in fiber which is vital for healthy digestion and gut."
"The diet is mostly anti-inflammatory and chronic inflammation is at the root of most diseases so this is very positive. It's also low GL which means it's unlikely to cause trouble with blood sugar (which leads to insulin resistance, obesity and diabetes) and heavy metals like mercury in fish are avoided.
Fans of the pegan diet claim it may benefit your health in several ways, particularly given the strong emphasis on consuming fruit and vegetables. Fruits and vegetables are nutritionally diverse foods, full of fiber, vitamins, and minerals. In addition, research has shown that fruit and vegetable consumption prevents disease and reduces oxidative stress and inflammation.
The pegan diet also emphasizes healthy, unsaturated fats from fish, nuts, seeds, and other plants that have positively impacted heart health. Furthermore, studies show that diets that contain few ultra-processed foods are associated with improving overall diet quality.
What are the risks of the pegan diet?
Godfrey says, "I wouldn't say there are any health risks - it's a great diet but it could be harder to feel full. Cooking times will probably be longer, because of the lack of processed foods and it is likely to be more expensive than a vegan diet, for example, with grass-fed meat and fish for protein rather than legumes."
Some, such as nutritional therapist Anna Mapson warn that because the pegan diet cuts out almost all legumes and grains, you may miss out on important dietary sources of B vitamins and fiber. And unless you're using a substitute or supplement regularly, you could miss out on calcium and protein from dairy products.
It's worth noting that when compared to federal guidelines for a healthy diet, a pegan diet lacks balance since it restricts grains, beans, and dairy products. The USDA Dietary Guidelines for Americans advise consuming a variety of nutrient-dense foods, including whole fruits and vegetables, legumes, whole grains, lean protein sources, low-fat dairy products, and healthy fats for a well-balanced diet.
For more on nutrition, find out the plant-based diet benefits or discover what is the paleo diet.
Get the Fit&Well Newsletter
Start your week with achievable workout ideas, health tips and wellbeing advice in your inbox.
Catherine is a freelance journalist writing across titles such as Verywell Health, Healthline, The Daily Telegraph, Refinery29, Elle, and Vogue. She specializes in content covering health, fitness, wellness, and culture.
A once reluctant runner, Catherine has competed in 30 running events in the past five years and looks forward to one day running the London Marathon.