How to get back into running after a break: Paula Radcliffe's top tips
Keen to return to running after a break but not sure where to start? Who better to advise you than former running world champ Paula Radcliffe...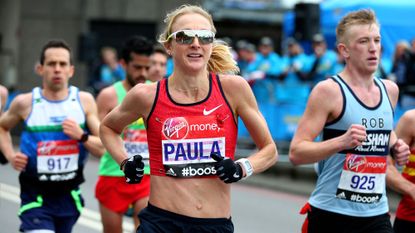 (Image credit: Getty Images)
Get the Fit&Well Newsletter
Start your week with achievable workout ideas, health tips and wellbeing advice in your inbox.
Thank you for signing up to Fit And Well. You will receive a verification email shortly.
There was a problem. Please refresh the page and try again.
If you're wondering how to get back into running after a break, we've got some expert advice courtesy of former world champion marathon runner Paula Radcliffe.
Whether lockdown left you feeling lethargic and uninterested in exercise, or you've taken time out to recover from illness or having a baby, getting back into a regular running regime can seem intimidating.
But fear not, as the 47-year-old athlete - who won both the London and New York marathons three times, as well as others - is on-hand to offer her best advice.
From major foot surgery to the birth of her kids, mother-of-two Paula knows only too well the importance of easing back into exercise after a prolonged absence.
Taking it "one step at a time" is the way forward advises Paula, who suggests "a gentle return" as the golden rule of thumb. This was a lesson learnt after the former world champion – who won the 2007 New York Marathon ten months after her first child - suffered a stress fracture in her spine, after returning to training too quickly.
"Whether you have had a break from running or are new to it, taking your first run can be daunting," explains Paula. "My best bit of advice is doing something is better than nothing so even if you step outside the door and jog around the block that is a great start."
Before you follow Paula's top tips listed below, here's our biggest word of advice: make sure your running shoes are still fit for purpose! The right footwear is so important in order to run comfortably and avoid injury, so if your runners are looking a little dog-eared, check out our pick of the best running shoes for men and the best running shoes for women.
Shoes sorted, you'll be ready to heed Paula's advice and get back out there...
1. Make it fun
Paula says: 'Running should be fun. Don't take it too seriously. As an athlete I obviously run by myself but if you are just starting out, make it a social outing and take a friend with you.'
Join a running club
Paula says: 'Running by yourself, especially the long-distances I do, requires a lot of mental toughness but that's something you learn on the job. So, if you are new to running, there is so much to learn which is why I'd suggest start off joining a friend to run together or join a running group as the social aspect can encourage you.'
3. Train with a race in mind
Paula says: 'There are so many races out there and more opening up as lockdown eases. Signing up for a 5k fun run is a great start. By setting a target to work towards, it will give you an end goal to focus on. Running is a great way to bring people together which is why I encourage all runners, whatever stage they are at, to join in our Run Fest event as it is so much fun.'
4. Run for your mental health
Paula says: 'Running can be like free therapy. It is so good for your mental health as it makes you focus on the moment and not everything else. Plus, if you run alongside a friend, it can be a good way to talk about your feelings. Running helps me appreciate the things around me, it can act as a great coping mechanism.'
Paula Radcliffe is a team captain at RunFestRun, which takes place August 27 -29 2021 at Laverstoke Park Farm in Hampshire, England. Tickets are available now.
Get the Fit&Well Newsletter
Start your week with achievable workout ideas, health tips and wellbeing advice in your inbox.
Suzzanne has been writing as a lifestyle journalist for 20 years where they have worked as senior editor across magazines, newspapers and television. As a busy freelancer now they frequently write about lifestyle, health, beauty and fitness for Fit&Well, Hello!, Daily Mail, The Sun, and many others. They also write up product reviews that feature in T3, IndyBest, ES Best and the i.