How to get started with wild swimming
How to get started with wild swimming: swim confidently and safely outdoors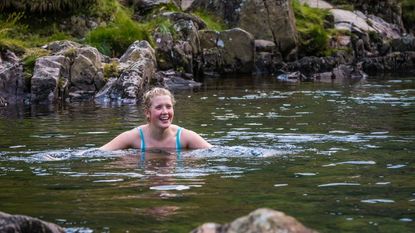 (Image credit: Getty Images)
Want to know how to get started with wild swimming? If you own a swimming costume and a sense of adventure, then you're halfway there!
Wild swimming is essentially just an outdoor swim, but not in a pool. It can be in ponds, rivers, lakes or the ocean.
As well as the physical health benefits of swimming – from increased heart health to improved mobility – a study, published in the European Journal of Applied Physiology, found that immersing the body in cold water of up to 57 degrees F (14 degrees C) boosts the feel-good chemical dopamine by 250%. It is also a great way to practice mindfulness and live in the moment says Greg Hincks, an Australian open water swim coach who spent a few summers in America swimming in the regions of NYC and New England.
"Swimming is an excellent form of exercise as the body is supported by the water, reducing the load on knees, ankles and hips," he says. "It works the cardiovascular system and uses virtually all the muscle groups in the body including the abs, backs, shoulders, arms, and legs."
"It is very common for wild swimmers to get a glow from communing with nature as you get the amazing healing properties of water, combined with the joy of being in some stunning places of natural beauty."
So are you ready to find out about how to get started with wild swimming? Read on for Greg's step-by-step tips.
What kind of place is best for wild swimming?
"The best place to go wild swimming is somewhere where you feel relaxed and safe," says Hinks, who now teaches people to swim outdoors at River Flow Retreats.
"This could be a river, a lake, a pond, the ocean, or just about any body of water. However, you must be aware of the risks posed by the water - especially where it is moving.
"Talk to locals, find a swim group and get them to show you their favorite places. Or find an outdoor swimming coach or guide that can provide assistance and advice."
When is it best to go wild swimming?
"For me, the best time to go wild swimming is first thing in the morning, as that rising sun floods the day with the promise of warmth and growth. But any time of day is good!" says Greg.
"Certain swim spots will need certain conditions to be at their best, based upon wind direction and tidal flows, for example. Some beaches where there is a large tidal range will change their personality completely between low tide and high tide.
"Other places such as rivers will change depending upon how much rain has fallen upstream and how fast the water is flowing. That is why it is a good idea to talk to other local swimmers and find out from them the best times to go.
"It is also a very good idea to just sit and watch the water for five or 10 minutes before you go in, just to observe what is happening with the water today. Remember you are entering a dynamic environment, and it can change."
When it comes to seasons, as you'd expect, summer tends to have warmer waters, but you also need to be aware of any issues with algal blooms (toxic algae), marine life and other potential hazards that come with the warm weather.
"Cold water swimming in winter can also be a lot of fun," says Greg, "but you must take into account the water and air temperature, as hypothermia is a major issue. Cold-water swimming is defined as swimming in water less than 60 F (16 C). If you plan to swim in water under 50 F (10 C), it's advisable to have a health check first, as the cold water will place extra strain on your heart and lungs.
"Be aware of the impact of the cold on your body and that your hands and feet will get colder first. The first time it might feel painful on the skin, your body starts to tingle and you feel very alive. Try it again a few days later and you'll find the body soon adapts to the cold and can tolerate it much better.
"Don't forget, going for a swim in Chicago in February will be very different to a swim in Florida the same month. Take into account the local weather conditions, as this will have a huge impact on how long you can stay in the water. And always go with other experienced winter swimmers for your first few times to have their support."
"It is also a very good idea to be aware of water pollution, and the impact of rainfall on the water quality. Check with the US EPA (Environmental Protection Agency) for latest updates," says Greg.
What gear you will need?
Your baseline kit for a wild swim is a swimsuit and, if you're a fan of front crawl, a pair of goggles. A brightly colored swim cap is also a solid investment, as it helps you be seen and keeps your head warm, too.
"If you are swimming in an isolated place, or where there is a lot of water traffic, a tow float is a good idea, as it makes you much more visible. If you want to stay warmer for longer, you can swim in a wetsuit and there are numerous brands selling excellent swimming wetsuits that will provide extra buoyancy. If you suffer from cold, neoprene gloves, boots and caps will help," says Greg.
How to start wild swimming
The best way to get started with wild swimming is to go to your local outdoor swimming spot and talk to the lifeguards or other swimmers.
Greg says: "Connect with the swimming community on social media, or book on to a swimming adventure holiday or weekend retreat, where you will get excellent advice and support in a safe environment. Some of the better known ones include Swimtrek, SwimQuest, Strel Swimming and The Big Blue Swim."
Wild swimming benefits: an overview
Wild swimming is a fun, free activity that's often done in small groups as a social pastime. Some of its wider benefits include:
Relieving stress and anxiety
Enhancing sports performance, according to a study published in the Human Kinetics Journals.
Boosting weight loss, as found in a study published in Scientific Reports, by promoting the formation of 'brown' fat – the type the revs up your metabolism to keep you warm, burning more energy in the process
Helping to reduce muscle pain and stiffness
Potentially decreasing depressive symptoms, as suggested in a recent case report
"Give wild swimming a go, and enjoy the huge health benefits," says Greg, "But recognise that there are risks involved with getting into water, and never take the water for granted. You will soon be reminded that you cannot master Mother Nature."
Get the Fit&Well Newsletter
Start your week with achievable workout ideas, health tips and wellbeing advice in your inbox.
Maddy Biddulph is a freelance journalist specializing in fitness, health and wellbeing content. With 25 years in consumer media, she has worked as a writer and editor for some of the bestselling newspapers, magazines and websites in the US and UK.
She is also a qualified L3 personal trainer and weight loss advisor, and helps women over 40 navigate menopause by improving their physical and mental strength. At Maddy Biddulph Personal Training, she runs one-to-one and small group training for menopausal women who want to get fit to ease symptoms and feel like themselves again.