How to stay safe when hiking
Thinking of heading off into the hills? Here are some expert tips on how to stay safe when hiking.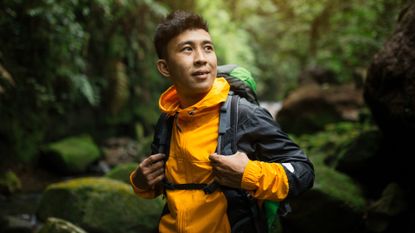 (Image credit: Getty Images)
Before you journey into the wilderness, it's important to consider how to stay safe when hiking. Sudden weather changes, unexpected obstacles and tech failures could all pose a threat to your enjoyment of the great outdoors.
But as long as your plan your route carefully and to get the right kit, your trip should go smoothly. We'd recommend you gear up with some of the best shoes for walking , along with a sturdy backpack, first aid essentials and a robust waterproof jacket.
To get some more expert safety tips, we chatted with Jamie Pattison, a special operations and mountain rescue paramedic. Here's what he recommends.
Jamie Pattison is a special operations and mountain rescue paramedic, fellow of World Extreme Medicine, and expedition medic. He has extensive hiking experience in the UK, Morocco, Norway, Iceland, Greenland, Slovenia and Canada. In 2016 he was part of the team that won the world's toughest Arctic ski race, the Iceman Polar race. He also works as a guide and technical leader for expeditions.
Plan ahead
Start by breaking your preparation into the planning phase, journey phase and key points phase, advises Pattison.
Planning phase
"The planning stage should include your objectives such as where you are going, as well as how long you expect it to take, the weather forecast, the people you are going with and the terrain."
You should also think about the altitude of your final destination. If you are climbing up high, it may be 65°F at the bottom but 37°F at the top.
Before you set off, you should find out where the nearest search and rescue is. Plus, make sure someone knows where you are going and what time you will be back.
Journey phase
During the hike itself repeat the above process, explains Pattison.
"Keep asking yourself the following questions: is the weather what you expected, have you got everything you need kit-wise, is everyone fit and well? Is the terrain what you expected – or have you strayed off the route? Has your end time changed?"
Make sure everyone has the chance to voice concerns, so if the weather's not looking good, there's no problem with turning around.
Key points phase
Have key points along the route where you can check on progress. Decide on places to stop which can enable you to check if you are going slower or faster than expected.
"It is also another opportunity to let people in the group raise any concerns," advises Pattison.
Pack these essentials
There is some basic kit that should be packed for every lengthy hike. One essential piece of equipment is some form of basic shelter to protect from the elements. This could be a bothy bag or a blizzard bag but an emergency blanket will also work.
Whatever you choose, it needs to be a bright colour so you can be seen if a rescue team comes looking for you. It will provide shade if it's hot, and shelter if it's cold.
"You can go three weeks with no food, three days without water, but hypothermia will kill you in a matter of hours," warns Pattison.
A first aid kit is another vital item and needs to include a trauma bandage to stop heavy bleeding, a pocket size resuscitation mask, bandaids, gauze, painkillers and a glow stick so you can be found in the dark.
Remember to take spare batteries
Take your phone and an extra battery pack to charge it. Keep the phone warm against your body so the battery doesn't drain.
And when it comes to navigation, apps like AllTrails are great, but also take a standard map and a compass, and know how to use them. You can practice as you go, use the map and check against the app on your phone.
Finally a good torch — especially a rechargeable head torch — is invaluable and remember to bring the charger so you can connect it to your spare battery if need be.
Wear appropriate clothing
Never wear new boots before you have broken them in because you may get blisters. Wear comfortable boots suitable for the terrain. If you are walking in snow you need stiff winter boots not a soft summer boot and remember to include gloves.
"For clothing wear bright colours rather than camouflage and a useful tip is 'be bold, start cold'. You may be tempted to wear all your layers at the start if it's cold but once you get started you might overheat, even worse you may start sweating and then you'll have damp clothes for the rest of the day," says Pattison.
Take plenty of water
Most important is to take plenty of water (we've rounded up the best water bottles for hiking, if you need a new carrier.)
We need two liters just when we're sedentary so take more. Water purification tablets are also useful in case you run out. In the winter, take one liter of boiling water in a good flask.
"A hot drink is morale lifting. When it comes to food, always have a bar of chocolate or something that gees you up," adds Pattison.
Get the Fit&Well Newsletter
Start your week with achievable workout ideas, health tips and wellbeing advice in your inbox.
Lily Canter is a freelance money, health and lifestyle journalist with more than 20 years' experience. She writes about fitness for Runner's World and Trail Running magazines and focuses on personal finance for Yahoo! Finance UK, Metro, The Guardian, and the Mail on Sunday. In her spare time she is an ultra-runner, canicrosser and running coach. She also co-hosts the award-winning podcast Freelancing for Journalists.