Best water bottles for hiking: Take your pick from eco-friendly, lightweight options
Be prepared with the best water bottles for hiking, designed to keep you adequately hydrated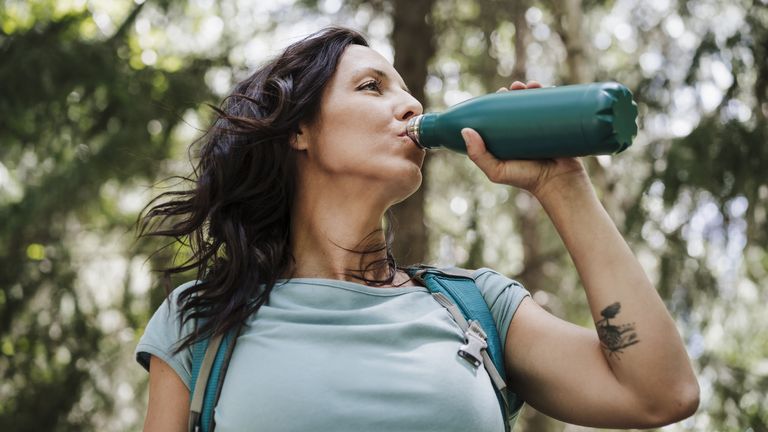 (Image credit: Getty Images)
These are the best water bottles for hiking to accompany you on your next adventure. A smart buying decision for both the planet and your wallet, a dedicated bottle for hiking can help you cut down on plastic waste and mean that you're ready in advance for your next hike.
The design of the best water bottles for hiking goes a long way to make them a worthwhile addition to your backpack. The most important of these features is being lightweight so that your bag doesn't cause you discomfort as you climb or walk. What's more, so many of these picks go beyond the limits of the best water bottles for the gym, thanks to in-bottle filtration systems, straws for easy hydration and insulation for taking hot drinks along with you too.
As you shop make sure to think about the capacity of the hiking water bottle you want, as there's nothing worse than being caught without a drink when you really need one. Whichever features you most want, you'll find an excellent bottle to suit you here, so that you can set off on your next hike with confidence.
The best water bottles for hiking you can buy right now
1. Nalgene Tritan Wide Mouth Bottle
The best water bottle for hiking for most people
Specifications
Volume: 32 fl oz / 1l
Features: Wide mouth, screw-on lid
Optional extras: Insulating neoprene sleeve, sipper cap
Material: BPA-, BPS- and Phthalate-free plastic
Reasons to buy
+
Excellent value for money
+
Big 1 litre volume
Reasons to avoid
-
No filtration system
-
No insulation
The beauty of Nalgene bottles is that they are so simple and so well made. A wide mouth makes it easy to gulp down water when you're thirsty, and makes refilling it quick and less splashy. The generous one litre capacity in a compact design means you can take plenty of water with you, and the screw-on lid is secure which means no leakage.
We love the fact the lid is kept attached to the bottle so you can't lose it down the mountain side. What's more, there are plenty of colours to choose from, including a glow-in-the-dark option which makes finding your water in your tent at night a cinch. You can get replacement caps, plus the new Sustain model is made with 50% recycled plastic.
2. Lifestraw Go Water Filter Bottle
The best premium water bottle for hiking
Specifications
Volume: 1l or 22 fl oz/650ml
Features: Cap with silicone straw mouthpiece, water filter, carabiner clip
Optional extras: Replaceable filters, cap, clip
Material: BPA-free plastic
Reasons to buy
+
Provides safe drinking water in the wild
+
Replaceable filters and parts
Reasons to avoid
-
Pricey
-
Unnecessary for most short hikes
If your hikes regularly take you into the back of beyond, or you are a thirsty soul that often runs out of water, then the Lifestraw Go bottle is the water bottle for you.
It contains a high-quality filtration system that removes and protects against 99.9% of bacteria and parasites, and filters out microplastics, chlorine, dirt and grit. That means you can refill from streams and springs as you go, secure in the knowledge the water you drink is safe to do so.
The system consists of a membrane microfilter, good for up to 4,000 litres of water, and a carbon filter which is good for up to 100 litres of water, both of which are replaceable.
Everything comes apart and is replaceable, and the bottle and cap can be cleaned in the dishwasher Plus there are two sizes available and loads of colours to choose from.
3. Brita Fill & Go Active
The best budget water bottle for hiking
Specifications
Volume: 22 fl oz / 600ml
Features: Sports cap mouthpiece, filter, carry loop
Optional extras: Replacement filters
Material: BPA-free plastic
Reasons to buy
+
Tasty filtered water
+
Dishwasher safe (without filter or mouthpiece)
Reasons to avoid
-
Small volume
-
Filter not suitable for water purification
If you don't like the taste of tap water, then the Brita Fill & Go Active will be right up your street. The 0.6 litre bottle contains a filter that slots into the lid section below the sports mouthpiece. As you drink, water is drawn through the filter and it traps substances like chlorine that can affect its taste.
The filters are replaceable, and you can also use the bottle without them if you need to. However, they aren't fine enough to filter out things like bacteria and protozoa, so we don't recommend this system as a way of getting fresh water from outdoor water sources.
The sports cap makes swigging while you walk a less risky affair, and there are several colours to choose from. It's a great value-for-money option for those who like fresh-tasting water while they hike, though you might want to take a spare bottle so you have enough water on longer walks.
4. Hydro Flask 621ml Standard Mouth Bottle
The best water bottle for keeping water cool
Specifications
Volume: 21 fl oz / 621ml
Features: BPA-free lid, double-walled construction, vacuum insulation, range of colours
Optional extras: Replacement caps, sports lid and hot drinks lid available
Material: Pro-grade stainless steel
Reasons to buy
+
Double-walled insulation metal bottle
+
Carry handle
A sturdy steel water bottle will last for years, and Hydro Flask are the best of the best. Made from stainless steel, the double-walled construction provides vacuum insulation that minimises heat transfer in or out. This means that cold liquids stay cold for as much as 24 hours, according to the company.
It's not all about col drinks, either; there's nothing like a hot beverage on a chilly winter hike, and this bottle will keep your tea, coffee, hot chocolate or blackcurrant hot for up to six hours. The lid is constructed from BPA plastic and has a honeycomb construction that also helps prevent heat seeping in or out, depending on contents.
What else? There's a handy handle that makes it easy to carry or grab out of a well-packed bag. You can also choose a sports cap or hot drinks cap if you prefer, or get those as extras so you can up the versatility of this nifty bottle.
And last but not least, it comes in a range of lovely stylish shades, so it looks as good as it performs.
5. Hydrapak Stash Bottle
The best collapsible water bottle for hiking
Specifications
Volume: 25 fl oz / 750ml
Features: Collapsible, carry handle and grip ring, screw cap, capacity gauge
Optional extras: Spare caps, hoses available
Material: BPA- & PVC-free plastic
Reasons to buy
+
Collapsable to ¼ size
+
Half the weight of rigid bottles
Reasons to avoid
-
Not as robust as non-collapsible options
-
Bit pricier than others
If you're travelling light or space in your backpack is at a premium, then this technically brilliant water bottle from Hydrapak is what you need.
Constructed from TPU (thermoplastic polyurethane), a high-elasticity plastic, it has a rigid top and bottle but flexible sides so you can twist it to collapse it to one-quarter of its size once empty. It's also claims to be up to 50% lighter than other bottles of this capacity, so it won't weigh you down once empty.
It has a wide mouth with a sports drink mouthpiece, plus a carry handle and grip ring, and an external capacity gauge so you can keep an eye on how much you've been drinking. It's also BPA- and PVC-free, making it a stable plastic to use, and has been designed to be abrasion resistant.
Looking for a water bottle that can be frozen? This one comes up trumps, providing you with cool icy water on long hot days. It can also handle hot liquids up to 140°F / 60°C.
6. Camelbak Classic
The best hydration pack for hiking
Specifications
Volume: 88 fl oz / 2,500ml
Features: Drinking straw, integrated backpack, lockable mouth piece
Optional extras: Replacement mouth pieces, alternative backpacks
Material: Polyamide
Reasons to buy
+
High-capacity hydration pack
+
Can be removed from the integrated backpack
+
Easy to carry
Reasons to avoid
-
Large water volume adds weight to your hike
-
Can only be used for water
The Camelbak Classic hydration pack is actually two products in one. Externally, this looks like a small backpack for you to wear during your hike, but internally, it houses a 2.5L polyamide water storage pouch.
The hydration pack comes with a long drinking straw with a lockable, replaceable mouthpiece at the end. The straw hangs loosely from the bag, so you can access it quickly during your hike without having to stop.
The internal water bag is quick to refill, with a large opening for you to hold underneath a tap. This does make it difficult to top up from other sources, like streams or water fountains with awkward bottle spaces.
However, you can remove the hydration pack from the default backpack if you'd prefer to store it in your own, larger bag. It's also easy to switch between other Camelbak bags, and replacement parts and cleaning accessories are readily available.
How to choose the best water bottle for hiking for you
Reusable bottles are much better for the environment, as they can be cleaned and refilled, but they also prevent litter on your hiking route. If you're leaving behind single-use plastic, you need to choose between plastic, metal, or glass.
Materials: Plastic
The best water bottles for hiking are often plastic or metal, as glass is usually too fragile to throw into your backpack, even with protective padding. Plus, glass bottles are typically more expensive, so you can save money by opting for an alternative.
If you're after the most affordable water bottle for hiking, then you'll want to choose one of the plastic options on our list. But this doesn't mean you're buying an inferior product, as these bottles are flexible, so you can easily squeeze them if you need a quick drink.
Materials: Metal
Meanwhile, metal bottles are among the most durable options, especially if you choose an insulated or double-walled model. These insulated bottles are great for keeping liquids at specific temperatures, making them ideal for those who prefer a cold glug of water or take hot drinks on outdoor adventures.
Volume and weight
A one-litre bottle or larger made of metal or glass is going to provide you with all the necessary water for a long hike, but will weigh you down. If you're going to need larger volumes, consider something like a Camelbak, which distributes weight evenly across your back, allowing for a greater capacity.
Mouthpiece
Another thing to consider is how you like to drink your water. If you're the kind of person who prefers to take gulps at a time, it's worth choosing one of the larger necked bottles. There are also bottles with straws for those who enjoy smaller sips on the run to stay hydrated.
Notably, some of the best water bottles for hiking come with a built-in filter, so you can quickly fill up at the nearest tap or safely top up your bottle from a nearby stream or water source.
Aoife Glass is a keen outdoorswoman, with a love of hiking, cycling, camping and wildlife. She is an editor with Red Bull Global team and has written for T3, BikeRadar, and Trek UK. Aoife studied Geology at the Royal School of Mines at Imperial College and earned a masters degree in Science Communication at the University of the West of England.