Plyometrics workout challenge: jump yourself fit in just 30 days!
Take our plyometrics workout challenge to increase your power, strength and calorie burn in just one month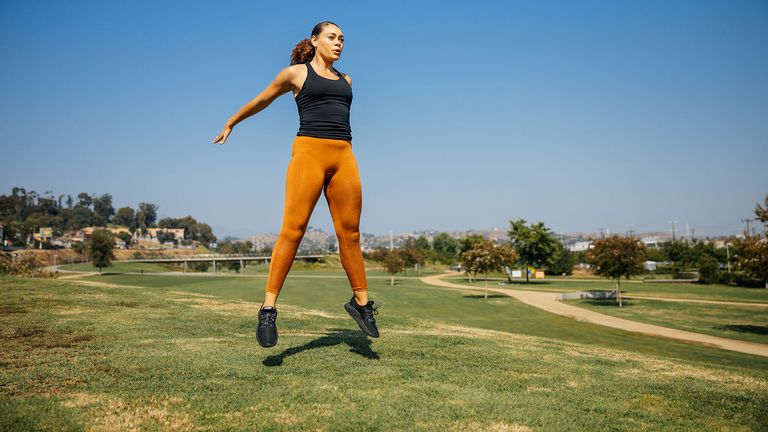 (Image credit: Getty Images)
Our plyometrics workout challenge is just the ticket if you're looking for an exercise routine that'll put a spring in your step!
Plyometrics is simply a snazzy word for jumping. Not just a playground throwback, jumping exercises can also boost energy levels and firm up your derrière in no time.
They also increase your power and strength. 'This is because plyometric workouts focus on your fast muscle twitch fibres (which are used in dynamic bursts of movement like sprinting and lifting weights),' explains celebrity trainer Chris Richardson (opens in new tab).
'This type of training can also boost weight loss and help tone and define your muscles,' he adds. Plus, the post-training boost, will keep you burning calories long after you've unlaced your trainers.
Plyometrics workouts don't just make you look good - they help you feel good too. They can help improve bone density (which starts to decrease after the age 25), plus the explosive movements will rev up your metabolism and leave you raring to go. For the ultimate butt (and mood!) lift, dive straight in to our ky moves...
Plyometrics workout challenge: 6 key moves
Below are the six key moves you'll need to master in order to take on our 20-day plyometrics workout challenge.
These energising jumps will firm up your glutes (your bum), quads and hamstrings (your thighs). To perfect your technique, Chris advises: 'Use your arms to fire downwards, flex your knees, hinge through your trunk and drive up from there.'
An important word of warning before we get started. To do this challenge, we strongly recommended wearing a pair of sneakers specifically designed to cope with the demands of a plyometrics workout - and that doesn't mean running shoes! Take a look at our pick of the best cross training shoes for options that have the support and cushioning needed for this type of movement.
Star Jump
Stand with knees soft, feet shoulder-width apart and arms relaxed at your sides
Bend your legs and jump up as high as you can, while extending your limbs out fully to create a star shape mid-air
Land softly with knees bent
Return to the start position
Squat Jump
Stand with feet shoulder-width apart
Engage your core and lower into a squat position bringing your hands together at chest level, palms face-down
Jump up as high as you can, releasing your hands and throwing them behind you
Use your whole foot to jump, not just your toes
Lower back into the squat position to complete one rep
Long jump
Stand in a partial squat stance, with feet shoulder-width apart and arms by your side
Using a big arm swing upwards, jump forwards as far as you can, reaching with your legs
Land softly with knees bent
Frog Jump
Start in a standing position with a slight bend in your knee - maintain this throughout
Slowly squat down all the way to the ground and place both hands in front of you, but try not to use them for balance
Explode up into the air, throwing arms back
Land as quietly as possible back into the low squat
Ice Skater
Stand with feet shoulder-width apart
Start by hopping onto your right foot, while sweeping your left leg behind your right
From this position, hop back to your left foot, sweeping your right leg around, behind your left leg
Tuck Jump
Stand with feet shoulder-width apart, arms out at chest level, palms facing the floor
Engage your core and lower into slight squat position, before jumping up as high as you can
Pull your knees towards your chest, aiming to touch the palms of your hands
Focus on your technique to start, rather than on the height - that will come over time
Plyometrics workout challenge: your 30-day plan
Mastered the moves? Then you're ready to go! Follow our day-by-day plyometrics workout plan below, which increases the amount of reps you do as the days go by.
This plan is ideal to incorporate into your usual gym routine, or else alongside any other workouts you may do. Just remember to listen to your body, only do what you feel capable of, and be sure to take those all-important rest days. Happy jumping!
Day 1
5 x Star Jump
5 x Squat Jump
5 x Long Jump
Day 2
6 x Star Jump
6 x Squat Jump
6 x Long Jump
Day 3
7 x Star Jump
7 x Squat Jump
7 x Long Jump
Day 4
8 x Star Jump
8 x Squat Jump
8 x Long Jump
Day 5
9 x Star Jump
9 x Squat Jump
9 x Long Jump
Day 6
10 x Star Jump
10 x Squat Jump
10 x Long Jump
Day 7
11 x Star Jump
11 x Squat Jump
11 x Long Jump
Day 8
REST DAY! All that jumping will take its toll on your leg muscles, so grab a foam roller to do some recovery exercises. Don't already own one? We've picked the best foam rollers that are up to the job, from basic models through to high-tech vibrating muscle saviors.
Day 9
12 x Star Jump
12 x Squat Jump
12 x Long Jump
Day 10
13 x Star Jump
13 x Squat Jump
13 x Long Jump
Day 11
14 x Star Jump
14 x Squat Jump
14 x Long Jump
Day 12
15 x Star Jump
15 x Squat Jump
15 x Long Jump
Day 13
16 x Star Jump
16 x Squat Jump
16 x Long Jump
Day 14
18 x Star Jump
18 x Squat Jump
18 x Long Jump
Day 15
20 x Star Jump
20 x Squat Jump
20 x Long Jump
Day 16
REST DAY
Day 17
5 x Frog Jump
5 x Ice Skater
5 x Tuck Jump
Day 18
5 x Frog Jump
6 x Ice Skater
6 x Tuck Jump
Day 19
7 x Frog Jump
7 x Ice Skater
7 x Tuck Jump
Day 20
8 x Frog Jump
8 x Ice Skater
8 x Tuck Jump
Day 21
9 x Frog Jump
9 x Ice Skater
9 x Tuck Jump
Day 22
10 x Frog Jump
10 x Ice Skater
10 x Tuck Jump
Day 23
REST DAY
Day 24
12 x Frog Jump
12 x Ice Skater
12 x Tuck Jump
Day 25
13 x Frog Jump
13 x Ice Skater
13 x Tuck Jump
Day 26
14 x Frog Jump
14 x Ice Skater
14 x Tuck Jump
Day 27
15 x Frog Jump
15 x Ice Skater
15 x Tuck Jump
Day 28
16 x Frog Jump
16 x Ice Skater
16 x Tuck Jump
Day 29
18 x Frog Jump
18 x Ice Skater
18 x Tuck Jump
Day 30
20 x Frog Jump
20 x Ice Skater
20 x Tuck Jump
Congratulations! You've completed our 30-day plyometrics workout challenge! Share your results with us on Instagram @wearefitandwell (opens in new tab).
Liked this? Try more 30-day challenges:
30-day abs challenge: your best ever abs in just one month
30-day squats challenge: tone your butt, legs AND core
30-day arms challenge: increase strength and definition
30-day killer curves challenge: sculpt your bust, waist and butt
Natalia is a health and fitness journalist who has written for the likes of Woman & Home and Marie Claire, and likes to practice what she preaches when it comes to staying fit and well. She loves the outdoors and would happily swap the treadmill for the trail at any opportunity. As such, in her free time you'll likely find her up a mountain somewhere. She has hiked eight of the major mountain ranges across four continents, including the Appalachians, the Smokies, the Sierra Nevadas (where she hiked to the top of Half Dome during her honeymoon) and the Atlas Mountains, as well hitting the summits of Snowdon and Pen-Y-Fan (Brecon Beacons), Table Mountain in South Africa and the Blue Mountains in Australia. She was also a fencer for 13 years, wielding an epée for Team GB during her teenage years. Having recently welcomed a baby, Natalia is currently getting back into her fitness routine, and has her sights set on completing a triathlon, something she and her husband started out on before their bundle of joy arrived.