8 minutes, 16 moves, no repeats – can you finish this tough workout?
This 8 minute fat burning, muscle building Tabata workout comes courtesy of calisthenics superstar Frank Medrano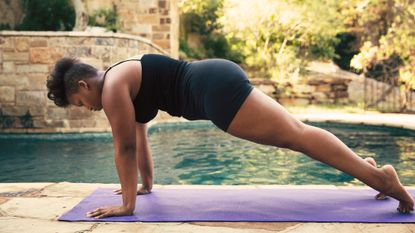 (Image credit: Getty Images)
Get the Fit&Well Newsletter
Start your week with achievable workout ideas, health tips and wellbeing advice in your inbox.
Thank you for signing up to Fit And Well. You will receive a verification email shortly.
There was a problem. Please refresh the page and try again.
Ever tried Tabata? It's one of the quickest and most efficient ways to work out, allowing you to easily fit in a quick calorie burn at the start or end of your day. A quick-fire routine that uses the principle of 20 seconds of work, followed by 10 seconds of rest, Tabata was created by sports scientist Izumi Tabata.
Although you can do Tabata training with almost any discipline, whether you're using the best adjustable dumbbells, sprinting, or anything in between, it's often applied to bodyweight training and core exercises, because these exercises are safer to perform for time than using heavy weights. Bodyweight training doesn't require much - just a space on one of the best yoga mats or exercise mats, and a bit of grit.
It's "one of the most energetically effective high-intensity intermittent training methods" according to Izumi Tabata's research, effective at burning calories, raising your metabolic rate, and creating lots of muscle activation.
Tabata routines can last anywhere from four to 30 minutes and beyond, as long as you can stick to that 20 on/10 off schedule. However, the longer Tabata routines last, the harder they become, as you're squeezing a lot of work into a very short space of time. This particular eight-minute workout is from calisthenics superstar Frank Medrano, a vegan former pole-vaulter whose YouTube and Instagram followings number in the millions.
Check out Medrano's workout in full below:
8-minute tabata workout: Move list
With two exercises per minute, you'll be doing 16 moves in total. No two moves are the same, as you can see in the video above. It might be helpful to practice each of the below moves a few times, following the examples in the video, before actually trying out the workout.
Split lunge, to high plank
Side kick-through, to plank
Broad jumps
Sprint in place
Inchworm walkout
Loaded beast to knee-tuck
Reverse lunge to knee-tap (left side)
Reverse lunge to knee-tap (right side)
Bear stance with shoulder/knee-taps
Squat get-ups
Spider burpees
Squat to toe-taps
In-and-out "squat jacks"
Plank up shoulder-taps
Knee-tap burpees
Star crunch
Tabata is a great way to burn fat, as it torches calories and raises your base metabolic rate. However, it's also a great way to train your core. Many of these moves revolve around holding a plank pose while moving to tap your knees, shoulders, or toes, while others such as "star crunches" work your obliques and rectus abdominis muscles.
Together with squats, which will develop muscle in your glutes and legs, and push-ups which will develop your chest and triceps, this workout will give your whole body a burn in just eight minutes. Want to torch fat and build muscle at the same time? This is the workout for you.
Just make sure you refuel after all that with some high-quality protein. Ideally, you want to be eating lean sources of protein such as chicken, fish or high-quality red meat. If you're vegan like Medrano, you can get plenty of protein from sources such as beans, peas, tofu, soya, nuts, and seeds. Our best protein powder for weight loss supplements guide also contains both omnivorous and vegan-friendly options.
Get the Fit&Well Newsletter
Start your week with achievable workout ideas, health tips and wellbeing advice in your inbox.
Matt Evans is an experienced health and fitness journalist and is currently Fitness and Wellbeing Editor at TechRadar, covering all things exercise and nutrition on Fit&Well's tech-focused sister site. Matt originally discovered exercise through martial arts: he holds a black belt in Karate and remains a keen runner, gym-goer, and infrequent yogi. His top fitness tip? Stretch.