Adele lost 100 pounds without dieting by exercising three times a day
British singer-songwriter Adele started exercising three times a day for her mental health and lost weight while doing so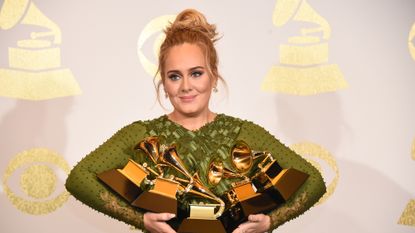 (Image credit: Getty)
Adele is best known for her award-winning voice but since leaving lockdown and releasing a new album, she is looking incredibly fit. Thankfully, she has shared her secret and perhaps best of all, it doesn't include dieting.
She featured on the cover of Vogue this month. Speaking to the magazine, the singer revealed exactly how and why she lost 100 pounds: it was all an effort to keep her feelings of anxiety at bay.
Learning how to eat healthily usually plays a significant role in creating a well-rounded healthy lifestyle, swapping highly processed foods for healthier, more natural whole foods; think green vegetables over a side of starchy potatoes fried in oil, and lean meats and fish over burgers and pizza. However, diet wasn't the key ingredient for Adele.
She told Vogue, "I haven't done any diet. No intermittent fasting. Nothing," she notes, "If anything I eat more than I used to because I work out so hard."
The singer trains up three times a day, devoting a morning, afternoon, and evening session to different styles of workout. Though her body is a testament to this dedication, it's refreshing to hear that she didn't take up exercise primarily to lose weight: she did it for her mental health.
"It was because of my anxiety. Working out, I would just feel better. It was never about losing weight, it was always about becoming strong and giving myself as much time every day without my phone," explained Adele.
The link between exercising and better mental health is a strong one. Research has found that aerobic exercise is positively correlated with reduced symptoms of anxiety and depression, as it stimulates the production of endorphins and other beneficial hormones, and reduces the production of the stress hormone cortisol. Struggle with anxiety? Below, we've listed some of Adele's favourite ways to work out, so you can get a head-start on getting a better headspace.
Here's what her training included:
Weights
Lifting weights, or resistance training, can be really great for weight loss. This is because when you increase muscle mass your metabolic rate increases, meaning you will burn more calories in addition to toning lean muscle.
Also, a study in the International Journal of Sports Medicine found that just two weeks of weight training can reduce cortisol levels - no wonder Adele felt her anxiety levels improve the more she exercised. Want to give it a go? Our best adjustable dumbbells guide is a great place to get started lifting weights at home, and it's also worth keeping an eye on the upcoming Black Friday weights deals.
Hiking
You absolutely don't need a gym or trainer for this activity. It's low-intensity, beginner-friendly and easy to incorporate into your day. All you need a pair of best shoes for walking to reap the benefits of a long walk. A 2017 study found that walking can significantly reduce body weight, and research has found that spending just 20 minutes in nature has been found to improve your mood.
Boxing
Cardio is well known form of exercise known for burning calories quick and is often favoured by many for this very reason. A popular cardio workout is HIIT, which is high intensity interval training performed in short bursts of maximum-intensity work.
Adele mentioned boxing as part of her training. This 2015 study discovered that high-intensity boxing significantly reduced body fat amongst a group of overweight adults.
Jessica is an experienced fitness writer with a passion for running. Her career in journalism began in local news and she holds a Masters in journalism. Jessica has previously written for Runners World, penning news and features on fitness, sportswear and nutrition.
When she isn't writing up news and features for Fit&Well covering topics ranging from muscle building, to yoga, to female health and so on, she will be outdoors somewhere, testing out the latest fitness equipment and accessories to help others find top products for their own fitness journeys. Her testing pairs up nicely with her love for running. She recently branched out to running 10Ks and is trying to improve her time before moving on to larger races. Jessica also enjoys building on her strength in the gym and is a believer in health and wellness beginning in the kitchen. She shares all of this on her running Instagram account @jessrunshere which she uses for accountability and for connecting with like-minded fitness lovers.