All you need is six moves, one dumbbell and 30 minutes to build full-body strength
This workout targets your legs, back, core, and arms to develop strength all over and boost your metabolism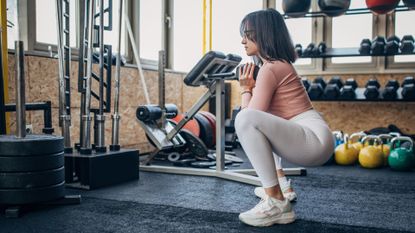 (Image credit: Getty)
What if we told you it was possible to get a great workout and build full-body strength in just 30 minutes using a single piece of equipment?
This workout delivers just that, working your legs, back, core, and arms with a solitary dumbbell (if you don't have one, take a look at our guide to the best adjustable dumbbells (opens in new tab) to see if any take your fancy).
The session has been created by yoga and fitness trainer Rhiannon Bailey (opens in new tab) to provide an accessible, time-efficient exercise option for all fitness levels.
It consists of a six-move circuit performed for five rounds in total. For each exercise, work for 45 seconds, take a short 15-second breather, then pick the dumbbell back up for the next movement. When the workout is complete, you will have performed each exercise on five separate occasions.
Watch Bailey's video below to find out how to perform each of the six exercises, and mimic her technique to make sure you're using the proper form.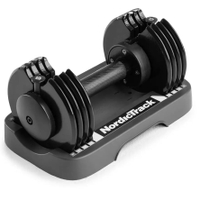 (opens in new tab)
NordicTrack 25lb Select-A-Weight Adjustable Dumbbell | Was $99.99 | Now $49.98 at Dicks Sporting Goods (opens in new tab)
Now available for half its usual price, the sleek NordicTrack Select-A-Weight dumbbell is something of a steal in this Dicks Sporting Goods deal. It has five weight options from 5lb to 25lb, making it a great strength-building tool for beginners.
Watch Rhiannon Bailey's full-body single dumbbell workout
This is an example of a high-intensity resistance training session. It uses the same ideology as HIIT workouts for fat loss (opens in new tab), mixing intense bursts of activity with short rest times to keep your heart rate high, provide a solid cardio session and burn calories at a rapid rate. This makes it a good option for anyone short on time, allowing you to fit a lot of work into just 30 minutes.
However, by adding muscle-building, strength-boosting exercises like the dumbbell bent-over row and weighted goblet squat into this workout, what Bailey has created can be more accurately defined as a high-intensity resistance training session (opens in new tab) (HIRT).
This offers the same metabolism-boosting impacts of HIIT (read our "Does metabolism increase with exercise? (opens in new tab)" feature for more on this) while also working your muscles with resistance-based exercises, improving their size, strength, and muscular endurance.
Bailey's workout is accessible too; you can make it easier or harder by changing the weight of the dumbbell you're using. It also provides a set amount of time (45 seconds) to perform as many repetitions as possible (sometimes referred to as an AMRAP workout (opens in new tab)) of the programmed exercises. This way, as your fitness increases, you will be able to perform more repetitions. So, whatever your fitness level, you're sure to get a challenging session.
If you're looking for a slower-paced exercise option which still holds plenty of health benefits, why not try these anti-aging yoga moves (opens in new tab) or give our Pilates for beginners (opens in new tab) program a go. Both practices can help you build strength, while also improving your mobility.
Harry Bullmore is a fitness writer covering everything from reviews to features for LiveScience, T3, TechRadar, Fit&Well and more. So, whether you're looking for a new fitness tracker or wondering how to shave seconds off your 5K PB, chances are he's written something to help you improve your training.
When not writing, he's most likely to be found experimenting with a wide variety of training methods in his home gym or trying to exhaust his ever-energetic puppy.
Prior to joining Future, Harry wrote health and fitness product reviews for publications including Men's Health, Women's Health and Runner's World. Before this, he spent three years as a news reporter with work in more than 70 national and regional newspapers.