Build full-body muscle and boost your metabolism with this 15-minute dumbbell workout
This short high-intensity routine raises your heart rate, works your whole body, and burns fat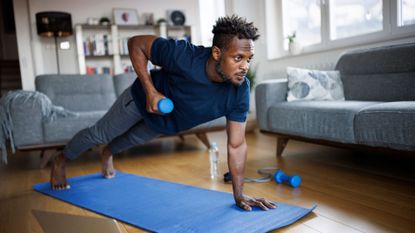 (Image credit: Getty)
You might have seen athletes trying some awe-inspiring training exercises on social media, but we firmly believe that a good workout shouldn't leave you scratching your head.
Often, it's the simple things that work best, and that's exactly what this 15-minute workout from The London Fitness Guy (opens in new tab) (real name James Stirling) has to offer.
It's a simple circuit of just four exercises that will work your legs, chest and back while boosting your fitness. You don't need any obscure equipment either; just grab a couple of dumbbells and you're good to go.
We recommend a set from our roundup of the best adjustable dumbbells (opens in new tab), which allow you to change their weight to suit your strength level, but any free weights will work. Or, if you don't have any weights, you can sub in some full water bottles.
To try the workout for yourself, all you have to do is perform the four movements back to back, spending one minute on each one. Once you've done all four, rest for 60 seconds then restart the sequence for three or four rounds.
Watch Stirling's video below to learn more about the four exercises you'll be tackling. We recommend practicing each one to perfect your form, then taking on the workout when you feel comfortable with the correct technique.
Watch The London Fitness Guy's home workout
When you're doing this workout, Stirling recommends you "keep your heart rate steady" throughout the session rather than solely aiming to perform as many repetitions as possible (sometimes called an AMRAP (opens in new tab) workout) in the time given.
This is because, if you set off like you've been shot out of a cannon, chances are you'll need a breather by the 30-second mark — not a great start when you have another two-and-a-half minutes of consistent work ahead.
Instead, perform each exercise at a steady pace, moving purposefully and making sure your form is immaculate throughout. By doing this, you will hit the targeted muscles and minimise any chance of injury resulting from poor technique.
Also, by keeping your heart rate elevated for the full workout, you will work your aerobic system and boost your cardiovascular endurance — it's like a less intense version of a high-intensity HIIT workout for fat loss (opens in new tab).
If you enjoyed this workout and want more minimal equipment sessions to try at home, we recommend this resistance band workout from Chris Hemsworth's trainer (opens in new tab) which also works your full body.
Harry Bullmore is a fitness writer covering everything from reviews to features for LiveScience, T3, TechRadar, Fit&Well and more. So, whether you're looking for a new fitness tracker or wondering how to shave seconds off your 5K PB, chances are he's written something to help you improve your training.
When not writing, he's most likely to be found experimenting with a wide variety of training methods in his home gym or trying to exhaust his ever-energetic puppy.
Prior to joining Future, Harry wrote health and fitness product reviews for publications including Men's Health, Women's Health and Runner's World. Before this, he spent three years as a news reporter with work in more than 70 national and regional newspapers.