Build full-body muscle in just 16 minutes with this dumbbell workout
You only need one dumbbell and four moves to complete this metabolism-boosting workout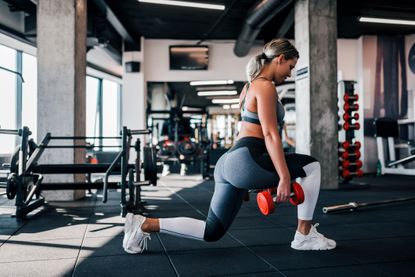 (Image credit: Future)
Why spend hundreds (if not thousands) of dollars on expensive fitness equipment when you can get a great workout with just a single dumbbell? You don't need to be in a gym to try this workout for yourself either. With just four moves, you can give it a go at home.
The best adjustable dumbbells (opens in new tab) are a top option for home workouts as you can change the weight to suit your strength level, but a rubber-coated fixed dumbbell, kettlebell or even a can of beans will work by adding a little extra resistance to your movements.
This minimalist session is designed by fitness YouTubers Tiff x Dan (opens in new tab) to provide a workout option that's accessible, time-efficient and cost-effective.
You're tasked with performing four moves as a circuit, completing 40 seconds of work on each exercise, resting for 20 seconds, then moving on to the next one. As a result, each round takes just four minutes, and Dan challenges viewers to finish four rounds in total. So you can blitz your whole body in just 16 minutes.
The four moves you'll have to perform are the alternating dumbbell snatch, single arm dumbbell thruster, reverse lunge and curl, and alternating dumbbell swing. Watch Dan's video below to see how each exercise should be performed, then give this workout a go for yourself.
Watch TiffxDan's dumbbell workout
Given the minimal time and kit requirements of this workout, it would be easy to assume you're in for an easy ride, but don't let its accessibility fool you.
This session is an AMRAP (opens in new tab) style workout, meaning you're given a set amount of time to complete as many repetitions as possible of each movement. As a result, the faster you go, the harder the session becomes, so you really get out what you put in.
This isn't the only reason we're big fans of this workout. It's also an example of a high-intensity resistance training (opens in new tab) (or HIRT) session. Similar to HIIT workouts for fat loss (opens in new tab) you may have tried in the past, this exercise method uses bursts of intense activity intermingled with short rests periods to spike your heart rate, burn calories and boost your metabolism.
Unlike HIIT workouts, HIRT sessions incorporate an element of strength training, either through the inclusion of more challenging bodyweight movements or by adding weight with kettlebells, dumbbells or barbells.
This means you still get the cardio-boosting, time-savvy benefits of HIIT, while also being able to work your muscles and improve your strength at the same time.
Harry Bullmore is a fitness writer covering everything from reviews to features for LiveScience, T3, TechRadar, Fit&Well and more. So, whether you're looking for a new fitness tracker or wondering how to shave seconds off your 5K PB, chances are he's written something to help you improve your training.
When not writing, he's most likely to be found experimenting with a wide variety of training methods in his home gym or trying to exhaust his ever-energetic puppy.
Prior to joining Future, Harry wrote health and fitness product reviews for publications including Men's Health, Women's Health and Runner's World. Before this, he spent three years as a news reporter with work in more than 70 national and regional newspapers.