Build glute strength in just seven minutes with this barre workout
This quick, efficient session is great for when you don't have time for the gym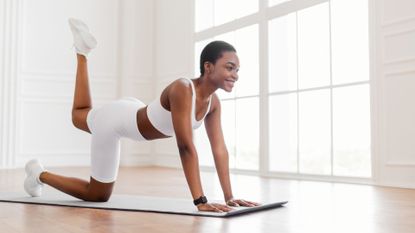 (Image credit: Getty)
Hardcore HIIT workouts have a habit of leaving you wondering which way is up — ideal if you're after a sweat-soaked exercise session. But sometimes, particularly around the festive period, you might want something a little less intense to help you get moving.
This barre workout from Sweat app trainer Britany Williams (opens in new tab) fits that description perfectly. It's low impact and low-intensity, but will still get your glutes firing in just seven minutes, making it a great fit for anyone short in time (Williams managed to fit it in during the soccer World Cup final half-time break).
You don't need any equipment either, though we recommend using one of the best yoga mats (opens in new tab) for some extra cushioning under your knees.
Inspired by ballet and Pilates-style training, Barre workouts use a combination of repeated movement patterns and isometric holds (think exercises that require you to maintain a set position to keep your muscles under tension, like the plank) to build strength and flexibility. They tend to focus on the core and lower body.
This session from Williams uses a series of donkey kick variations to target the glutes, but it can help also strengthen your core, hamstrings and improve hip mobility. Follow along with her video below to give the session a go, and copy her technique to ensure you're using the right form for each exercise.
Watch Britany Williams' glute workout
If you're looking for similar low-impact forms of exercise to help you get moving over the Christmas holidays, yoga and Pilates are two other top options.
There are many similarities between the two practices, though while yoga tends to involve flowing between poses and holding them for a set amount of time, Pilates is more movement-based and requires you to repeat a series of exercise patterns to engage your muscles.
An article published in the Muscle, Ligaments and Tendons Journal (opens in new tab) suggested that, though research into the practice is limited, Pilates may improve flexibility, stability and muscular activity. Meanwhile yoga can improve strength, endurance, flexibility and fitness, as well as improving body image, according to the Harvard Medical School (opens in new tab).
If you want to give either of these activities a try, our Pilates for beginners (opens in new tab) plan or these anti-aging yoga moves are good places to start.
Harry Bullmore is a fitness writer covering everything from reviews to features for LiveScience, T3, TechRadar, Fit&Well and more. So, whether you're looking for a new fitness tracker or wondering how to shave seconds off your 5K PB, chances are he's written something to help you improve your training.
When not writing, he's most likely to be found experimenting with a wide variety of training methods in his home gym or trying to exhaust his ever-energetic puppy.
Prior to joining Future, Harry wrote health and fitness product reviews for publications including Men's Health, Women's Health and Runner's World. Before this, he spent three years as a news reporter with work in more than 70 national and regional newspapers.