Build lower body strength with this three-move glute workout
This short, effective session only takes 20 minutes to build muscle with a set of dumbbells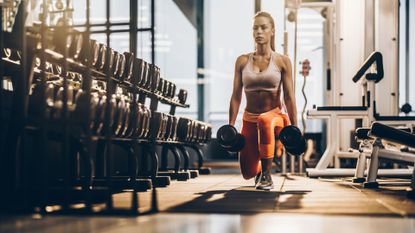 (Image credit: Future)
If you search online for glute workouts, you'll be met with an avalanche of exercise suggestions each claiming to be the most effective. So, to simplify your search, we thought we'd share a straightforward, time-savvy session that uses just three different movements.
This workout is designed for the gym, using a set of dumbbells and a cable machine, but you can try it at home if you have a pair of the best adjustable dumbbells (opens in new tab) (we'll explain how below).
Designed by fitness trainer Alexia Clark (opens in new tab), this session will target your glutes without taking an hour of your day. It involves a circuit of deficit lunges, weighted duck walks and cable glute kick pauses, which are performed one after the other as a circuit.
Once you've finished five rounds of this circuit, the workout is complete — this should take you around 15-20 minutes. You can also increase or decrease the number of total rounds to suit your fitness level.
If you want to try this workout at home, you can do the cable glute kick pauses using just your bodyweight, or add ankle weights to increase the difficulty. If you're after more of a challenge, you can also perform a variation of this movement on all fours with a dumbbell tucked behind your knee, between your thigh and calf to add even more resistance.
Watch Clark's video below to see how to perform each movement, and read the caption to find out how many repetitions you need to complete of each exercise.
Watch Alexia Clark's three-move glute workout
Clark's workout is an example of high-intensity interval training (opens in new tab) (or HIRT for short). Similar to HIIT, this style of session uses intense bursts of activity and limited rest times to raise your heart rate, burn calories and boost your metabolism.
However, while you may use HIIT workouts for fat loss (opens in new tab) due to their focus on cardiovascular fitness, HIRT adds in resistance training movements to help you build strength and muscle at the same time. It does this by incorporating challenging bodyweight exercises like push-ups, or by increasing the difficulty of movements using the best kettlebells (opens in new tab), dumbbells, or barbells.
If you want to try this workout for yourself but don't know where it might fit in your weekly fitness routine, we recommend using it as a standalone session. Or, if you're determined to do more, you can add it to a lower body-focused resistance training workout.
The next day, you're going to want to allow your lower body muscles to recover. To do this, why not give this chest and back workout (opens in new tab) a go, or try something less intense like a steady row, cycle, or session from our running plan for beginners (opens in new tab).
Harry Bullmore is a fitness writer covering everything from reviews to features for LiveScience, T3, TechRadar, Fit&Well and more. So, whether you're looking for a new fitness tracker or wondering how to shave seconds off your 5K PB, chances are he's written something to help you improve your training.
When not writing, he's most likely to be found experimenting with a wide variety of training methods in his home gym or trying to exhaust his ever-energetic puppy.
Prior to joining Future, Harry wrote health and fitness product reviews for publications including Men's Health, Women's Health and Runner's World. Before this, he spent three years as a news reporter with work in more than 70 national and regional newspapers.