Build strong arms with this eight-move dumbbell workout
Arm yourself for t-shirt season in under 40 minutes with this biceps and triceps-strengthening circuit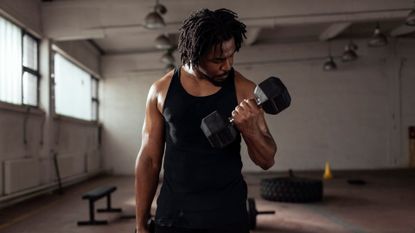 (Image credit: Getty / mihailomilovanovic)
As summer approaches and you prepare to switch from long-sleeved tops to t-shirts, your thoughts may turn to arm workouts. After all, this changing of the seasons means its finally time to bare your biceps after months of cosy-clothed hibernation.
If you're hunting for a quick session to strengthen your arms with just a couple of dumbbells, or adjustable dumbbells if you're lucky enough to own a pair, this eight-move workout from fitness trainer the London Fitness Guy (real name James Stirling) is a great way to go.
There are four exercises to build your biceps and another four to work your triceps (the muscles on the front and back of your arm, respectively), all strung together in a time-savvy circuit that should take a little over 30 minutes.
Perform 10 reps of each exercise, one after the other, resting for 60 seconds between them. Once you've finished all eight, return to the start and repeat this sequence two more times to complete the workout.
To find out which moves await you, watch Stirling's video below.
Watch the London Fitness Guy's dumbbell arm workout
Our first piece of advice for this workout is to pick the right dumbbell weight for the job. You should be able to complete all reps of each exercise with perfect form, but the last few reps of each set should feel like an uphill struggle.
If you need more guidance on this, check out our feature on "What dumbbells weight should I use?".
Our second top tip is, while you might be tempted to rush through reps when the going gets tough, try to focus instead on making your movements controlled and maintaining a consistent tempo throughout—one second to raise the weight, a one-second pause at the top of the rep, then one second to lower the dumbbell.
By slowing down the speed of your lifts, you increase the working muscles' time under tension, which not only enhances the difficulty of the workout but also provides more of the stimulus needed to trigger muscle growth.
If you're on the lookout for more arm workouts to add into your weekly exercise plans, take a peek at our aptly-named collection of the best workouts for arms. Or, if you want to try building bigger biceps with just your bodyweight, you won't need any equipment for this gym-free workout.
Harry Bullmore is a Fitness Writer for Fit&Well and its sister site Coach, covering accessible home workouts, strength training session, and yoga routines. He joined the team from Hearst, where he reviewed products for Men's Health, Women's Health, and Runner's World. He is passionate about the physical and mental benefits of exercise, and splits his time between weightlifting, CrossFit, and gymnastics, which he does to build strength, boost his wellbeing, and have fun.
Harry is a NCTJ-qualified journalist, and has written for Vice, Learning Disability Today, and The Argus, where he was a crime, politics, and sports reporter for several UK regional and national newspapers.