Build upper body muscle in just 30-minutes with a set of dumbbells
Using just a pair of dumbbells, this workout will build and define upper body muscles across your chest, triceps, and shoulders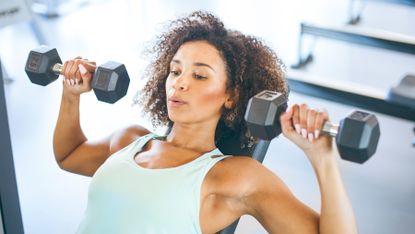 (Image credit: Getty)
If you don't enjoy the faff of moving around different stations in the gym and just want to remain in one space, use minimal equipment, while making noticeable gains then it's time you try a dumbbell-only workout.

For this 30-minute upper body routine, it is best to have access to a set of light and medium weighted dumbbells to complete all of the exercises required. You can either use dumbbells provided at your gym or a set of the best adjustable dumbbells if you're training at home. These weights can be adjusted mid-workout so that you can move up or down weight size with ease and from one piece of equipment.
This workout comes from certified personal trainer Anna Engelschall, best known online as Growingananas. Working with the weights, Engelschall demonstrates how to engage your chest, triceps, and shoulders in one 30-minute routine to stimulate muscle growth and improve overall upper body strength.
Engelschall uses one set of 4lbs/2kg dumbbells and one set of 11lbs/5kg dumbbells but this might not suit everyone's fitness levels. Consider what weights will make you feel both challenged and safe to train with.

It's wise to avoid going too heavy as there are two rounds to get through. The first round will have you working on each exercise for 40 seconds followed by ten seconds of rest. The second round will have you working for 30 seconds with ten-second rest periods in between.
Watch Growinganana's 30-Minute Upper Body Dumbbell Routine
This short routine is formatted around having longer exercise periods than rest periods. This is typically called High-Intensity Interval Training (HIIT) but when there are weights like dumbbells involved we call this High-Intensity Resistance Training (HIIRT). This essentially means that you will be raising your heart rate and burning calories at an increased speed as well as building lean muscle mass.
This is a really time-efficient way to improve your fitness levels, lose excess weight, and strengthen your whole body. It's also a cost-saving way to keep fit as you don't need to attend a gym or gym class to complete a HIRT workout, you just need to invest in a one-off purchase of some dumbbells.
If your main goal is to really see strength and muscle gain occur across your upper body then you should aim to resistance train up to three times a week. According to scientific research published in the Sports Medicine journal, two times a week is the minimal number of strength training days you need to promote muscle growth.
It's also helpful to top up your protein intake if this is an ingredient that your diet is lacking. Some of the best protein powders for weight loss will make doing this easier as you can blend them into your favorite smoothies or oats on days when you don't feel you have eaten enough lean sources of protein.
Jessica is an experienced fitness writer with a passion for running. Her career in journalism began in local news and she holds a Masters in journalism. Jessica has previously written for Runners World, penning news and features on fitness, sportswear and nutrition.
When she isn't writing up news and features for Fit&Well covering topics ranging from muscle building, to yoga, to female health and so on, she will be outdoors somewhere, testing out the latest fitness equipment and accessories to help others find top products for their own fitness journeys. Her testing pairs up nicely with her love for running. She recently branched out to running 10Ks and is trying to improve her time before moving on to larger races. Jessica also enjoys building on her strength in the gym and is a believer in health and wellness beginning in the kitchen. She shares all of this on her running Instagram account @jessrunshere which she uses for accountability and for connecting with like-minded fitness lovers.