Chris Hemsworth shares his favorite smoothie recipe for building Thor-style muscle
The actor's intense workouts help develop muscle, but it could be these smoothies that really make the difference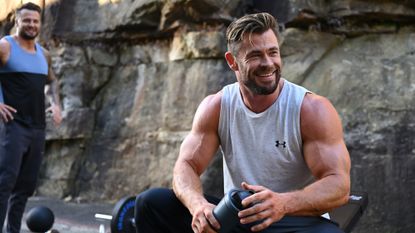 (Image credit: Centr)
Typically, we think of exercise as the only way to develop strong muscle, but nutrition also plays a key role. You can train for hours a day, but you won't get the results you're after if you don't fuel your body right.
No one understands this more than Chris Hemsworth, known for his portrayal of Thor in the Marvel superhero films and founder of Centr, one of the best fitness apps. The God of Thunder has now shared his favorite post-workout smoothie recipe to accompany his demanding training regime.
The blend, Sergio's Salted Peanut Smoothie, only needs a handful of ingredients but clearly hits the right note with the actor, as Hemsworth commented, "Post-workout ice bath or an icy smoothie? I'll take option B every single time."
If you want to try out the post-workout drink for yourself, grab one of the best blenders and follow the recipe below. You can switch the milk and protein powder to dairy-free versions if you want to make a plant-based, vegan-friendly blend instead.
Sergio's Salted Peanut Smoothie Recipe
200ml reduced-fat milk or dairy-free alternative
60ml water
30g vanilla protein powder or plant-based alternative
3 pitted Medjool dates
10 whole roasted almonds
pinch of salt
4-6 ice cubes
If you like to add variety to your diet, plenty of other smoothie recipes are available to Centr subscribers. It's also one of a growing number of fitness apps to offer variations for vegetarians and vegans.
Traditionally, many fitness-focused recipes rely heavily on meat, but even vegetarian options feature a lot of milk and eggs. You don't have to follow an entirely plant-based diet to benefit from these vegan-friendly foods and drinks, though.
Research has found that following a primarily plant-based diet, even on a part-time basis, increases your protection against obesity as you age. The critical thing is to maintain a balanced diet, one which is designed to give you the nutrients you need to achieve your fitness goals.
If you keep one of the best vegan cookbooks handy at home, you can incorporate a few meat-free dishes into your day. Couple a few of these recipes with Hemsworth's smoothies, and you'll be building god-like muscle in no time.
James is a London-based journalist and Fitness Editor at Fit&Well. He has over five years experience in fitness tech, including time spent as the Buyer's Guide Editor and Staff Writer at technology publication MakeUseOf. In 2014 he was diagnosed with a chronic health condition, which spurred his interest in health, fitness, and lifestyle management.
In the years since, he has become a devoted meditator, experimented with workout styles and exercises, and used various gadgets to monitor his health. In recent times, James has been absorbed by the intersection between mental health, fitness, sustainability, and environmentalism. When not concerning himself with health and technology, James can be found excitedly checking out each week's New Music Friday releases.