Here's how you can get an effective workout in just 10 minutes
We talk to two personal trainers about how you can squeeze in a short workout to your busy day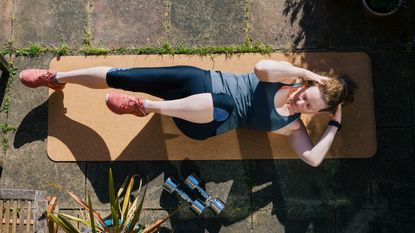 (Image credit: Gary Yeowell / Getty)
Get the Fit&Well Newsletter
Start your week with achievable workout ideas, health tips and wellbeing advice in your inbox.
Thank you for signing up to Fit And Well. You will receive a verification email shortly.
There was a problem. Please refresh the page and try again.
Some of us believe we need to do long workouts, every other day, to start seeing results - but just 10 minutes can have some great benefits, as long as you're doing the right exercises.
In fact, researchers from Boston University found during a study where participants exercised for 10 minutes a day, that, after a few months they weighed less, had lower BMI and lower cholesterol.
"I am a huge fan of 10-minute workouts – they're short enough to support all fitness levels and allow you to push yourself that little bit harder knowing it will be over quickly," says personal trainer Nicole Chapman, "If the thought of a 30-minute workout is putting you off starting – this could be your answer."
Whether you look to the best fitness apps for guidance, you don't have much time in the gym at lunch, or you do your workouts from home – what are the other benefits of quick-fire workouts, and where should you start?
"10-minute workouts can positively affect your health in many areas including mood, brain chemistry, and cardiovascular and lymphatic systems," says Devin Wiggins, Openfit trainer and creator of 600Secs, 10-minute on-demand workouts.
While Nicole, who coaches live 10 min workouts via her Instagram, adds: "A 10-minute workout with one minute of high intensity could deliver health benefits similar to a 45-minute workout at a moderate pace (e.g jogging). High intensity doesn't need to mean high impact (e.g HIIT workouts) it just means you working at your max effort to the given exercise with reduced rest periods."
Mixing up your exercises, to target different muscle groups, on different days, Nicole believes, is also a great way to give your body an all-over body workout and reduce muscle fatigue: "For interest level alone I love to mix up the exercises and the muscles worked – after all if you enjoy it you are more likely build it into your schedule so that it becomes a routine."
So, how many calories will you burn in 10 minutes? Devin says it depends on when you workout: "Working out earlier in the day will often lead to an increase in total calories burned due to temperature regulation and total oxygen consumption. I burn around 175 calories in 600 Secs."
Follow this 10 minute workout from Nicole Chapman
Grab a pair of your best adjustable dumbbells and try these exercises at home - performing each move for 45 seconds with a 15-second rest.
Single arm shoulder press (45 secs each arm) – this is one of the best moves for strengthening your shoulders and upper back in particular the anterior deltoid (front of your shoulder) but you will also work triceps and deltoids.
Halos – this really helps improve shoulder mobility whilst working your triceps, back and shoulders (a really burner)
Walkout to shoulder taps – these are a very effective core strengthening exercise – really working on minimising hip rotation during the shoulder taps. Your shoulders and upper torso all play their part whilst your glutes and back will also not be missed.
Tricep dips – These really isolate the tricep muscle whilst also working your chest (pecs) – you can even add load to these once mastered by adding a dumbbell between your legs.
Push ups – everyone's nemesis but so beneficial – they work the chest, triceps, and shoulders but by squeezing the glutes (top tip) they can really build strength in the lower back and core.
Bicep curl – bicep curls are fabulous to add to your workout as they play a big role in your performance of other exercises and make day to day tasks easier. They also aid shoulder stability.
Bent over row – single arm – (45 secs each arm) – these are brilliant as they strengthen your back and also improve your posture – directly working your lats, traps, rotator cuff and rhomboids.
Supermans – continuing the back work and finishing – this strengthens the muscles supporting your spine (in particular erector spinae muscles). I think when working the core and upper body it's important to not neglect the back – a strong back helps prevent injury.
Get the Fit&Well Newsletter
Start your week with achievable workout ideas, health tips and wellbeing advice in your inbox.
Sarah is a freelance journalist who writes about fitness and wellbeing for the BBC, Woman&Home and Tech Radar. During lockdown she found her love of running outside again and now attempts to run around 50 miles a month. When it comes to other fitness, she loves a sweaty cardio session – although since she's been working out from home she's sure her downstairs neighbors aren't too happy about it. She also loves to challenge herself - and has signed up to do hiking holidays, intense bootcamps and last year she went on her dream activity holiday: paddle boarding around deserted islands in Croatia. On her rest days, she loves to recover with a simple yoga flow session – the perfect antidote to her active fitness schedule.