How your local grocery store could be sabotaging your dieting efforts
The layout of grocery stores might be encouraging you to neglect a healthy diet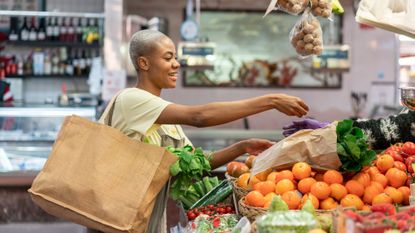 (Image credit: Getty Images)
Anyone who's followed a diet plan will know that it is much easier to make healthy choices when temptation is out of sight.
For a lot of us, knowing how to eat healthily isn't so much the problem, but avoiding any unwanted cravings is often the biggest hurdle.
Now a new study has highlighted how the layout of your local grocery store could be making avoidance of such temptation and sticking to your healthy eating intentions all the more difficult thanks to the layout of the store.
The study by the University of Southampton found that removing confectionery and other unhealthy foods from checkouts and the ends of aisles and instead positioning fruit and veg by store entrances could encourage people to make healthier food choices.
Published in the PLOS Medicine journal, the study reports that product placement is a particular marketing technique used in grocery stores that encourages unhealthy diet choices.
The researchers collected data via the supermarket loyalty cards of a group of women between the ages of 18 to 45. The results confirmed that creating a healthier layout of produce in grocery stores had a 'positive effect for health benefit'.
Confectionary sales went down while the sales of fruit and vegetables experienced an incline.
The study was led by Dr Christina Vogel, leader of the study and Principal Research Fellow in Public Health said: "The findings of our study suggest that a healthier store layout could lead to nearly 10,000 extra portions of fruit and vegetables and approximately 1,500 fewer portions of confectionery being sold on a weekly basis in each store."
Registered Nutritionist, Rhiannon Lambert offered Fit&Well some of her own tips on how to avoid unhealthy snacks at the grocery store. She notes that the longer you stay in the store, the more items you will see and the more you will buy.
Lambert adds, "A really helpful tool is to make a list and stick to it, plus try not to shop often, fewer trips are easier, cheaper and avoid shopping hungry."
Confectionery tends to be food items that are rich in sugar and carbohydrates - often the things that taste great at the time but can see us feeling sluggish not long after.
They also aren't our best friend when aiming to shed a few pounds. Instilling good diet habits doesn't mean cutting all sweet or carby foods out, but if you are looking to lose weight it can help to monitor food choices better.
If you don't enjoy cutting out certain foods, like confectionery, then discovering how to lose weight by fasting could be helpful. This form of dieting allows you to focus less on restricting what foods you eat but requires you to restrict the times at which you can eat. Adopting a diet like this can teach you to be more disciplined with food and can help you to reduce your calorie consumption.
You can also learn how to lose weight with the keto diet. If you feel like a strictly structured diet is what you need then this high-fat, moderate protein and low-carb diet can encourage your body to turn fat into ketones - basically burning fat for fuel. It takes a bit more discipline but if properly researched it could be helpful toward weight loss.
Get the Fit&Well Newsletter
Start your week with achievable workout ideas, health tips and wellbeing advice in your inbox.
Jessica is an experienced fitness writer with a passion for running. Her career in journalism began in local news and she holds a Masters in journalism. Jessica has previously written for Runners World, penning news and features on fitness, sportswear and nutrition.
When she isn't writing up news and features for Fit&Well covering topics ranging from muscle building, to yoga, to female health and so on, she will be outdoors somewhere, testing out the latest fitness equipment and accessories to help others find top products for their own fitness journeys. Her testing pairs up nicely with her love for running. She recently branched out to running 10Ks and is trying to improve her time before moving on to larger races. Jessica also enjoys building on her strength in the gym and is a believer in health and wellness beginning in the kitchen. She shares all of this on her running Instagram account @jessrunshere which she uses for accountability and for connecting with like-minded fitness lovers.