Need a quick way to build muscle? Try this 35-minute dumbbell HIIT workout
You don't need to spend hours at the gym to develop practical muscle and burn fat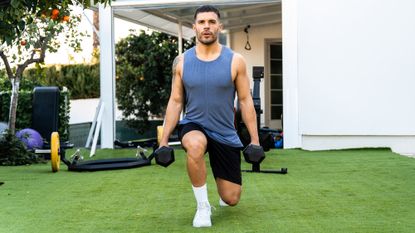 (Image credit: Getty Images)
When you're tight on time, you want your workouts to be as efficient as possible. Fortunately, you don't have to spend hours at the gym if you want to build muscle—you can use this quick 35-minute dumbbell HIIT workout instead.
As you only need a set of the best adjustable dumbbells, it's a flexible routine that you can do at home or the gym. These customizable weights are great for at-home training as they combine several dumbbells in one.
But you don't have to spend hours on dumbbell curls to see results. Instead, this varied routine from personal trainer Lindsey Bomgren, best known by her YouTube handle nourishmovelove, gets muscle-building results in just over 30 minutes.
There are five circuits, each with three exercises. The first two circuits focus on developing strength, while the final three aim to improve your cardio fitness and get your heart pumping.
To fit all of this into the time, you'll do the strength training moves for 45 seconds, take a 15-second rest, and then tackle the next exercise. Each cardio move lasts 30 seconds, and you only take a 30-second break after you complete a circuit.
Watch NourishMoveLove's 35-minute dumbbell HIIT workout
This intense exercise is known as High-Intensity Interval Training (HIIT). During these sessions, the aim is to work as hard as possible for short bursts and take a quick rest before carrying on with the routine.
This helps you pack a lot into a short amount of time, but it also has other benefits. By keeping your heart rate high, you'll burn energy during the workout and increase your resting metabolism, so you'll burn more throughout the day.
That's why many people use a HIIT workout for fat loss and the reason that Bomgren includes three cardio-focused circuits in this session. By adding weights into the mix, you build muscle, increase your metabolism, and burn fat simultaneously.
Strength training also tends to come out on top if you've ever wanted to compare cardio vs weights for weight loss. Larger muscles need more energy, so you naturally increase your metabolism as you get stronger.
Dumbbell workouts aren't going to suit everyone, but you can still work your muscles with a set of the best resistance bands. These elasticated bands come in several strengths, making for a portable, affordable alternative to weights.
With a set of bands to hand, you can then take on a full-body resistance band workout to build muscle without leaving the house. And after, you can use them to deepen stretches during a yoga or Pilates class.
James is a London-based journalist and Fitness Editor at Fit&Well. He has over five years experience in fitness tech, including time spent as the Buyer's Guide Editor and Staff Writer at technology publication MakeUseOf. In 2014 he was diagnosed with a chronic health condition, which spurred his interest in health, fitness, and lifestyle management.
In the years since, he has become a devoted meditator, experimented with workout styles and exercises, and used various gadgets to monitor his health. In recent times, James has been absorbed by the intersection between mental health, fitness, sustainability, and environmentalism. When not concerning himself with health and technology, James can be found excitedly checking out each week's New Music Friday releases.