Need a quiet at-home workout? Try this 10-minute, low-impact, fat-burning routine
This short cardio workout is great for burning calories at home without making any noise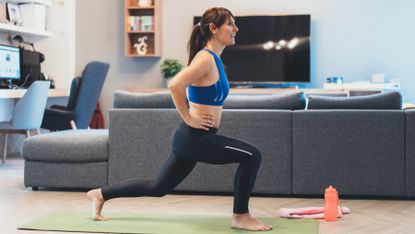 (Image credit: Getty)
If you've got young kids that you dread waking up from their sleep, or neighbors that you don't want to disturb, with a ground-thumping workout but still want to squeeze exercise into your busy schedule, then you still can. There are heaps of exercises that are low-impact and require no jumping, but are still effective at blasting fat.
Some of the best workouts for abs are the quietest exercises for home workouts since they are often performed on the floor, with no high-impact movements. Alternatively, certain cardio machines like some of the best treadmills have been designed to produce little to no noise at all when in use.
However, instructor-led workouts can be extra motivating to follow along to and this ten-minute, no jumping routine is great for raising your heart rate and torching fat at home. The routine is designed to target your total body so there is no need to search for individual workouts for your legs, glutes, abs, and waist.
Lily Sabri, is the creator of this YouTube workout and will perform each movement with you ensuring you can keep up with the change of exercises and perform each one with good form.
WATCH LILY SABRI'S 10-MINUTE FULL BODY FAT-BURNING WORKOUT
Sabri refers to herself as the 'Fun workout gal' online and she shows this through her upbeat videos, which are suited to anyone who wants to work out at home.
Although this no-jumping workout that she shared is aimed at targeting fat loss, Sabri highlighted in the video caption that it isn't possible to spot-reduce fat, AKA you can't choose exact areas of your body where you want to lose fat.
But her advice for helping people reach their fat loss goals is as follows: be in a calorie deficit (you can learn how to create a calorie deficit in our guide), do regular cardio and HIIT workouts, and include resistance training in your fitness regime.
HIIT workouts are real-time-savers when you want to burn calories fast and like the speedy cardio session above, you can find low or no noise options as well.
Research in the area of fitness and weight loss has found that you can burn more calories completing a HIIT session than spending the same period of time performing steady-state exercise, such as walking or running.
On the contrary to various myths surrounding strength training, resistance training is also an effective weight-loss tool. A recent study revealed that you can lose about 1.4% of your entire body fat through resistance training alone.
Much like what Sabri recommends, we at Fit&Well believe that a holistic approach to fitness and diet is key for losing fat mass and what makes us feel good inside and out.
If you feel like you need more information on how to eat well to fuel a healthy lifestyle, you can read up on nutritionist, Sarah Ann Macklin's science-backed healthy eating tips.
Jessica is an experienced fitness writer with a passion for running. Her career in journalism began in local news and she holds a Masters in journalism. Jessica has previously written for Runners World, penning news and features on fitness, sportswear and nutrition.
When she isn't writing up news and features for Fit&Well covering topics ranging from muscle building, to yoga, to female health and so on, she will be outdoors somewhere, testing out the latest fitness equipment and accessories to help others find top products for their own fitness journeys. Her testing pairs up nicely with her love for running. She recently branched out to running 10Ks and is trying to improve her time before moving on to larger races. Jessica also enjoys building on her strength in the gym and is a believer in health and wellness beginning in the kitchen. She shares all of this on her running Instagram account @jessrunshere which she uses for accountability and for connecting with like-minded fitness lovers.