Peleton add boxing to its fitness programs and here's why you should try this type of workout
The American exercise equipment brand has added a boxing program to its workout lineup and it's a great way to get fit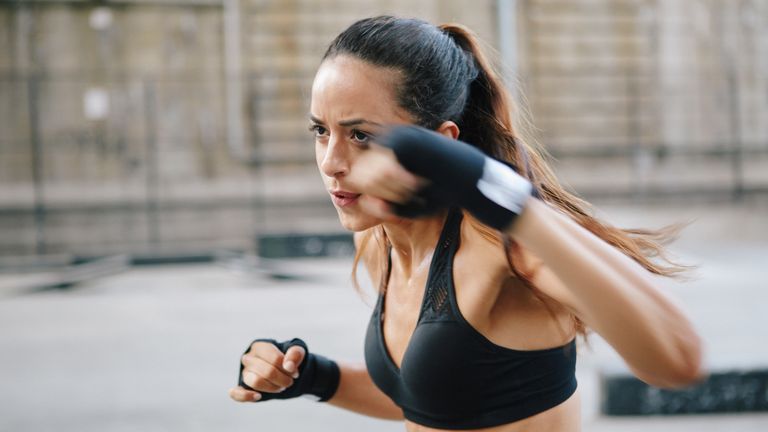 (Image credit: Getty)
By Jessica Downey published
Peloton has recently announced that it will be adding boxing to its workout programs, meaning users can step into the ring from their own homes. If you don't own any Peloton merchandise, you can still reap the benefits of this energizing style workout.
For anyone who bought an exercise machine from a popular fitness brand like Peloton over lockdown then you have probably raked up many miles on a best treadmill or pedaled on one of their best exercise bikes until you can't feel your legs.
But keeping fit is funner and most effective when you vary your exercise. Hence, why Peloton updating its workouts with something new like boxing will be music to many of its member's ears.
With a focus on shadow boxing, Peloton has recruited a cohort of experienced boxers who will lead users through an eight-week program.
Shadowboxing is a favorable activity to do anywhere, including from home, since it requires no equipment or opponent.
Peloton has named its new workout series the 'Get Hooked Boxing Program'. The program will include classes lasting up to 20-30 minutes designed to provide members with the fundamental tools and techniques required to master shadowboxing.
Why boxing is a good way to workout?
Boxing is an advantageous form of exercise for various reasons. Shadowboxing is an aerobic exercise, therefore, it is great at getting your heart pumping, it can help lower your risk of high blood pressure, preventing things like diabetes, heart disease, and stroke.
Moreover, it provides you with a great high-intensity workout for burning calories as well as building and strengthening your bones and muscle. It can also increase the flexibility of your muscles which can help in avoiding falls or injuries.
A study published in the BMC sports science, medicine & rehabilitation journal found that regular boxing training in the style of a HIIT workout (for a 12 week period) was more effective for treating obesity than an equivalent dose of brisk walking among overweight adults.
HIIT-style workouts are a great weight loss tool and can be beneficial for improving your cardiovascular health. They typically combine bursts of hard intense exercise with periods of rest at a lower intensity.
If you want to give boxing a go but aren't a Peloton member there are plenty of classes you can sign up to or videos to follow along with online.
How about giving this 20-minute shadowboxing HIIT workout below a go - we advise getting into a pair of best workout shorts for this one as it will get sweaty!
Fitness and boxing instructor Nate Bower will lead you through this beginner-friendly workout:
Jessica is Staff Writer at Fit&Well. Her career in journalism began in local news and she holds a Masters in journalism. Jessica has previously written for Runners World, penning news and features on fitness, sportswear and nutrition. She is a keen runner and is currently sweating her way through a 10k training plan. Jessica also enjoys building on her strength in the gym and is a believer in health and wellness beginning in the kitchen - which she loves sharing with others on her healthy living-inspired Instagram account, @jessrunshere. Despite her love for nutritious cooking, she stands by the saying 'everything in moderation' and is eagerly conquering the London food and drink scene!