Best workout shorts 2022: gym, train or run in top-rated shorts for men
Keep your cool as your exercise with the best workout shorts for men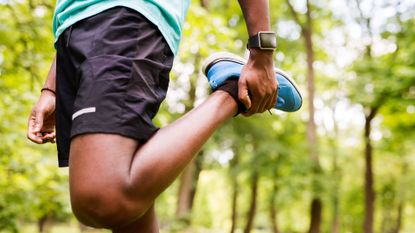 (Image credit: Getty)
With summer in full swing, the best workout shorts will help you work up a sweat. From shorts with sweat-wicking fabric, like the Lululemon Pace Breaker 7s, to On's lightweight shorts which come with four-way stretch and a small pocket for keys or headphones – we've compiled a range of gym and training shorts for men right here.
But before you start adding these shorts to your basket, it's important to note that whilst we believe the below additions to be worthy of incorporating into any workout wardrobe, some of these shorts will better suit specific types of workouts. Under Armour's Vanish Shorts come with a light-yet-durable woven fabric – making them ace for weight training. While Alo's Yoga Unity 2-in-1 short might be better suited for a flow. Either way, there's a short for every session.
If you've been searching high and low for a pair of the best workout shorts, you'll know that these workout additions vary in price. In our guide, the best workout shorts range from $5/£3.99 to $98/£105. At the lower end is Decathlon's Nyamba Shorts which are an absolute bargain. But do note, for the price, these shorts don't come with all the bells and whistles, unlike Alo's Unity 2-in-1 Shorts which have invisible zip pockets for just about everything, moisture-wicking antimicrobial tech, and built-in compression briefs. So consider what is important to you.
With the warmer weather here, we've compiled the perfect picks which will enable you to power through a run and blast through a gym sesh without any sort of obstruction. Although that's not to say if the temperature drops, you can't pair them with a pair of the best workout leggings. Keep scrolling to find your perfect match.
The best workout shorts you can buy right now
1. Lululemon Pace Breaker 7-inch Shorts
Best overall workout shorts and a great all-rounder
Specifications
Fabric: Sweat-wicking and four-way stretch
Pockets: 3
Built-in compression: No
Reasons to buy
+
Lots of pockets
+
Comfortable but supportive
If you're looking for a decent, all-round pair of gym shorts that will do what they're supposed to no matter what you throw at them, then look no further than Lululemon's Pace Breaker Short. It's the gold standard when it comes to great, versatile gym shorts. At $68/£48, they're quite gold priced too, but I say they're worth it.
Made from a fabric called Swift, which is a sweat-wicking and lightweight material with a four-way stretch, the Pace Breakers can be donned for a multitude of exercises – whether that's an intense Barry's Bootcamp class or a gentle jog – and adapted to any workout.
With a 7-inch inseam and a straight fit through the glutes and thighs, they're not too long, not too short; they're what Goldilocks would call "just right". And best of all, these shorts have plenty of pockets! There's two zip pockets for your smaller necessities and a no-zip phone pocket so you've got somewhere to hide your handset while running, jumping or lifting.
2. Decathlon Nyamba shorts
Best cheap workout shorts
Specifications
Fabric: 40% Polyester, 60% Cotton
Pockets: 2
Built-in compression: No
Reasons to buy
+
Decent stretch
+
Great value
Cheap as chips but satisfyingly loose and comfy, these are an absolute bargain. The RRP means you could literally buy 17 and a half pairs of these budget Decathlon shorts for the same price as the most expensive pair in the roundup.
That aside, these shorts aren't going to cleverly wick away sweat like you'd expect more premium offers to, but they will be a great cheap alternative if you're on a tight budget and would rather get bang for your buck. And you know what? They're actually much better than you'd expect for something that costs the same as a cup of coffee these days.
First off, they have a decent stretch to them thanks to their cotton and polyester mix. Secondly, they are a lovely, freeing loose fit that is comfortable enough for weight lifting without earning you a caution for indecent exposure. Win-win, if you ask me.
3. On Lightweight Shorts
Best premium shorts, for running and intense workouts
Specifications
Fabric: Swift four-way stretch
Pockets: 1
Built-in compression: Yes
Reasons to buy
+
Super light and airy
+
Fast-drying
Ideal for running, particularly over long distances, there's a lot of tech that's gone into these ultralight, versatile shorts, and it really helps to justify their quite high price. On's Lightweight Shorts are incredibly fast-drying, made from a sweat-wicking Swift fabric alongside a perforated back that helps cool you down while you put the miles in. They're soft to touch, making them comfortable, but they're also strong with lots of support in the right places thanks to some built in compression briefs.
These shorts are an ideal pick for those doing regular long distance jaunts, high-intensity workouts or perhaps even hot yoga; basically, anything that's going to drown you in sweat. A firm favorite.
4. Alo Yoga Unity 2-in-1 Short
Best yoga shorts
Specifications
Fabric: Lightweight woven outer and poly spandex jersey brief
Pockets: 3
Built-in compression: Yes
Reasons to buy
+
Sewn-in brief
+
Pockets front and back
+
Moisture-wicking tech
Reasons to avoid
-
The Lululemon premium
-
Expensive
Yoga brand Alo is not that well known in the UK just yet, but it should be. Not only does this outfit do clothing aimed predominantly at yogis, but it's got its own on-demand yoga class streaming platform, which, I might add, is actually brilliant.
But back to the task in hand: Alo's Unity 2-in-1 Short is an exceptional pair of workout shorts. And because they're made for yoga doesn't mean they can't be used in other workouts. In fact, I've worn them for all sorts and they've always performed really well.
Featuring a sewn-in brief interior for extra support when you're moving around like a mad man, there's a comfortable, super soft waistband alongside invisible zip pockets in the front and back - all of which is made from a moisture-wicking antimicrobial technology. These babies have it all.
5. Under Armour Vanish Shorts
Best workout shorts for weight training
Specifications
Fabric: 100% Polyester
Pockets: 2
Built-in compression: No
Reasons to buy
+
Light yet durable woven fabric
+
Great structured fit
Reasons to avoid
-
Leg might be a little long for some
-
Waistband not great over long periods
Looking for something that's going to save you from getting drenched in a downpour when training outdoors? Under Armour has the answer with its Vanish woven shorts, which are made from a thin, lightweight and stretchy fabric which isn't just strong enough for the most intense workouts, but is strangely waterproof, meaning rainwater just rolls right off – hence the name.
Featuring a chunky, flat waistband, these shorts are best suited to functional HIIT classes where you can expect a lot of full-body movements. However, I did find this gets a little irritating if worn for long periods. A great, well-designed pair of shorts, though, especially for weightlifting and cross training, for which you will also need the best cross training shoes.
How to choose the best workout shorts for you
If you're on the hunt for a new pair of gym shorts, there are a few things I'd recommend keeping in mind.
The first is how you'll be using them. Any exercise that makes you extra sweaty - such as a run or a hot yoga class - should be accompanied by a pair of shorts made from a lighter fabric, such as Lululemon's Swift four-way stretch. If you're planning on running in all weathers, you don't want a fabric that will get heavy when waterlogged, so a light, wicking short is a good idea for rainy runs and rides too.
Doing lots of dynamic movements? Built-in compression will not only help give some added support but can also promote blood flow and improve oxygenation of muscle tissue, which can enhance athletic performance during short bouts of exercise. If you're planning to do more stationary exercises, however – such as weight lifting – I'd recommend a slightly thicker jersey material with a looser fit for added comfort.
Some of these offerings have a drawstring waistband, which allows you to fasten or loosen the elastic as you see fit, while others don't. This is largely down to personal preference. Some of these shorts, while technically amazing for exercise, are lacking pockets – whether this is an issue for you depends on how you workout. It's not ideal to have a smartphone bouncing around in a deep pocket during a run, and you might opt for a workout vest or armband instead. However, a small zip pocket is useful for keeping keys, a note or credit card.
When it comes to price, workout shorts can range greatly. You might find yourself looking at a budget pair and a luxe option with not much discernible difference between them. The main thing, though, will be the material. Pricier offerings are generally made from a super light, sweat-wicking fabric so you don't feel too bogged down by them when you're moving around. These are ideal for running, for instance.
What to look for in the best workout shorts
People carry around with them various personal belongings such as house keys, phone, money, and jewelry and these are all things you like to take care of when you are outdoors or at the gym. So we understand why finding a pair of men's pest workout shorts with a phone pocket or pockets for other items is important.
We have made sure to specify in each of our featured workout shorts above which ones have pockets and how many they include. Some of the options have more laid back pockets, like the Decathlon Nyamba Shorts, where they don't have zips but will hold objects that you wish to fit in there - just be careful when you bend down or go to sit as this is when things like phones tend to slip out. Meanwhile, other workout shorts like option four, the Alo Yoga Unity 2-in-1 Short, that feature zip pockets in front and back. Zip pockets are especially great for runners who need to safely store their keys whilst running.
Bear in mind small considerations like this when you come to buy a pair of best workout shorts in order to make sure your purchase suits your workout activities as best they can to enhance your training experience.
Lee Bell is a London-based journalist, copywriter, specializing in all things tech and lifestyle. He is also a qualified personal trainer. He started his journalism career a decade ago as a reporter covering the latest gadgets and innovations at tech tabloid The Inquirer. Lee went freelance in 2016 to broaden his expertise, moving into news, reviews and feature writing for a host of national print and online lifestyle titles such as GQ, Forbes, Esquire, Men's Health, Wired, The Metro, and The Mirror. He has an insatiable appetite for travel, Dharma yoga, and the odd outdoor challenge.