Plant-based diets cut menopause hot flashes by 84%, study finds
A low fat plant-based diet, which also included soy, helped to alleviate symptoms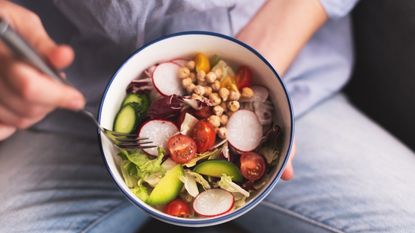 (Image credit: Kseniya Ovchinnikova/ Getty)
Some of us are adopting a more plant-based way of eating, and now a new study reveals that women who are postmenopausal could benefit from this type of diet.
This study, undertaken by North American Menopause Society in the journal Menopause, looked at how a low fat plant-based diet, which also included soy, affected the frequency and severity of menopausal hot flashes.
Some women, who are going through menopause benefit from taking the best menopause supplements, while this research found that a plant-based diet, with soy, reduces hot flashes by 84% - reducing them from around five a day, down to one or less a day.
If you've never considered a plant-based diet and you're not sure where to start, check out our guide to the best vegan cookbooks.
The Women's Study for the Alleviation of Vasomotor Symptoms (WAVS) split their participants, who all suffered from two hot flashes or more a day, into two groups - with some in the intervention group, where their diet consisted of a low-fat, vegan diet, where they were also given half a cup of soybeans to eat a day. While the other group made no changes to their diet.
Both groups then used an app to record if and how their symptoms changed throughout a 12 week period. In the intervention group 79% of women who took part said that their moderate-to-severe hot flashes decreased by 84%, while by the end of the study over half (59%) reported that their moderate and severe hot flashes had completed stopped. The group who made no changes to their diet reported no changes to their symptoms.
As well as hot flashes being alleviated Anna Mapson, Registered Nutritional Therapist and owner of Goodness Me Nutrition says that a well balanced plant-based diet can also be good for your gut: "During the menopause fluctuating hormones may affect digestion leaving you with constipation or diarrhoea so increasing fibre from whole grains, vegetables and fruits can help maintain a regular bowel movement."
However, she also warns that a vegan diet could mean you miss out on other nutrients, such as Omega 3: "Oily fish is the best dietary source of omega 3, so vegans can take an algae-based omega 3 supplements which could help with dry skin - a common side effect with the drop in oestrogen around menopause."
Get the Fit&Well Newsletter
Start your week with achievable workout ideas, health tips and wellbeing advice in your inbox.
Sarah is a freelance journalist who writes about fitness and wellbeing for the BBC, Woman&Home and Tech Radar. During lockdown she found her love of running outside again and now attempts to run around 50 miles a month. When it comes to other fitness, she loves a sweaty cardio session – although since she's been working out from home she's sure her downstairs neighbors aren't too happy about it. She also loves to challenge herself - and has signed up to do hiking holidays, intense bootcamps and last year she went on her dream activity holiday: paddle boarding around deserted islands in Croatia. On her rest days, she loves to recover with a simple yoga flow session – the perfect antidote to her active fitness schedule.