Researchers have found how you can get stronger as you age without weights
According to a new study, video games could hold the key to building muscle in our later years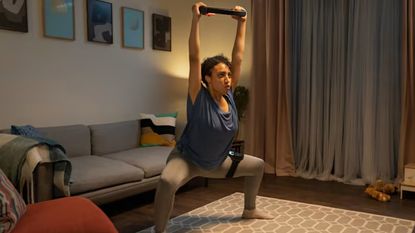 (Image credit: Nintendo)
Maintaining muscle strength as we get older is crucial, as it affects everyday activities like walking, standing up, and our balance. But you don't have to go to the gym to develop strength, as at-home fitness games are a great alternative, according to a new study.
If you find exercise causes joint discomfort, then it's worth taking the best supplements for joints to ease the pain and stay active. Even with that support, lifting weights might feel a step too far, so how do you keep your muscles active without the gym?
Fortunately, there might be a way to stay in shape without leaving the house, according to a new study published in the Journal of Strength and Conditioning Research on the effects of exergaming, a style of video game designed to promote physical activity.
The team recruited 72 women over the age of 65 for the four-week exergaming trial, with 35 of the group completing two sessions of active video gaming per week. But this isn't gaming as you might imagine it, sitting on the couch for hours at a time.
Instead, the women played the Nintendo Wii Fit Plus game, which encourages you to stay active by moving around on a balance board to control an on-screen character. This involves stability, balance, leg muscles, and core strength.
By the end of the study, the gaming group was found to have improved balance, increased stability, and could rise from a sitting position faster than the non-gaming control group.
When discussing the results, the study's authors noted that this form of training "improves muscular fitness in older women," making it an effective way to maintain strength as you get older.
The researchers used a Nintendo Wii console for this recent gaming-focused study, although the console was discontinued in 2013. However, you can find plenty of fitness games on the company's newer Nintendo Switch handheld games console.
This includes titles like Ring Fit Adventure, which guides you through exercises like squats, stretches, and yoga poses. You can also adjust the intensity, so you can set core strength moves to a level you feel comfortable with.
These findings complement previous research into the effectiveness of exergaming for building muscle, which suggests working out with a virtual reality fitness game has the same results as traditional resistance training exercises.
As you don't have to run or lift weights, it's also a low-impact way to stay active that'll be kind to your joints. Of course, there's the added benefit of a good dose of fun as well, which many people don't often associate with exercise.
When discussing muscle strength, it's pretty common to imagine gym-going bodybuilders, but it's not just about building bigger arms or using the best workouts for abs to develop a six-pack.
According to independent research published in the Journal of the American Geriatrics Society, stronger muscles help you stay mobile into your later years and even have other benefits, like increasing your walking speed.
You might not ordinarily wear shoes indoors, but it's worth investing in a set of the best cross training shoes before you get started with these fitness games. The multi-exercise shoes come with additional ankle support to help you avoid injury as you move about while playing.
James is a London-based journalist and Fitness Editor at Fit&Well. He has over five years experience in fitness tech, including time spent as the Buyer's Guide Editor and Staff Writer at technology publication MakeUseOf. In 2014 he was diagnosed with a chronic health condition, which spurred his interest in health, fitness, and lifestyle management.
In the years since, he has become a devoted meditator, experimented with workout styles and exercises, and used various gadgets to monitor his health. In recent times, James has been absorbed by the intersection between mental health, fitness, sustainability, and environmentalism. When not concerning himself with health and technology, James can be found excitedly checking out each week's New Music Friday releases.