Best supplements for joints to ease pain and reduce stiffness
We've tested the best supplements for joints to help you find the right joint pain relief for your needs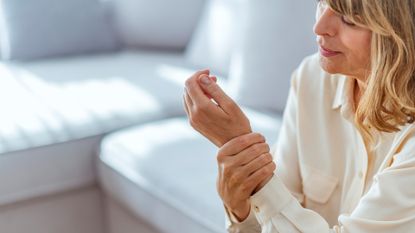 (Image credit: Getty Images)
The best supplements for joints contain several important nutrients to support your body, increase your range of motion, and reduce pain. Although you can get some of these from your diet, these supplements help you stay topped up.
Many of these joint pain supplements are made with glucosamine for joints, a chemical your body needs to develop cartilage, ligament, tendons, and joint fluid to keep things in working order, but it can't be sourced from food.
It's a similar situation with vitamin D, which is why many people also take one of the best vitamin D supplements, especially during the winter months when there are fewer daylight hours. Vitamin D plays several crucial roles in your body, including helping you absorb calcium to strengthen your bones.
To get the best results, many joint supplements contain a blend of nutrients, including vitamins, but this can make it hard to decide between them. To help you out, we've put the best supplements for joints to the test, looking at the ingredients, daily dosage, and how easy they are to swallow.
The best supplements for joints you can buy right now
1. Seven Seas JointCare Supplex
The best supplement for joints for most people
Specifications
Dosage: Capsules
Dosage: Two daily
Suitable for vegans: No
Reasons to buy
+
Covers the basic bases
+
Provides important vitamins
Reasons to avoid
-
If you're vegetarian or vegan
-
Low dose of omega-3
From this popular brand comes a joint-protecting supplement that ticks off many of the key elements – anti-inflammatory omega-3 fish oils, vitamin D, antioxidant vitamin C, which supports the production of connective tissue, and vitamin E, to help healthy immune system function. Another draw is that the capsules are relatively tasteless.
The supplement also contains glucosamine, which some evidence (opens in new tab) suggests may help to support protective cartilage, particularly useful in osteoarthritis. Although evidence on glucosamine is conflicting, with another study in the BMJ (opens in new tab) finding that neither glucosamine, chondroitin, nor the two in combination relieved joint pain compared with a placebo.
What the users say:
One user wrote, "Amazing product which made my joints feel less stiff and ridged", while another commented, "Only used these for a week now and already my knees sound less squeaky walking upstairs'. Negative reviews are hard to come by, but some users say they had to take the supplements for quite a while to see an effect.
If you're looking for a good all-rounder in one product, this is for you – although be aware it contains only a moderate dose of omega-3 fish oils (356mg). Research published in Archives of Medical Research (opens in new tab) suggests that a much higher amount (2.7g/day) is needed to lower inflammation in rheumatoid arthritis. In this case, you may want to make sure you regularly include omega-3 foods such as oily fish in your diet, or take one of the best fish oil supplements.
The capsules are sphere-shaped and medium-sized, but because they're coated they are very easy to swallow. They also have no taste whatsoever. Rather than being loose in a container, each capsule has to be popped out of a packet. We found this handy for keeping track of whether we'd taken the supplement.
---
2. Solgar 7 Joint Support
The best premium supplement for joints
Specifications
Dosage: Capsules
Form: One daily
Suitable for vegans: No
Reasons to buy
+
Includes a good range of nutrients
+
Designed to support an active lifestyle
Reasons to avoid
-
Only preliminary evidence for some ingredients
-
On the pricey side
This trusted brand has come up with a slightly different sort of joint supplement. Solgar 7 Joint Support contains ingredients designed to target a range of joint issues, and is aimed at people who want to keep up an active lifestyle, through improving flexibility and range of motion.
It includes vitamin C, which is an antioxidant vitamin and can help your body to build collagen, a component of the cartilage that protects joints. The supplement also contains ingredients to help fight inflammation, such as Boswellia – also known as Indian frankincense. Boswellia is considered potentially helpful for arthritis, with a review of studies published in BMC complementary medicine and therapies (opens in new tab) concluding that it could be an effective and safe treatment option for patients with osteoarthritis. The researchers also said that 100-250mg for a minimum of four weeks appeared to be an ideal dose. Solgar's 7 Joint Support contains 100mg.
Other ingredients include turmeric root, ginger root and pepper spice complex – so if you prefer herbal-based supplements, or are taking a multivitamin that already contains vitamins and minerals, this could be good for you.
What the users say:
The product scores an impressive 4.6 stars out of five on iherb. One user said, "I started using it and it works faster and better than other products I used for the same issue." A couple of users did report stomach upset, however.
The product is available in 30, 60 and 90 day supplies, which is ideal for those who would prefer to trial the capsules for a month first, before committing to a larger pot. They are also certified gluten-free, non-GMO and dairy free. It's worth noting that they contain white willow (plant aspirin), however, so if you are on blood thinning medication you should consult your doctor first.
---
3. Terra Origin Joint & Bone
The best supplement for joints, combining herbal ingredients and vitamins
Specifications
Form: Tablets
Dosage: Four tablets
Servings per container: 30
Reasons to buy
+
Contains a wide range of ingredients
+
Gluten-free, soy free and preservative free
Reasons to avoid
-
Not suitable for vegetarians
-
Have to take four tablets per serving
Terra Origin Joint & Bone has been formulated to be "a complete supplement to maintain bone health and mobility". The tablets come in a sleek black container with indigo and white accents. While there are 120 tablets in each unit, a serving is actually four tablets, so one unit will last you 30 days. One unit costs around $18.50, so this is a good mid-range product.
The tablets themselves are bright orange in color, and fill the container to the brim. This is good news for those who don't like unnecessary waste. They're medium-sized and relatively easy to swallow too, and we found them to be completely tasteless.
What the users say:
Reviews for Terra Origin Joint & Bone are very positive, with the product scoring 4.5 out of five stars on Trust Pilot. Users seem to like that the tablets contain lots of different ingredients, with one noting, "Love the natural anti-inflammatory ingredients along with the added collagen." Another commented: "I use this every day. It works to lessen the effects of my osteoarthritis."
The tablets are packed full of an array of nutrients that support joint mobility, flexibility and help to maintain healthy bones. A serving provides 50 mcg vitamin D and 300 mcg of vitamin K (both 250% of your recommended daily intake), as well as 500 mg calcium and 100 mg of magnesium (38% and 24% of your recommended intake, respectively. A serving also provides 1 g glucosamine, 500 mg MSM, 200 mg chondroitin sulfate, 200 mg chicken collagen and 100 mg turmeric root extract. The calcium is to help maintain healthy bone density, while turmeric and MSM help to lessen inflammation. Note that the tablets contain shellfish (shrimp, crab, and/or lobster) so are not suitable for vegetarians or vegans.
---
4. Vital proteins marine collagen
The best powered supplement for joints
Specifications
Form: Powder
Dosage: 2 scoop (12g) daily
Servings per container: 18
Reasons to buy
+
Pescatarian friendly
+
Good for those who don't like swallowing tablets
Reasons to avoid
-
No omega-3s or other nutrients
-
Conflicting evidence on collagen benefits
Collagen is a protein in our body that gives strength, structure and elasticity to our skin, bones, muscles, tendons, cartilage and blood vessels. There are about 16 different types of collagen, with type II being found in your cartilage. Collagen is made up of amino acids (the building blocks of protein), so some people take collagen supplements with the idea that they can help to protect and rebuild joint cartilage.
A review of two randomized controlled trials published in Osteoarthritis and Cartilage (opens in new tab) found that both studies demonstrated how a daily intake of 5g of bioactive collagen peptides could reduce pain in people suffering from inactivity related or functional joint discomfort. However, evidence is mixed.
What the users say:
Vital Proteins Marine Collagen scores an impressive 4.8 out of five stars on iherb. Positive reviews report an improvement in skin appearance and elasticity. One user notes: "The joints on my knees and elbows gave me pain throughout the day, now the pain on my knees has gone and just a little pain on my finger joints." Some users do note that it's not as 'unflavored' as claimed, and prefer to mix it with coffee or juice, rather than just water.
Collagen supplements can be made from animal or fish materials. This supplement, from Vital Proteins, is made from collagen peptides from fish, and provides 11g of protein per serving (and only 45 calories). Since it's unflavoured, it can be consumed with hot or cold drinks; either stirred into water or your morning coffee. A lot of collagen comes from animal products, but this product is made from marine materials, making it suitable for pescatarians.
---
5. Nature's Way Joint Movement Glucosamine Extra Strength
The best liquid supplement for joints
Specifications
Form: Liquid
Dosage: 2 tablespoons (30ml)
Servings per container: 16
Reasons to buy
+
No need for tablets
+
Fast-absorbing
Reasons to avoid
-
'Tastes like cough syrup' according to some users
-
Small bottle size
From Nature's Way comes Joint Movement Glucosamine, a liquid joint care supplement that's ideal for those who don't like taking or can't swallow tablets. Because it's a liquid, you can control the dose a lot more closely too.
One serving (30ml) contains 2,000mg of glucosamine, 1,200mg of chondroitin and 500mg of MSM. It also contains 400IU of vitamin D, which supports healthy immune function and mood. The liquid is berry flavored, although many users note that the supplement tastes a lot like cough medicine, and is better diluted with water or juice.
What the users say:
Nature's Way Joint Movement Glucosamine scores an impressive 4.7 stars on iherb. Unsurprisingly, a lot of older users like this because they have difficulty swallowing tablets. One user notes, "After taking it for a few days, I can feel significant improvements in reduction of my knee pain and finger joint stiffness". Another said, "I've been using this for about a month now and I think I'm already starting to notice a difference in my stamina in walking."
A lot of joint care supplements that contain glucosamine are made from shellfish, making them unsuitable for those with allergies or who can't eat fish. A big draw for Nature's Way is that it's shellfish free, making it suitable for vegetarians. It's also free from gluten. It does contain natural flavors and stevia leaf extract as a sweetener, however.
---
How to choose the best supplements for joints
Most supplements for joint pain are clearly labeled. But unlike a straightforward vitamin pill, there are a lot of choices out there. So what should you look out for when you're shopping around?
Ingredients
Glucosamine and chondroitin
Glucosamine and chondroitin are two key ingredients found in many of the best supplements for joints. Your body produces these substances to cushion and protect the cartilage around your joints, but as you age, the cartilage can wear down. In some instances, this can cause your bones to rub together, a condition known as osteoarthritis.
There is some evidence, like this study published in The Lancet (opens in new tab), to suggest that supplements containing these two substances can help to ease the pain this rubbing causes.
However, as research is still ongoing, it's best to check with your doctor before you start taking any joint pain supplement.
Since most glucosamine comes from shellfish or animals, many supplements aren't suitable for vegetarians or vegans. You can find some that are made from vegetarian sources, however, such as Nature's Way Joint Movement Glucosamine.
Anti-inflammatory ingredients
"There's actually an inflammatory component involved in both osteoarthritis (OA) and rheumatoid arthritis (RA) – we now know OA isn't just about wear and tear," says rheumatologist Dr. Rod Hughes (opens in new tab).
Since anti-inflammatory nutrients could be key for joint issues, supplements high in omega-3 fatty acids are among the top choices. You can get this nutrient from your diet by eating one or two portions of oily fish each week. If you're not a fan of fish, then look out for a supplement with higher levels of omega-3. Although bear in mind many of these won't be suitable for vegetarians or vegans, as the omega-3 is likely to come from fish oils.
As a bonus, omega-3 also keeps your heart healthy and can protect your mind and overall wellbeing.
You can also find products containing other anti-inflammatory ingredients such as Boswellia, rosehip, and turmeric – although there's currently less research behind these.
Vitamins
The best way to get all of the nutrients our body needs is through eating a balanced diet, but this isn't always possible – especially as we get older.
In particular, vitamin D is essential for muscle and bone health, with a study in Autoimmunity Reviews (opens in new tab) finding that low levels of vitamin D could speed up the onset of rheumatoid arthritis. One of the best sources of vitamin D is from sunlight, but keeping our levels topped up during the winter months can be tricky. Choosing a supplement for joints that contains vitamin D is one way to ensure you're getting enough of this bone-supporting nutrient.
Vitamin C is a powerful antioxidant that can fight molecules that trigger joint inflammation. Vitamin C also serves a role in collagen synthesis, which is the main protein in joint tissue and bone. One study published in Medical Archives (opens in new tab) found that vitamin C may help to reduce pain associated with arthritis of the knee.
Other nutrients you might find in joint care supplements include calcium, manganese and vitamin E, although more studies are needed on the impact of these on joint pain.
Form
The best supplements for joints can come in many different forms, including tablets, liquid and soft gel capsules. Liquid is better for those who have trouble swallowing non-chewable tablets, and it is easier to control your dose in liquid form. Liquid is also more quickly absorbed. However, tablets have a longer shelf life, and for a lot of people, are a more practical option.
Reputation
One way to ensure the quality of the supplements you buy is to purchase a brand that carries a seal of approval from either of the following third-party organizations:
The U.S. Pharmacopeia (USP)
ConsumerLab.com
NSF International
These organizations perform quality tests to ensure that the ingredients listed on the label are in the bottle, and that the products do not contain harmful levels of contaminants.
It's also safer to avoid questionable looking websites, and buy the best joint care supplements from reputable retailers such as Amazon, Target, Walgreens, iherb or The Vitamin Shoppe.
Talk to your doctor
Before you start taking a new supplement, it's important to talk to your doctor about whether it's safe and appropriate, especially if you have been diagnosed with arthritis or are taking any other medication.
How we test the best supplements for joints
Each of the products included in this guide was tested by the Fit&Well team. Supplements will affect each and every person slightly differently so we've been using these vitamins to give you a better idea of what they contain, and anything you need to be aware of before taking them. Below are the criteria we tested each product for.
Ingredients
It's super important to us that you know exactly what we tested and why and our first starting point is always to find out exactly what ingredients are in a joint care supplement, especially if it's a multivitamin. We then compare this against your daily recommended dosage.
Recommended dosage
We made sure to note how much of each supplement you are required to take and how much often. This gave us a clear indication of whether a product offered good value for money or not.
Suitability
Not all vitamins and supplements will be suitable for everyone which is why we take note of whether a joint care supplement is suitable for vegans or those who have gluten-free diets.
Cost and value for money
Getting the nutrients you need shouldn't have to cost any more than necessary so we compared pricing across all the joint care supplements we tested to see whether the more expensive capsules were worth the money and if the cheaper supplements still contain everything you need.
Easiness to swallow & taste
For some, taking capsules or tablets can be very challenging so we test each and every joint care supplement by taking them ourselves and observing how easy they are to swallow.
The taste, while subjective, is another important factor we test. We try each capsule and note down whether they taste like the intended flavor or anything else you may need to know about after tastes too.
Features
When we test joint care supplements, we note anything that makes one supplement stand out over the others. We ask if any of the supplements claim to do something that others don't, and we also consider the overall aesthetics of the product.
Charlotte Haigh has been a health writer for 20 years, contributing to a range of national magazines and newspapers. She writes about all aspects of wellness, from nutrition to fitness, and has a special interest in psychedelics and mental health. Charlotte is Chair of the Guild of Health Writers (opens in new tab), which represents leading UK health writers. In her spare time, she enjoys vegan cookery, yoga and birdwatching. She lives in south-west London with her two cats.