We've tested the best supplements for joints to help ease pain and reduce stiffness
The best joint supplements are easy to swallow and don't have a bad aftertaste to ease your pain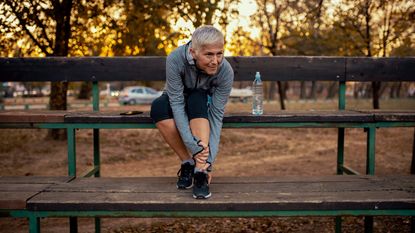 (Image credit: Getty Images)
The best supplements for joints contain several important nutrients to support your body, increase your range of motion, and reduce pain. Although you can get some of these from your diet, these supplements help you stay topped up.
Many of these joint pain supplements are made with glucosamine for joints, a chemical your body needs to develop cartilage, ligament, tendons, and joint fluid to keep things in working order, but it can't be sourced from food.
It's a similar situation with vitamin D, which is why many people also take one of the best vitamin D supplements, especially during the winter months when there are fewer daylight hours. Vitamin D plays several crucial roles in your body, including helping you absorb calcium to strengthen your bones.
To get the best results, many joint supplements contain a blend of nutrients, including vitamins, but this can make it hard to decide between them. To help you out, we've put the best supplements for joints to the test, looking at the ingredients, daily dosage, and how easy they are to swallow.
The best supplements for joint pain you can buy right now
1. Seven Seas JointCare Supplex
The best supplement for joints overall
Specifications
Form: Capsules
Dosage: Two daily
Suitable for vegans: No
Reasons to buy
+
Packed with essential nutrients
+
Easy to swallow capsules
+
No taste or aftertaste
Reasons to avoid
-
Not suitable if you're vegetarian or vegan
-
Low dose of omega-3
The Seven Seas JointCare Supplex is the best joint pain supplement for most people, as it includes several essential nutrients, like omega-3, vitamins C, D, and E, and glucosamine which helps cushion the space between your joints.
It only has a moderate dose of omega-3 (356mg), so you'll need to ensure you get enough by eating omega-3 foods or taking one of the best fish oil supplements. However, the sphere-shaped capsules are extremely easy to swallow.
They also have no taste whatsoever. Rather than being loose in a container, each capsule has to be popped out of a packet. We found this handy for keeping track of whether we'd taken the supplement.
---
2. Solgar 7 Joint Support
The best premium supplement for joints
Specifications
Dosage: Capsules
Form: One daily
Servings per container: 90
Reasons to buy
+
Includes a good range of nutrients
+
Designed to support an active lifestyle
Reasons to avoid
-
Only preliminary evidence for some ingredients
-
Expensive
The Solgar 7 Joint Support capsules are designed to support an active lifestyle by promoting flexibility and range of motion around your joints. It also includes vitamin C, which help your body build collagen to protect your joints.
The capsules come with anti-inflammatory ingredients like Boswellia, also known as Indian frankincense, which may help reduce the symptoms of arthritis. Research suggests a dose of 100-250mg, and the Solgar 7 Joint Support provides 100mg.
Other ingredients include turmeric root, ginger root and pepper spice complex – so if you prefer herbal-based supplements, or are taking a multivitamin that already contains vitamins and minerals, this could be good for you.
The product is available in 30, 60 and 90 day supplies, which is ideal for those who would prefer to trial the capsules for a month first, before committing to a larger pot. They are also certified gluten and dairy-free.
It's worth noting that they contain white willow (plant aspirin), however, so if you are on blood thinning medication you should consult your doctor first.
---
3. Terra Origin Joint & Bone
Best supplement for joint and bone health
Specifications
Form: Tablets
Dosage: Four daily
Servings per container: 30
Reasons to buy
+
Formulated to boost bone health
+
Gluten, soy, and preservative-free
+
Tasteless
Reasons to avoid
-
Not suitable for vegetarians or vegans
-
Have to take four tablets per serving
The Terra Origin Joint & Bone tablets are formulated to boost your bone health. You do need to take four each day, but the container has a 30-day supply, so you don't need to restock too often.
The tablets themselves are bright orange, medium-sized, and relatively easy to swallow too. Plus, we found them to be completely tasteless. The tablets are packed full of an array of nutrients that support joint mobility, flexibility and help to maintain healthy bones.
There's vitamin D and K, glucosamine, and calcium to maintain healthy bone density. Note that the tablets contain shellfish (shrimp, crab, and/or lobster) so are not suitable for vegetarians or vegans.
---
4. Vital Proteins Marine Collagen
The best powdered supplement for joints
Specifications
Form: Powder
Dosage: 24g daily
Servings per container: 18
Reasons to buy
+
Good option if you don't like tablets
+
Mixes into cold and hot drinks
Reasons to avoid
-
No omega-3 or other nutrients
-
Not suitable for vegetarians or vegans
If you'd rather avoid pills, the Vital Proteins Marine Collagen is a powdered option you can mix into water, smoothies, or other food. As you might expect, collagen is the main ingredient here to cushion your joints.
Collagen is a protein in our body that gives strength, structure and elasticity to our skin, bones, muscles, tendons, cartilage and blood vessels. There are about 16 different types of collagen, with type II being found in your cartilage.
Collagen is made up of amino acids (the building blocks of protein), so some people take collagen supplements, like the Vital Proteins Marine Collagen, to protect and rebuild joint cartilage.
This powder is made from fish, so it's not suitable for vegetarians or vegans, but it is unflavored so we tried it stirred into water and in our morning coffee without any noticeable difference.
---
5. Nature's Way Joint Movement Glucosamine Extra Strength
The best liquid supplement for joints
Specifications
Form: Liquid
Dosage: 30ml daily
Servings per container: 16
Reasons to buy
+
No need for tablets
+
Fast-absorbing
Reasons to avoid
-
'Tastes like cough syrup' according to some users
-
Small bottle size
The Nature's Way Joint Movement Glucosamine Extra Strength is a liquid joint care supplement, ideal for anyone who doesn't like or can't swallow tablets and capsules. Plus, this means you can control the dose more easily too.
You only need one 30ml serving each day to get glucosamine, vitamin D, and a range of other health-boosting nutrients. It is berry-flavored, so it's best to mix with water, but some people note that it tastes a bit like cough medicine.
Many joint pain supplements contain shellfish-derived glucosamine, but the Nature's Way liquid is shellfish-free, so it is suitable for vegetarians. It does contain natural flavors and stevia leaf extract as a sweetener, however.
---
How to choose the best supplements for joints
Most supplements for joint pain are clearly labeled. But unlike a straightforward vitamin pill, there are a lot of choices out there. So what should you look out for when you're shopping around?
Ingredients
Many of the best supplements for joints include glucosamine and chondroitin — two nutrients that help cushion and protect the cartilage around your joints. As you age, your natural supplies of cushioning drop, which causes bones to rub and and may lead to joint pain.
Since most glucosamine comes from shellfish or animals, many supplements aren't suitable for vegetarians or vegans. You can find some that are made from vegetarian sources, however, such as Nature's Way Joint Movement Glucosamine.
Plus, some supplements come with additional nutrients, like omega-3 to reduce inflammation, and vitamins to support your body's natural processes that you might struggle to get from your diet alone.
Form
Although tablets used to the most common type of supplement, if you find these hard to swallow, many joint supplements now come in capsule form, while some are even powders or liquids so you can add them to drinks and meals.
Talk to your doctor
Before you start taking a new supplement, it's important to talk to your doctor about whether it's safe and appropriate, especially if you have been diagnosed with arthritis or are taking any other medication.
How we test the best supplements for joints
As the effects of each supplement will vary by individual and the type of joint pain, we've tested the best supplements for joints based on the ingredients, dietary restrictions, value for money, how easy they are to swallow, and if there's an aftertaste.
We consider the ingredients list and whether it helps you achieve your recommended daily allowance of the nutrients, while also looking at how much you need to take each day. Most containers only last a couple of weeks, so we also factor in whether the supplement is good value for money.
Some are made using animal-derived ingredients, so aren't suitable for vegans, while others may contain gluten. But the supplements form is also a crucial factor, especially if you find it hard to swallow tablets.
We take each supplement to see if it gets stuck in our throat or goes down easily, and wait to see if there's a particular taste or bad aftertaste that you'd want to avoid before we recommend any joint pain supplement.
FAQs
What supplements repair joints?
Several different supplements can help to alleviate joint pain, says Jess Hillard, Sports Nutritionist for Warrior. "These include glucosamine, turmeric, Boswellia, and fish oil. Calcium, vitamin D, and protein are also key dietary nutrients to ensure strong joints and optimal recovery."
Jess Hillard is a nutritionist with Warrior and holds a degree in Nutrition from Oxford Brookes University. After sustaining an injury following overtraining, Hillard used food to aid her recovery, which led to her interest in nutrition.
Does glucosamine really help your joints?
Glucosamine has long been the go-to supplement for sore joints. It's naturally found in our cartilage and helps cushion the connections between our joints. In supplement form, it comes from shellfish shells or it is produced in a lab, Hillard explains.
But is there science to back this up? "Multiple research papers and studies have assessed the supplement, finding great improvement in joint health, especially those with arthritis," she says.
However, Hillard says that some individuals will respond better to the supplement than others, so reactions to glucosamine will vary from person to person.
What is better for joint pain: glucosamine or collagen?
You may have heard that collagen is also a good option for reducing joint pain, which may make you ask if should you be taking glucosamine or collagen if you're suffering from sore joints.
"Collagen is a protein that is already found in the muscle and joints," Hillard explains. "Increasing your collagen intake can help create extra cushion-like support between your joints, and therefore less friction, leading to reduced aches and pains.
"Collagen can also reduce the risk of cartilage disintegrating over time, which can be extremely beneficial in maintaining joint and muscle health in the long run, especially as you age."
But instead of opting for one over the other, Hillard suggests taking both supplements. If you're eating healthily, you can take glucosamine and collagen together to help reduce joint pain.
Are joint supplements worth the money?
If you're on a budget or want to be wise with your money, you might be wondering if joint supplements are actually worth your money. Unfortunately for our bank accounts, Hillard says they can be.
She explains: "If you're suffering from joint pain and know what the initial cause is after seeing a health professional, it can be worth the money investing in them, yes."
Though it's important to find a supplement that works for you and your needs, even if that takes time. "It's worth researching supplements, as you do not want to be conned into something due to marketing or a friend recommending them."
Get the Fit&Well Newsletter
Start your week with achievable workout ideas, health tips and wellbeing advice in your inbox.
Charlotte Haigh has been a health writer for 20 years, contributing to a range of national magazines and newspapers. She writes about all aspects of wellness, from nutrition to fitness, and has a special interest in psychedelics and mental health. Charlotte is Chair of the Guild of Health Writers, which represents leading UK health writers. In her spare time, she enjoys vegan cookery, yoga and birdwatching. She lives in south-west London with her two cats.