The best supplements for joints: Supps to beat inflammation and arthritis pain
Aches, pains and stiffness? The best supplements for joints may help you live a happier, healthier life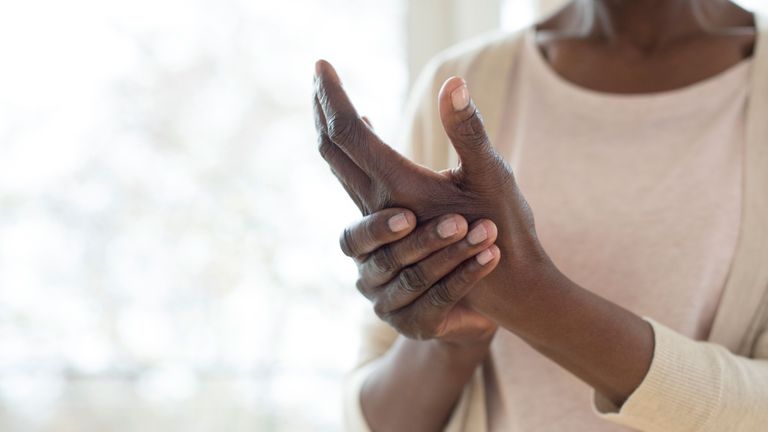 (Image credit: Getty Images)
The best supplements for joints can help soothe your aches and pains in your hips, knees, ankles, elbows and knuckles. They tend to work by reducing inflammation, whether you suffer with chronic arthritis or you just want to pre-emptively avoid the pain of the condition. Arthritis is an incredibly common condition, but not enough of us know which supplements and products are best placed to tackle it.
In the United States, 23% of all adults—over 54 million people—have arthritis, according to the National Center for Chronic Disease. Of these, about 24 million adults are limited in their activities due to arthritis, and more than 1 in 4 adults with arthritis report severe joint pain.
Arthritis causes pain and swelling in joints, especially the hands, knees, hips and spine. Osteoarthritis (OA) is the most common form. It usually develops from your mid-forties onwards, is related to wear and tear, and is more common in women and those with a family history of it.
That said, anyone can develop the need for the best supplements for joints at any age. Osteoarthritis may be linked with injury or with rheumatoid arthritis (RA), another form that occurs when your immune system mistakenly attacks joints, leading to inflammation, resulting in pain and swelling.
Whatever your joint issue, your doctor may suggest treatment including painkillers and physiotherapy. However lifestyle steps including exercise, a balanced diet, losing excess weight, and stress management are also key to managing symptoms. As certain nutrients may support joint health, supplements can play a role, too. For example, omega-3 fatty acids found in fish oils are known to help dampen inflammation, and high-dose fish oil supplements have been shown to ease joint pain in RA - that's why we've pulled out some supplements containing fish oils.
How to choose the best supplements for joints for you
'There's actually an inflammatory component involved in both OA and RA – we now know OA isn't just about wear and tear,' says rheumatologist Dr Rod Hughes. So considering anti-inflammatory nutrients could be key for joint issues, and omega-3 fish oils are among the go-tos here. Ideally, a healthy diet should include a portion of oily fish each week – such as sardines or salmon. But if you don't manage that, consider a fish oil supplement – a bonus is that it may also help protect heart health, important as the inflammatory component of arthritis raises your risk of cardiovascular issues.
You can also find products containing other anti-inflammatory ingredients, such as boswellia, rosehip and turmeric, though there's currently less research behind these.
Vitamin D's another must when considering the best supplements for joints – a vitamin most of us lack in the colder, darker months. It's essential for bone and muscle health, and there's some evidence rheumatoid arthritis may develop more quickly in those with low levels.
There's also some suggestion that antioxidant nutrients may help prevent damage in the body that can be linked to OA. Although there's not currently a lot of evidence to back that up, check your diet - it's worth making sure you have a balanced diet full of fruit and vegetables, and perhaps topping up with extra vitamins if you don't.
Glucosamine and chondroitin – found naturally in healthy cartilage, a substance that protects joints – are available to take as a supplement. Although the research behind these compounds is mixed, they're often popular among people with OA, as wear and tear can trigger the decline of cartilage.
Always check with your doctor before you take a supplement, especially if you have a long-term condition or are taking other medication. And remember, it can take a while to see whether any supplement makes a difference, so be patient.
The best supplements for joints you can buy right now
1. Seven Seas JointCare Supplex
The best supplement for joints for most people
Specifications
Dosage: Two capsules daily
Suitable for vegans: No
Reasons to buy
+Covers the basic bases+Provides important vitamins
Reasons to avoid
-If you're vegetarian or vegan-Low dose of omega-3
From this popular family brand comes a joint-protecting supplement that ticks off many of the key elements – anti-inflammatory omega 3 fish oils, along with vitamin D and antioxidant vitamin C, which supports production of connective tissue, and vitamin E, to help healthy immune system function. The supplement also contains glucosamine, which some evidence suggests may help support protective cartilage, particularly useful in OA.
If you're looking for a good all-rounder in one product, this is for you – although be aware it contains only a moderate dose of omega-3 fish oils, lower than the amount shown to dampen inflammation in arthritis. So you may want to make sure you regularly include omega-3 foods such as oily fish in your diet.
2. Solgar 7 Joint Support
The best premium supplement for joints
Specifications
Dosage: One capsule daily
Suitable for vegans: No
Reasons to buy
+Includes a good range of nutrients+Designed to support an active lifestyle
Reasons to avoid
-Only preliminary evidence for some ingredients-On the pricey side
This trusted brand has come up with a slightly different sort of joint supplement. It contains ingredients designed to target a range of joint issues, and is aimed at people who want to keep up an active lifestyle, through improving flexibility and range of motion - and fans swear by it.
It includes vitamin C, which is an antioxidant vitamin and can help your body build collagen, a component of the cartilage that protects joints. The supplement also contains ingredients to help fight inflammation, such as boswellia – also known as Indian frankincense. Boswellia is considered potentially helpful for arthritis, although studies have been limited so far.
3. Holland & Barrett Omega 3 Fish Oil Concentrate
The best budget supplement for joints
Specifications
Dosage: Three capsules daily
Suitable for vegans: No
Reasons to buy
+High in omega-3+May help support heart health
Reasons to avoid
-You're vegetarian or vegan-Only contains omega-3 and vitamin E
This product does what it says on the bottle – delivers a decent dose of omega-3 fish oils, which research shows may help dampen inflammation and potentially ease joint pain and stiffness. Three capsules contain 900mg omega-3 oils in a combination of EPA and DHA (the key fatty acids), giving you the amount shown to provide benefits. And it may protect heart health, too. So, if you're not getting enough oily fish in your diet, reaching for this may help.
However, it's a no-no if you're vegetarian or vegan. Unfortunately, plant omega-3s – found in foods such as walnuts and flaxseeds - don't provide the same benefits as fish oils. As an alternative, you could try an algae-based omega-3 supplement instead, such as Vegetology Opti 3, as algae is the source of omega-3 for oily fish.
4. Viridian Joint Complex
The best ethical supplement for joints
Specifications
Dosage: One to three capsules daily
Suitable for vegans: Yes
Reasons to buy
+A vegan form of glucosamine+Anti-inflammatory ingredients
Reasons to avoid
-No omega-3s-Less evidence for RA
Cartilage is the connective tissue that pads and protects joints. It can decline as you get older through wear and tear, contributing to joint stiffness and soreness. Cartilage contains glucosamine, so taking this compound in supplement form is thought to slow down cartilage loss.
The jury's still out on how effective it is but some research does back up its benefits. And while glucosamine is generally recommended for OA, there is some research to suggest it could help ease symptoms in RA - although the evidence is limited.
Since most glucosamine comes from shellfish or animals, many supplements aren't suitable for vegetarians or vegans. But this one is!
It also contains inflammation-easing ingredients such as boswellia and turmeric, plus vitamin C, needed for healthy cartilage. However, if you're looking for a product with omega-3, this isn't the one for you.
5. Gopo Rose-hip Joint Health
The best innovative supplement for joints
Specifications
Dosage: Three capsules twice daily for three to five weeks, then two capsules twice daily
Suitable for vegans: No
Reasons to buy
+Anti-inflammatory+High levels of vitamin C
Reasons to avoid
-Lots of capsules to take-Could end up pricey
Rose-hip is one of the newer kids on the block when it comes to joint health, with some emerging evidence that it could be a winner. The fruit of the dog rose, rose-hip has long been valued for its high levels of vitamin C, which is important for supporting immune health and connective tissue formation.
It's also packed with antioxidant polyphenols, which may protect against the oxidative stress linked with joint damage. It also has powerful anti-inflammatory properties and some research has suggested it may be a safe and viable alternative to conventional treatments, such as non-steroidal anti-inflammatories (NSAIDs), which have side effects. However, don't switch without talking to your doctor.
The capsule shell contains gelatin, meaning the supplement can't be taken by vegetarians – but if you want to try it, you can split open the capsule and sprinkle the powder into a smoothie.
Charlotte Haigh has been a health writer for 20 years, contributing to a range of national magazines and newspapers. She writes about all aspects of wellness, from nutrition to fitness, and has a special interest in psychedelics and mental health. Charlotte is Chair of the Guild of Health Writers, which represents leading UK health writers. In her spare time, she enjoys vegan cookery, yoga and birdwatching. She lives in south-west London with her two cats.