Six diet rules for running, according to a record-breaking athlete
This world-class half-marathon runner shares his diet and training secrets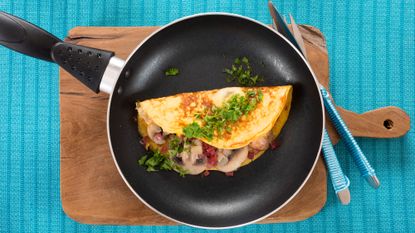 (Image credit: Getty)
No matter how much you exercise, you need to make sure that you fuel your body sufficiently. If you've got nothing in the tank – or at least, nothing good – your training, sleep and overall quality of life will suffer.
Ryan Hall, the US record holder for the half-marathon, has shared his six crucial pre-race diet tips in an Instagram post. The best athletes of course maintain the best possible diets but they also will wear some of the best running shoes for men or best running shoes for women to improve their performance.
Not only are Hall's diet tips relatively easy to follow but the half-marathon champion admits he once 'had no idea what to eat before races' as he recalls the time he had an 'In n Out' burger before a race. Unsurprisingly, this didn't go down well but here's what did work for him:
Firstly the retired runner advises against eating carbs and veggies that are high in fiber the day before a race or the day of it. This is important to note as high fiber foods use up more energy to digest and your gut is left with food in it which Hall says can cause a 'bouncy gut' or 'upset stomach'. Make sure you're not dousing your food in vegetable oils or butter during cooking, which can increase your total calorie content: stick to using a small amount of oil with cooking sprays, or one of our best air fryer entries.
He also recommends eating lots of small meals rather than fewer larger ones. Pre-race nerves can ruin your appetite so this is an easier way to fuel your body more gradually. He adds, "Carbs are more likely to be stored in the liver and muscles rather than being stored as fat when taken in more slowly."
Registered Nutritionist, Rhiannon Lambert, agrees with this and offers advice on what specific foods to avoid pre-race day. She says, "A solution for this is to reduce your intake of fibre and gas-producing foods the day before and on the day of your event," Lambert adds, "Common culprits are cruciferous vegetables (e.g. cabbage, cauliflower, broccoli), beans, lentils, bran cereals and caffeine."
Hall's third tip advises runners to drink lots of electrolytes. A 2015 study published by the Scandinavian Journal of Medicine and Science in Sports found that athletes who supplemented with sodium chloride and other electrolytes, alongside a sports drink, before competing in a half-Ironman and during it saw improvement in their race times by around 8%.
Although too much protein before a run isn't recommended as again it isn't easily digested, protein-filled foods (Hall mentions egg whites, greek yoghurt and grass-fed whey protein) can help to repair your muscles during the training process. He says protein also helps with his digestion so the gut feels nice and light on the day of your race. You can also find the best protein powder for women or even the best protein powder for weight loss.
Hall makes the point to avoid buffets at all costs. The athlete warns, "Who knows how long that food has been sitting out on the warmer," he adds, "Not worth the risk of getting sick after months of hard training." This advice sounds rote, but every little food choice can make a world of a difference on race day. And finally, he says, "Keep it relatively low-fat. This will sit better on the stomach and keep from feeling gross on the start line."
Jessica is an experienced fitness writer with a passion for running. Her career in journalism began in local news and she holds a Masters in journalism. Jessica has previously written for Runners World, penning news and features on fitness, sportswear and nutrition.
When she isn't writing up news and features for Fit&Well covering topics ranging from muscle building, to yoga, to female health and so on, she will be outdoors somewhere, testing out the latest fitness equipment and accessories to help others find top products for their own fitness journeys. Her testing pairs up nicely with her love for running. She recently branched out to running 10Ks and is trying to improve her time before moving on to larger races. Jessica also enjoys building on her strength in the gym and is a believer in health and wellness beginning in the kitchen. She shares all of this on her running Instagram account @jessrunshere which she uses for accountability and for connecting with like-minded fitness lovers.