The most popular alternative workouts, from fencing and climbing to Quidditch
Have you tried fencing? Kayaking? Archery? These are the most popular alternative workouts, and their benefits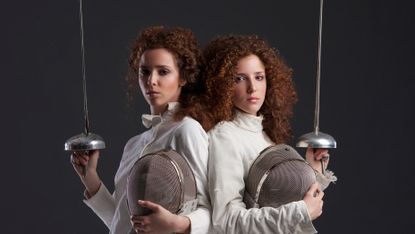 (Image credit: Getty Images)
You're probably tried some of the most common forms of workouts, such as running, resistance training with weights, or even walking for weight loss. but often, we find that we just can't find a form of exercise we enjoy, making us less likely to work out at all.
Social scientists from Bangor University and the University of Rochester found "a positive relation between more autonomous forms of motivation and exercise," which indicates that finding an activity you enjoy is a more powerful motivation to work out and get fit than doing exercise for its own sake.
Choosing a sport or a hobby you enjoy, that requires physical exertion, in one of the most reliable ways to keep you fit – but if you're not a fan of five-a-side soccer and you've tried a lot of the "traditional" forms of exercise, it might be time to try some of these alternative workouts.
Nutrition company MyProtein examined some of the most popular alternative sports in the US. Surprisingly, fencing and curling (the winter sport) came top of the heap, with over one million searches in the US each.
Both sports requires explosive movements, building strength in your core and legs. Lunges in fencing are particularly good for exercising your glutes and hamstrings – the same reason people are taught how to do lunges in many exercise classes today. Both disciplines also require quick reflexes and co-ordination, so you can parry your opponent's foil or position yourself quickly on the ice. Want to give them a try? The USA fencing and USA curling federations can be found here.
Other sports include Quidditch, the fictional sport made popular in the Harry Potter books and movies. It's been transformed into a real-life game resembling netball while holding a broom between your legs. It's a bit safer than the fictional version, as your feet are on the ground at all times.
Archery came fourth, kayaking came sixth and rock climbing came ninth. All three sports require pulling motions which build strength in your back, arms, hands and core. Grip strength is considered a predictor of good cardiovascular health according to Harvard University, so these sports could help you live longer and protect your heart.
Other alternative workouts include surfing, which is great for your core due to the twists and turns your body must take on the board, hula-hooping (a great one for those looking how to get a slim waist) and jump rope, which is also one of the best exercises for weight loss you can do. Jump ropes or skipping ropes are very cheap and it's easy to get started: all you need is a small outdoor space, or somewhere with a high ceiling. The full list can be found below:
Fencing, 1020000 searches
Curling, 1020000 searches
Quidditch, 660000 searches
Archery, 648000 searches
Kayaking, 600000 searches
Roller skating, 492000 searches
BMX, 456000 searches
Skiing, 456000 searches
Rock climbing, 420000 searches
Surfing, 408000 searches
Jump rope, 396000 searches
Hula hoop, 336000 searches
Handball, 324000 searches
Sailing, 312000 searches
Snowboarding, 288000 searches
White water rafting, 264000 searches
Table tennis, 264000 searches
Canoeing, 192000 searches
Mountain biking, 180000 searches
Pole dancing,180000 searches
Matt Evans is an experienced health and fitness journalist and is currently Fitness and Wellbeing Editor at TechRadar, covering all things exercise and nutrition on Fit&Well's tech-focused sister site. Matt originally discovered exercise through martial arts: he holds a black belt in Karate and remains a keen runner, gym-goer, and infrequent yogi. His top fitness tip? Stretch.