This 20-minute yoga routine will help you sleep better, feel calmer
Yoga is a great way to wind down in the evenings and this routine focuses on gentle stretches and breathing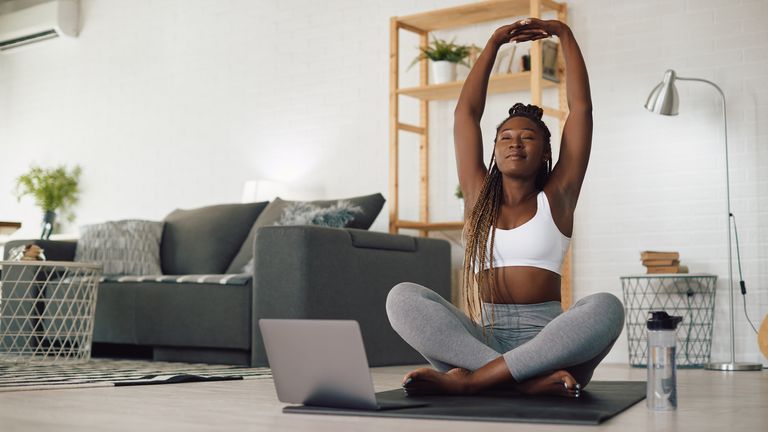 (Image credit: Getty Images)
By James Frew
For most of us, we wake up each day tired and groggy. It's sometimes the result of being busy again in a post-lockdown world, but quite often, it's because we struggle to get enough high-quality sleep.
If you're looking to improve your sleep, roll out one of the best yoga mats and give this 20-minute relaxing routine a try. With a focus on your breath, it's designed to bring a sense of calm to your evening.
Led by yoga instructor Tessa Canzona, the short flow class includes plenty of stretches to relax your muscles. By combining this gentle movement with breathing exercises, you'll wind down in no time.
If you've not tried yoga before or you're used to a more active class, this session is a great way to get started. Rather than complex moves to learn, it's designed to help you connect with your body.
Watch PsycheTruth's Bedtime Yoga Flow
Canzona advises grabbing a rolled-up towel to place under your legs, so you're as comfortable as possible. Likewise, if you have a yoga block handy, you can slide it under your knee for support.
Fortunately, there's science behind this approach too. A systematic review of published papers noted that slow yogic breathing could improve emotional control and overall well-being.
But that's not the only benefit of yoga, as a separate 12-week study found that regular practice may reduce the signs of cell aging. As the researchers note, "[regular yoga] may hold the key to delay aging or aging gracefully, prevent... diseases, promote mental, physical, and reproductive health, and prolong youthful healthy life."
This is why yoga is sometimes referred to as 'moving meditation.' The two techniques are similar, as meditation helps you focus on the present with your breath, while yoga connects your brain and body.
If you're after an alternative way to wind down in the evenings or bring some calm throughout the day, it's worth learning how to meditate. There's a range of apps and videos to help you get started.
Sometimes, no matter how well-prepared for sleep you feel, it can still be hard to get up first thing. Consider adding one of the best sunrise alarm clocks to your bedside for a more gentle, effective wake-up.