This 20 minute stretching routine could fix your tension headache
This no equipment stretch session can help reduce neck and back pain from sitting at your desk – and studies suggest it might be good for tension headaches, too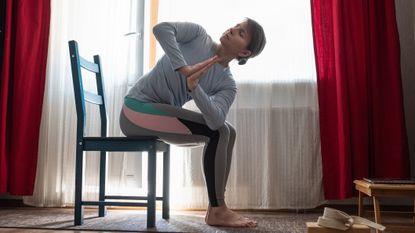 (Image credit: Getty)
Get the Fit&Well Newsletter
Start your week with achievable workout ideas, health tips and wellbeing advice in your inbox.
Thank you for signing up to Fit And Well. You will receive a verification email shortly.
There was a problem. Please refresh the page and try again.
Sitting at your desk all day can cause a lot of tension in the body and lead to neck and back pain, but a stretch session is a great way to counteract this.
And stretching doesn't always need to be on the best yoga mats, as personal trainer Shona Vertue shows us with this easy chair-based stretching workout.
Vertue, who is an ex-gymnast and yoga teacher with over 400K followers on Instagram, takes us through a sequence you can do at your desk with no yoga mat, no equipment and even in your work clothes.
Introducing the routine, she says: "This sequence is designed to give you some space from stress you might be experiencing at work but also the tension that can start to come up in our body when we're sitting in the same position for a long time."
This workout will release tension and tightness in your neck, shoulders, hips (front and back) and provide a cognitive break from your work. It could relieve your next tension headache, too, as the sequence features some chin retractions. Research has shown that doing this kind of movement regularly, and flexing the deep cervical muscles around the neck, could improve this particular kind of pain.
Here's how to do the full routine.
Watch Shone Vertue's stretching routine
Sitting for long periods of time can make our muscles stiff and lead to aches and pains, but stretching can reduce tightness and also improve our range of motion. The American College of Sports Medicine recommends doing flexibility exercises at least two to three times a week.
Regular stretching helps to keep muscles long, lean and flexible and the healthier your muscles are, the better your balance will be to avoid falls.
If you're interested in more exercises to boost your flexibility, don't miss our guide to yoga for shoulder mobility and strength or try this seated yoga flow.
Picking up one of the best foam rollers is also an excellent way to improve your range of motion; a huge review of studies, published in Frontiers in Physiology, showed that pre-rolling before a workout is also an effective way of improving flexibility.
Get the Fit&Well Newsletter
Start your week with achievable workout ideas, health tips and wellbeing advice in your inbox.
Maddy Biddulph is a freelance journalist specializing in fitness, health and wellbeing content. With 25 years in consumer media, she has worked as a writer and editor for some of the bestselling newspapers, magazines and websites in the US and UK.
She is also a qualified L3 personal trainer and weight loss advisor, and helps women over 40 navigate menopause by improving their physical and mental strength. At Maddy Biddulph Personal Training, she runs one-to-one and small group training for menopausal women who want to get fit to ease symptoms and feel like themselves again.